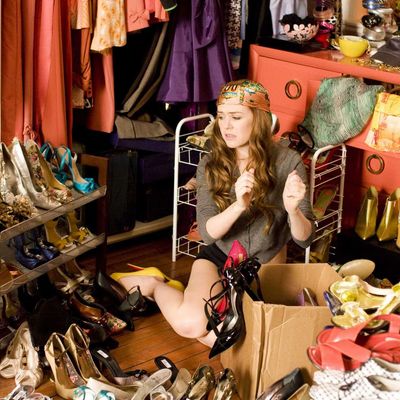 Photo: Robert Zuckerman/Touchstone Pictures
This week on the Cut we're exploring how to get your act together when it comes to personal style — from organizing your closet, to finding your signature scent, to figuring out your work uniform.
Welcome to January, that month when magazines inevitably tell you to repent for the excesses that began around Halloween and go on a veggie cleanse or live on positive affirmations and purified air. We're not going to do that this week. While we're all for fitness and healthy eating, this week on the Cut we're exploring how you can get your act together when it comes to your style — from organizing your closet, to picking a signature scent, to working out your "uniform." Because no matter what diet you go on, right around the time you're ready to eat Valentine's Day chocolate again, chances are you'll still be standing in front of your closet each morning wondering, "WTF am I going to wear today?"
We're often told by powerful men that the key to their success lies in their ability to reduce the number of decisions they have to make in a day. A busy CEO like Mark Zuckerberg claims that the frivolity of thinking about "style" would make it too hard for him to generate important thoughts related to Facebook. But if you like fashion and being good at your job, that message doesn't really work. What if you don't want to reduce your style to a diet of blue suits or mock turtlenecks for the rest of your days? What if you don't want to think too hard about what you're wearing, but you still want to feel chic, organized, on-trend? Start by losing all the dead weight in your closet.
I spent the past few weeks deep in the OCD throes of a closet purge inspired by The Life-Changing Magic of Tidying Up by Marie Kondo, and I've experienced nothing short of a personal-style revolution. Kondo suggests emptying your closet and evaluating each item on the basis of whether it brings you joy. If it doesn't, shed it. Don't worry if an item was a gift, or if you spent too much money on it: If it doesn't spark real joy in you, let it go. Radical.

Over the course of my cleanse, I've lost 75 percent of my wardrobe, no exaggeration. That's a lot of garments that weren't bringing me joy. For example, once I'd weeded through all the old, funky dresses I no longer wore, I could see that I didn't need the many slack-kneed tights I'd kept rolled in my sock drawer. When I sorted through my underwear, I realized I had 17 pairs of thongs, some of which I'd not worn in five years or more. I hate thongs. I now own exactly two pairs, one nude, one black, for the two outfits I still have that require them. If someday I decide I suddenly like thongs again, chances are I won't want (or fit into) the old pairs anyway, so why have them clogging my drawers right now? Like an artery scraped of plaque, my dresser is functioning again. To my surprise, I still feel like I have plenty of things to wear — and that I want to wear everything I still have. I feel lighter, like I've gone on a crash diet that might actually work, and the best part is that I now only have garments that fit me.

Usually when I think of having a "uniform," I associate it with people like Emmanuelle Alt or André Leon Talley, who have a hard-core commitment to a single look. But as I weeded through the last ten years' worth of clothing and kissed all the irrelevant versions of myself good-bye, I realized there is room for another interpretation of a personal uniform. I don't have to know how I want to dress five years from now; I only have to think about how I want to dress this season. I can make a commitment to buy less, buy smarter, and wear a few perfect things all the time. Those few items can serve as my uniform right now. When they no longer feel like "me," I can jettison them and move on.

With fewer items in your closet — all of which you love — getting dressed doesn't feel like a chore and you'll find you feel better about your body. If a pair of pants pulls in a weird way at the crotch, banish them. Wear the one pair in your drawer that makes you look the way you want to look. Trust me, no one will notice that you're wearing them every day; instead, they'll just notice how great you look. This week on the Cut, we'll investigate all of this and more, from dressing in jumpsuits, to the magic of tailoring, to choosing the right haircut — no juicing required.