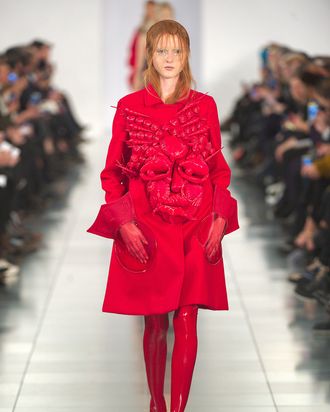 Margiela and Galliano enthusiasts alike have been atwitter with the hashtag #MargielaMonday ever since the house announced the designer's debut would be a women's couture collection, taking place off-schedule, during London Collections: Men. Today, the fruits of the unlikely partnership were seen for the first time (with the exception of Galliano's one-off gown for Anna Wintour during the BFAs, which felt more Galliano than Margiela).
In trading his outlandish getups in favor of a Margiela lab coat, Galliano has two distinct camps to please — the Galliano loyalists, who wanted to see their hero's hallmarks, and the Margiela fanatics, some of whom doubted his ability to fit in at the house. And, while it's impossible to make everyone happy, his first collection demonstrated that he's going to walk neatly down the middle of the road — equal parts Galliano and Margiela, for an unexpected mash-up that worked, mostly.
Today's mix featured his signature love of costume, like towering chopines and rakish crowns. His standby 18th-century silhouettes, like a high-necked vest worn over Pierrot-like breeches or wide skirts with panniers, made intentionally bedraggled appearances. There were tights with holes, ballerina ribbons snaking up shoes, a single fishnet glove worn on the left arm. He leaned into his penchant for disheveled beauty, creating something that fell between prettiness and decay.
But while he re-established his old flourishes, Galliano also paid tribute to Margiela. A hat that looked almost like cellophane was a tech-y departure for the designer, while playful elements like a dress sporting "eyes" complete with fringe lashes, were a callout to the house's surreal, body-mod string of hits. The best looks evoked a sense of voluptuous horror, like the final exit with an erased, bejeweled face atop a red ball gown whose embellishments seemed half-destroyed — telling the story of an excommunicated queen, perhaps? Or was it a personal statement by the notorious, exiled king of fashion excess?
Certain looks — a bright-red coat with a 3-D pattern of a human face — seemed to owe something to Rei Kawakubo's bloody, heart-stopping collection from spring 2015 ready-to-wear. And when modern elements, like a pair of jean shorts worn over fishnets, intruded, it felt forced. But ultimately, Galliano did with this show what he needed to do, which was to launch a new chapter of his design career. Let the hashtags fly.