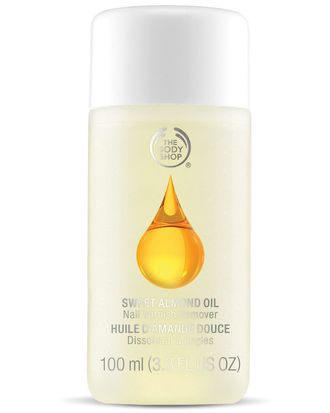 Finding the right kind of nail-polish remover can be tough. The strongest and most effective removers are laced with acetone — a damaging ingredient that weakens the nail bed and cuticle. The gentler, acetone-free formulas hardly remove any polish at all, unless you're willing to spend the better part of an hour intensely rubbing each finger until each is completely polish-free.
But the Body Shop's Sweet Almond Oil Nail Polish Remover offers the best of both worlds: It's an acetone-free formula that actually removes polish really, really well. I tested the remover — which smells a little like almonds — on an eggplant shade from Julep. The color was gone within a few minutes. A week later, I tried the remover again, this time on notoriously difficult-to-remove glitter polish. It took a bit more elbow grease, but the glitter went away with the same level of ease as it would with a stronger, acetone-based formula. The tiny amount of conditioners in the remover — like almond, soybean, and apricot oil — also softened my cuticles, instead of drying them.
Any manicurist worth their nails will tell you that a great manicure starts well before the first stroke of polish is applied. It's true, and with the Body Shop's Sweet Almond polish remover, you can cut the removal process in half and move on to more important things, like deciding which nail polish you should choose.
Sweet Almond Oil Nail Polish Remover, $10 at the Body Shop.