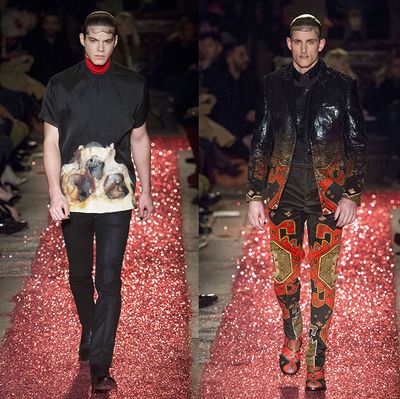 PARIS — No one loves spectacle quite like Riccardo Tisci. Today's Givenchy show was overwhelming before it even started. Noomi Rapace entered the massive heated tent (erected in the shadow of Napoleon's grand tomb of Invalides) to blinding paparazzi flashes. Inside, a runway of red glitter looped around mismatched chairs, chaise lounges, and enough antique brick-a-brac to fill a brocante. The clothes, similarly, were crammed with ideas.
Tisci sent out a total of 60 looks — including some from women's pre-fall — modeled by house muses like Jamie Bochert. The show began as a somber, all-black-suiting affair. Was Tisci going sedate? Then the floodgates burst open, releasing raccoon tails, a variety of man-skirts (including a knit one that buttoned down the front like a cardigan), sweatshirts (which seem to be the new bread-and-butter of the brand), and geometric patterned all-over-print suits. There were vertical pinstripes, horizontal stripes, bronze metallic shirts with matching ties, simple wool coats with leather appliqués, and denim. The list goes on and on, like a restaurant with a menu so huge you have no clue what to order. The selection was a broad buckshot blast, so dizzyingly varied that it was satisfying.
Tisci pushes the clothes so far that the makeup and accessory choices can be a bit much and distract from the always-stellar casting. For every men's show since the spring of 2014, there has been some jarring flourish — colored Band-Aid-like adhesive strips, nets over faces, do-rags. This season, as with the clothes, he went whole hog, with chola spit curls, full voodoo face paint, glued-on jewels, and lip piercings. But all of this is where the beauty of Tisci's work lies. It was a grandiose vision that can't be tamed.