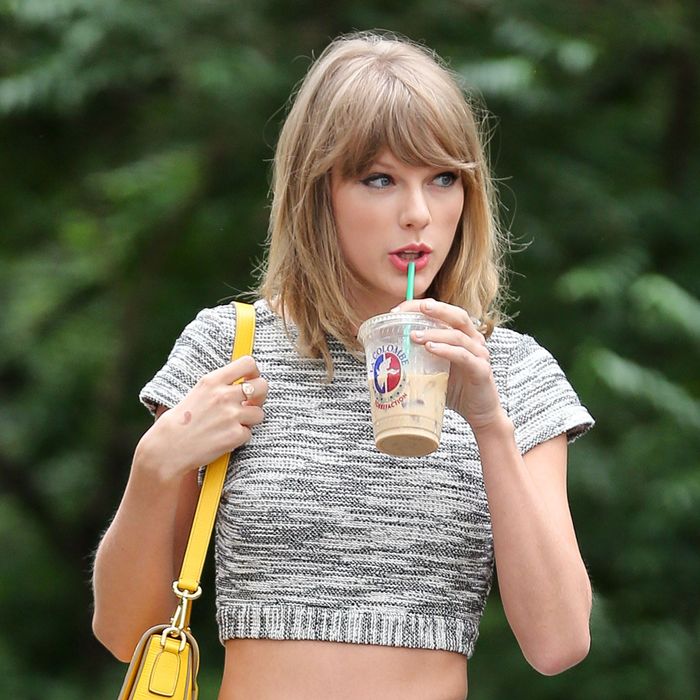 I feel a kinship with Taylor Swift even though I have never met her. I think that she and I would be friends! I too have always wanted to live next door to a Kennedy and then move away really quickly. I feel the song "Style" is the most-trenchant commentary about millennials I have ever heard. (We are obsessed with style! It's so wack.) Every poem I ever wrote growing up was some version of "Mean," except set in the 1920s. I even thought about wearing a bowler hat to the gym the other day!
So when I stumbled across an article on WebMD titled "Taylor Swift's Rules for Healthy Living" — an interview about Taylor Swift's diet conducted when she was approximately 20 years old and shilling Speak Now hard-core — I experienced an unadulterated sense of triumph. Finally, I could eat exactly in the style of my friend Taylor! Isn't that what we all want, aside from the ability to sell 2 million albums?
Preparation:
It is not often that an article on WebMD is both comforting and informative, but this one really was. Taylor's diet is so normal — like what a nutritionist would tell you to eat. It is like no diet I have ever tried, in my entire history of trying the diets of famous people as a job.
"During the week, I try to eat healthily, so that means salads, yogurt, and sandwiches … No sugary drinks. I try to keep it lighter, but it's nothing too regimented or crazy." But on the weekends, all bets are off! "I like comfort foods. I love a burger and fries, I love ice cream so much, and I love baking cookies. Actually, I love baking anything."
Despite how exciting this is, it would be wrong to focus on the diet of Taylor's youngest self. It would ignore the multiplicity of Taylors who have marched through the American consciousness in the past ten years. For example, the "Welcome to New York" Taylor who loves strolling around Tribeca wearing curiously long socks. Or the Taylors who dated Jake Gyllenhaal and Harry Styles! Or the Taylor who always crimped her hair. I would attempt, in my time of living like Taylor, to embody all of these. 
Day 1:
I start today at "Welcome to New York" Taylor's gym, a place called ModelFit on the Bowery. ModelFit is in Terry Richardson's former "photo studio" (!!) and is a "unique, bespoke approach to healthy living" that "incorporate[s] a mix of Pilates, Yoga, movement, motion, balance stability, [and] functional training." Okay!
The best thing about ModelFit is that it is full of actual models. They are all tall and beautiful and I have never seen so many cashmere beanies at a workout class in my entire life. The second great thing about ModelFit is that all the models seem to know each other from modeling. I get there slightly early and most of the models are standing around in groups talking to each other about texts. I just sort of stand there and look at myself in the mirror, cursing the fact that I have no hat, bowler or beanie. Why is my head so wide? Is something wrong with it? Does it mean something bad about my personality? This is when the instructor walks in. 
The instructor is also possibly a model and carrying an iced coffee. He is quite jocular — as if he were truly popular in a former life. I immediately want to win his respect but know it is impossible. Eventually, he sets down his iced coffee and we begin.
Now, I am not in particularly "good shape." One time I almost cried while doing thigh dancing at Physique 57. But ModelFit is one of the easiest fitness classes I have ever taken in my life. It seems to consist of moving very slowly and stretching a rubber band with your arm. There are a million breaks so that people can catch their breath even though no one is out of breath. I wonder how the models can exercise this way and still be models but then I realize this is probably the best thing for them. Models don't really need to burn fat, per se. They just need to expose very small muscles in their torsos and keep wearing their hats.
After class, I grab a Pumpkin Spice Latte and head to Theory in the Meatpacking District, where Taylor was recently spotted shopping with Cara Delevingne. According to WebMD, Taylor loves Pumpkin Spice Lattes and lets herself have them on weekends. "I'm never cutting out what I love, which is Starbucks," said Taylor to WebMD.
I have never had a Pumpkin Spice Latte. It is kind of delicious in a nauseating way.
At Theory, the clothes are beautiful — the severe workwear of my dreams. I even spot a cashmere bodysuit. Taylor's life is so fun!
Day 2:
This morning, I try to confine myself to bread and water at brunch, just like Friend Taylor reportedly did while dining with a group at Butter in Midtown. Aside from one or two bites of hash (my favorite food), I succeed, but I eat a lot of bread, perhaps defeating the overall purpose. However, Taylor might approve of even that, since she doesn't like anything "too regimented or crazy." Then I have a Pumpkin Spice Latte, which is sort of disgusting when you have one twice in a row, but I do it while strolling near my house, thinking about the time when Taylor Swift strolled with Jake Gyllenhaal while they drank Maple Lattes. He apparently once rented out an entire movie theater for them to go on a date. I find that romantic!
For dinner I go to the restaurant where Taylor had her 25th birthday (to which Justin Timberlake and Beyoncé and Jay Z were invited, a.k.a. the best party in all the world). It is a super-cool place that has lots of wooden beams, is really expensive, and features a micro-seasonal menu. Trying to channel Taylor, I order cabbage stuffed with other vegetables. It's not even bad! I wish NYC were actually like this. It's kind of like a long Sex and the City episode without any of the parts that make you feel existential despair or the impossibility of human connection.
Day 3
Today is a Monday, and therefore I start the day with a skinny Vanilla Latte, which Taylor virtuously drinks on weekdays instead of Pumpkin Spice. It tastes like NutraSweet. I also have Taylor's "go-to breakfast" (according to Bon Appétit), a crepe with cheese and ham and a fried egg on top. She even Instagrammed a picture of this crepe once. That is how meaningful it is to her. This is a delicious and decadent breakfast. I feel as if I am in France! But I'm not. I am just wearing a fedora I randomly bought online because I couldn't find a bowler hat.
Later, I decide to go to SoulCycle. Apparently, Taylor attends classes with Karlie Kloss (I am noticing that a lot of Taylor's life in New York is going to fancy exercise classes, and I approve. There is no better way to exercise. If I had my druthers, it would be my life, too.)
I arrive at SoulCycle a little breathless from running there. I am slightly late, as I am for almost everything I have ever done, but I can't even focus on the gravity of that because there is too much writing all over the wall of the SoulCycle. What is it saying?
A SoulCycle employee then gives me spiked shoes and leads me to an extremely dark room lit only by candles. It is full of people on spinning bikes whipping their heads up and down vociferously to a remix of a Justin Timberlake song. The music is blaring so loudly I can't hear the SoulCycle employee say things like "put your spiked foot in this bike pedal" or anything along those lines, so it takes me a very long time to actually get on the bike. (To her credit, the SoulCycle employee is super-patient. I would have killed me.) Once I am finally on it, I start trying to do a push-up on the bike in time to the music, as that is what everyone else is doing. From up above, we must look like a Busby Berkeley military parade.
Later, during a calm period of non-head-banging, I am finally able to read what is written on the wall. Printed there, in broad candlelight, are words like "Athlete," "Warrior," and "Renegade" — the exact type of bromides that led Hunter S. Thompson to an early grave! I thought women were too smart to be talked to in this idiotic American way. I thought we were all more like Angela Merkel.
Still, after class, and in a delirium, I buy a shirt that says "Athlete," "Warrior," and "Renegade" on it. I have no idea why. Perhaps because Taylor Swift actually is all of these designations. I'm not going to wear it.
Days 4 and 5
I go home for the holidays to Rhode Island, which is my ancestral home and also one of the homes of Taylor Swift. (She has a summer house on the ocean in Westerly and she keeps trespassers away with a sign that says, "I Knew You Were Trouble When You Walked In." ) While there, I drink many Pumpkin Spice Lattes, eat sandwiches and salads for lunch, and try to run while listening to the popular music of the day, which is something Taylor Swift loves to do, because "running is all about the music."
I take my sister to the gym to run on a treadmill with me.
"What's that shirt?" she says as we're pulling up.
"I don't know," I mutter. "It's from SoulCycle."
Late in the evening, when I have nothing to do, I scroll through the entirety of Taylor Swift's Instagram. Her evolution is rather interesting. At first, she has a normal Instagram — something that you or I would make if we were slightly depressed. There are pictures of her cats and a particularly sad shot titled "Cupcake Party for One." Then, right around the Victoria's Secret Fashion Show of 2013, she starts finding these cool friends and her Instagram begins looking much more professional. There are more high-res shots. Taylor goes to concerts. Taylor invites people over to decorate for the holidays. Taylor is sliding down an enormous adult Slip'N Slide with many other adults. It's a true success story.
Day 6
Today is Christmas — a holiday I particularly associate with Taylor Swift because she "loves nutmeg and cinnamon." On the drive home from the holidays with my family, we stop at McDonald's and I get Taylor Swift's favorite snack — some fries and a McFlurry to dip them in. It's delicious, although I must say I am not unfamiliar with that snack's appeal.
Days 7 and 8
One of the best parts of diet journalism is that you get to heartily embrace sources of information that other journalists would turn away from in disgust. Therefore, when I find out from a website titled HealthGuideInfo.com that "all over the Internet, rumors swirl that Swift maintains a raw food diet," I immediately decide to spend two days on a raw-food diet.
The philosophy behind the raw-food diet is simple. Adherents believe that food becomes less nutritious once you cook it, and therefore you need to eat it in raw form to truly get its benefits. What that means is that you are basically a vegetarian with no joy at all. You have kale shakes all the time. You can turn cashews into nut cheese if you want; it's very dispiriting.
I basically eat salads most of the time I do the raw-food diet and am completely miserable. The one time I cheat is when I go to my favorite restaurant in all of Rhode Island and have some cooked vegetables (I also have a tiny bit of pizza, but it is very small and regimented). Back in New York, I break the diet with a Shake Shack repast. As Taylor once said, according to her author quotes on Goodreads, "giving up doesn't always mean your weak sometimes your just strong enough to let go."
The other thing I do during this period is cook Taylor's famous chai sugar cookies with eggnog icing. Taylor released the recipe to Country Living! You basically dump a chai-tea bag into sugar-cookie batter and then whip up some eggnog with sugar for the icing. They are apparently quite disgusting. "They kind of taste like a Pumpkin Spice Latte," says my sister.
Day 9!
I'm off the diet! I have developed a particularly rarefied palate for holiday-themed sweeteners and am the proud owner of a hat and a shirt that I will never wear again. What can we say about Taylor Swift's diet? It is a diet I would like to be friends with. It is very normal and approachable.
In the end, however, Taylor is far more "Warrior" and "Renegade" than she is normal. I would only compare her to my other hypothetical friend Madonna. For the millennial era, Taylor is the true master of reinvention: one minute a teen, the next a woman getting her heart broken, the third a fun friend who loves Knicks games. She is constantly changing our glimpse into her life to suit her evolving art.
If celebrity is in itself a construction, then, well, I appreciate how expertly this one was designed. I will do this diet any day!
Rebecca Harrington's book about adventures in celebrity dieting, I'll Have What She's Having, is out this week from Vintage.