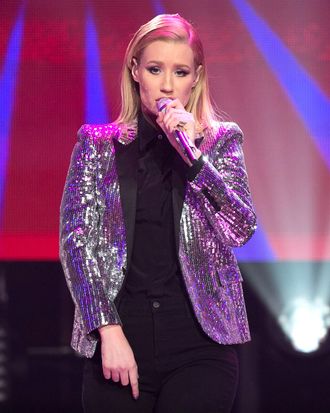 Photo: Mark Davis/Getty Images
The human incarnation of Sprite Zero, Iggy Azalea, has reckoned with her 2014. Her take-home message from the year: excitement, physical manifestation of stress (TMJ), dissatisfaction with drama, skepticism about Western medicine, approval of self-care, and an enduring commitment to sparkly clothing. She summarized Iggy Azalea's Year That Was in an ample Twitter stream on New Year's Eve:
Hey guys!!! Hope everyone enjoys their NYE. / I'm back to work on my second album next week… Anxious to get going on it. The excited kind of anxious. / Also last month I was diagnosed with TMJ which isn't the best. / I'm gonna make more of an effort to take care of myself in 2015, stay away from all the drama & hopefully not have any flair ups. / I don't think western medicine all the way acknowledges what a huge toll mental stress takes on our bodies. But I do believe it is a factor. / Anyhow I don't think it will ever prevent me from doing anything I want to but it has made me realize it's important to look after yourself. / So that's my little update and message! Look after your body and mind in the new year, be safe and enjoy it all! See u soon Las Vegas!!! / Also I have the most sparkled tasseled metallic outfit ever for NYE!!! Hahahaha. / Oh and lasssstttttt thing…. I'm going to see Britney Spears in show tonight!!!!!!!!!!
Will everyone follow Iggy Azalea's plan for a happy 2015 (calm jaws, tasseled costumes, Britney Spears enthusiasm)? Let's hope so, for all our sakes.