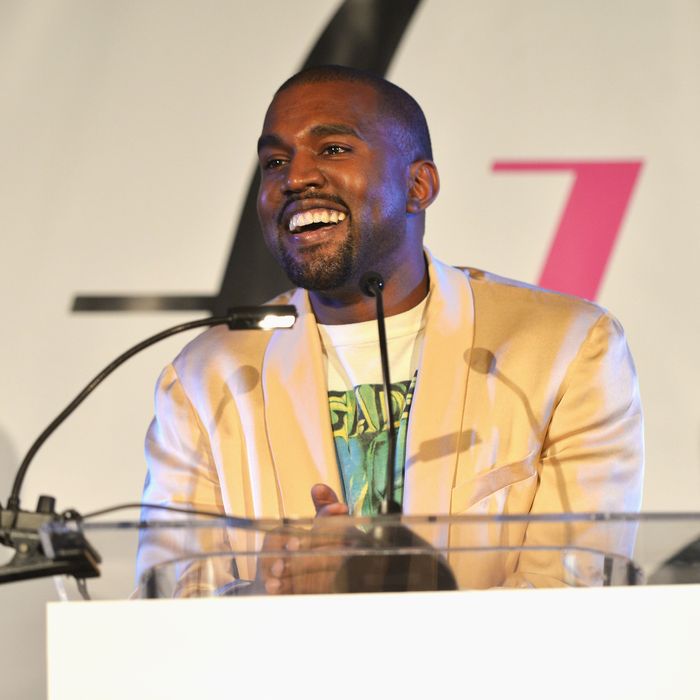 Photo: Charley Gallay/Getty Images
Never one to shy away from sharing his views on any topic under the sun, Kanye West expounded on fashion last night at the Daily Front Row's Fashion Los Angeles Awards. In front of an audience that included Katy Perry, Rihanna, and Miley Cyrus, West stated, per E! Online, "In my opinion, God is the No. 1 creator, and anytime we create, we're an extension of doing his work on earth. That's why we're here. What can we do for humanity? And you know, in a way, fashion is what defines the time."
Kanye then added that everyone is a "fashion insider" because, after all, "it's illegal to be naked." You — yes, even those of you in Crocs! — are all Kanye-anointed fashion insiders. It's the  biggest vote of confidence for the common man since Time named us all Person of the Year in 2006.
Yeezus ended strong, saying, "We have the power to change the world. I believe that through design, because design is the closest to truth, problem-solving truth is the closest to love, and love is the closest thing to God, and God is love … I don't know if I even made one f–king good point."
Well, at least he semi-answered one question: why he rarely smiles in photos. "The paparazzi always come up to me, [asking] 'Why you not smiling?' and I think, not smiling makes me smile …When you see paintings in an old castle, people are not smiling 'cause it just wouldn't look as cool." That said, he grinned throughout the entire eight-minute speech.