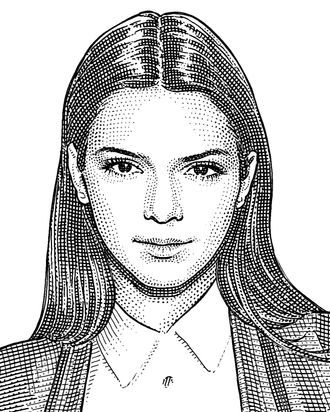 Who better to pontificate on youth for The Wall Street Journal than certified Young Person Kendall Jenner? The model joined a panel that also included ex-youths Tim Howard and Goldie Hawn for WSJ. Magazine's recurring "The Columnists" feature. The issue hits newsstands on January 24. Quoth Kendall,
"I feel like I grew up too fast a long time ago. Having older siblings, you grow up around adults, so you mature more quickly. I saw my sisters and parents working every day, so I was pretty much brought up to be a workaholic. But I just turned 19 a couple weeks ago, and I'm scared to be 20—it's the first step out of being a teenager. My sister Khloé always says to me and my younger sister, Kylie: You have your whole life to be an adult but only so long to be a kid. And we get it. In the right situations, I try to be as immature as I can sometimes—react to things as if I were 12. You can't take things too seriously. I just laugh thinking about my dad being a teenager, partying. It's the funniest thing. And it makes me think—what am I going to be like when I'm 65?"
Big question! Perhaps it's best to not worry about it for now and just focus on surmounting the two-decade hurdle.