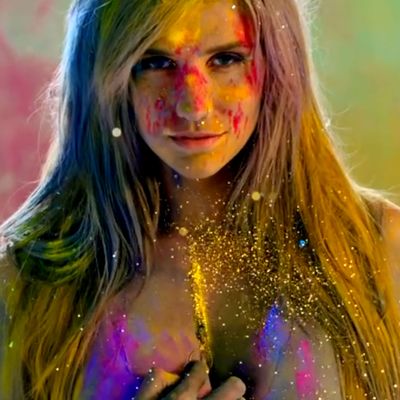 While the rest of us settle for anonymously mailing glitter bombs to our enemies, Kesha has taken her commitment to spreading glitter (terror) to a nefarious, grand scale. TMZ reports that known glitter-terrorist Kesha wreaked havoc at L.A.'s Natural History Museum while attending a wedding:
On her way out she went to the gift store with her assistant and admired a faux T-Rex. She held the 3-ft tall critter in her hand and walked out of the store. On her way to the car security stopped them and asked them what was up with the prehistoric beast. Each said they thought the other paid and apologized for the misunderstanding. Kesha forked over the dinosaur and left. Problem is … it was covered in glitter, so it had to endure a dino-wash … not sure you can resell that.
Kesha escaped without being apprehended. The dinosaur was the only victim.