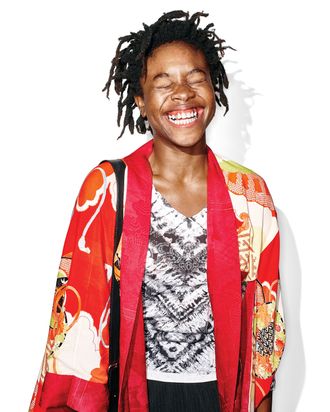 Tara-Jo Lewis, Student
Is that a septum ring?
Yeah — I got it in high school, but for a few years I had to wear it up in my nose so my mom couldn't see it.
Were you kind of a rebel?
I was a really good student, and I did a lot of musical theater. I could really belt it — I was the Artful Dodger in Oliver! But I also went to clubs in the city at 16 and then got into the Brooklyn music scene, going to places like Monster Island Basement, Secret Project Robot, the Market Hotel, staying up till 6 a.m. But I'm a little over that scene right now.
How come?
The love isn't entirely there anymore. Those places that used to be super-janky and gritty now feel kind of bougie. I'm also kind of partied out. So I've been having dinners at my house — like the other night I baked two chickens and just had a few friends over. It was really nice.
Lightning Round
Neighborhood: Bedford-Stuyvesant.
From: Jersey City.
Age: 23.
Major: Philosophy. "I'm taking time off from Hunter College and working at Saraghina Bakery."
Single? "No, I have a boyfriend. He's living with me temporarily, but he works on a farm in Utah."
Last splurge: Groceries at Whole Foods.
Last good read: Anna Karenina.
Last good movie seen: Don't Deliver Us From Evil. "It's about two evil French girls."
*This article appears in the January 26, 2014 issue of New York Magazine.