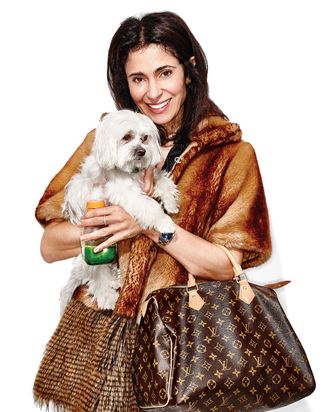 Lisa Nastasi, Writer
How's 2015 going for you so far?
Great. I just got back from a yoga retreat in Costa Rica. Over the summer, a glass door from a gym shattered on my head when I was walking along Lexington Avenue. I have post-concussive syndrome, and my brain isn't firing the way it should. I'm working on a novel, so I thought the retreat could help. 
That is really traumatic.
I landed on my bag, thank God, otherwise I wouldn't be talking to you.
Your Louis Vuitton?
No! Actually it was a beautiful pale-pink Valextra bag.
Are you from New York?
I grew up in Wyoming; my dad moved us there from Bronxville so he could fly small planes. When I graduated from college, my choices were to marry a rancher or work at Kmart. I didn't want to do either, so I moved here.
Lightning Round
Neighborhood: Upper East Side.
Kids: Two. "But my Maltese—her name is Malteser—she's my third baby, 100 percent. I love her as much as my kids. I adore her."
Coat? "The fur is fake."
Favorite New York building: The Chrysler Building.
New Year's resolutions: "To sell my novel, stop eating sugar, and I also have a house in Connecticut that I need to sell."
Favorite food: "I love the meatballs at Palm Court at the Plaza."
*This article appears in the January 12, 2014 issue of New York Magazine.