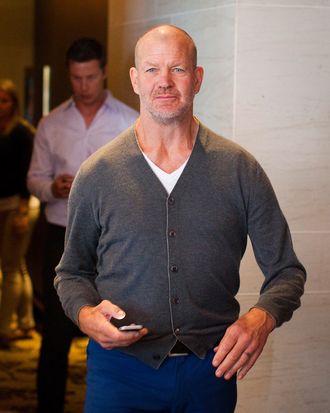 Fat-shaming. See-through yoga pants. While these spandex scandals may have been enough to get Lululemon founder Chip Wilson to step down, they didn't end his involvement in the fashion industry. The New Yorker reports that Wilson has become an "informal advisor" to Kit and Ace*, a new company focused on upscale ready-to-wear in which his wife and son are partners. The line is inspired by two fictitious people, a free-spirited West Coast girl and a surfer who, Wilson's son JJ says, "graduated college. He's thirty-two. He's maybe dating The One."
The Wilsons, who seem to be a tight-knit family, are banking on qemir, a washable variant of cashmere, to make the "full-contact life style" line a success. It remains to be seen if non-fictitious people, too, enjoy full-contact lifestyles.
* This post has been updated to reflect that Chip Wilson is an informal advisor to Kit and Ace, not the founder of the company.