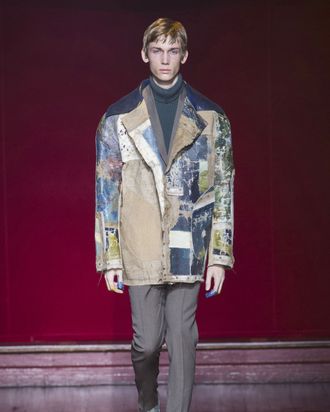 PARIS — After Maison Martin Margiela staffers (dressed, of course, in white lab coats) ushered the masses into Paris's grand Salle Wagram, Peter Fonda's voice boomed over the loudspeakers: "We wanna be free to do what we wanna do. And we wanna get loaded. And we wanna have a good time."
These lines from the 1966 biker flick The Wild Angels, familiarly sampled in Primal Scream's 1990 acid house anthem "Loaded," are only partly true — but certainly precognitive. At Margiela, being "conceptual" is de rigueur. Part of the brand's allure stems from being inscrutable and sphinxlike — even more so now than when its photo-shy namesake founder was still in charge.
The Margiela lab will soon have a face with new creative director John Galliano, who took his millisecond couture debut bow in the signature lab coat last month. This is the final men's collection solely courtesy of the anonymous team of secret-ninja fashion designers — Galliano wasn't involved, but will be in all future collections of the brand's various imprints.
But back to the Easy Rider halcyon era of Fonda. The collection was filled with libertine hippy flourishes, including flower-printed pants and a rainbow-colored shearling vest printed with a freeform brushstroke pattern, which could double as an artist's smock if worn backward. Models wore leather pants with glittery purple-and-tan sweaters, a clashing-yet-appealing Prada-esque palette perfect for a disco or the London Underground. Solid-toned pieces like a navy overcoat with black leather front pockets, a beige three-button suit sans shirt, and slightly baggy cut-just-right pleated trousers stood out. The show closed with a black-and-violet jumper, glittering and wafting in the air like tinsel.
See the full Maison Martin Margiela fall 2015 menswear show here.