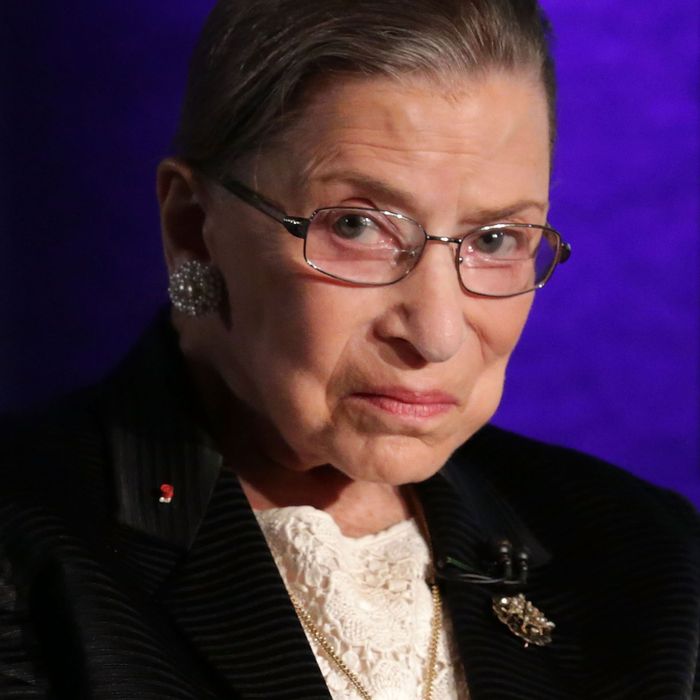 Photo: Alex Wong/Getty Images
Notorious R.B.G., the popular meme blog beloved by Ruth Bader Ginsburg herself, will soon be expanded into a full-blown biography of the Supreme Court Justice, co-authored by blog creator Shana Knizhnik and MSNBC reporter Irin Carmon. Combining reporting, feminist history, and photography, Notorious R.B.G.: The Life and Times of Ruth Bader Ginsburg will be an unobjective and irreverent celebration of Ruth Bader Ginsburg's life and role in the women's movement, Carmon told the Cut.
The book, which Carmon says is aimed at "anyone who loves R.B.G., especially young women who might go off their birth control so they can have their own Ruth Baby Ginsburg," was acquired by Julia Cheiffetz at Dey Street Books, a new pop-culture imprint at HarperCollins, and is due out in the fall. They don't know if Ginsburg will participate yet, Carmon said, but "she did just invite my co-author Shana [second from the left] into chambers."
Carmon sees R.B.G.'s recent elevation to Tumblr deity as a result of the general absence of "unapologetically fierce" women like Ginsburg in powerful positions, and of how outspoken Ginsburg has become in recent months (in particular, over her concern for the impact of the law on actual humans, a historic blind spot for the Supreme Court). "As the court has moved to the right and undone a lot of what R.B.G. and her generation fought for, she has let loose in a way that really resonates online, where people are frustrated about many of the same things," Carmon (below) told the Cut.
And it doesn't hurt that Ginsburg's personal life is way ahead of its time, starting with her egalitarian marriage to Georgetown law professor Martin Ginsburg, who shared child-rearing duties and whom she described in Elle as "the only boy I had ever met who cared that I had a brain." "Marty Ginsburg, rest in peace," Carmon said. "May all heterosexual feminists who don't think marriage is an irredeemably sexist institution find their Marty."