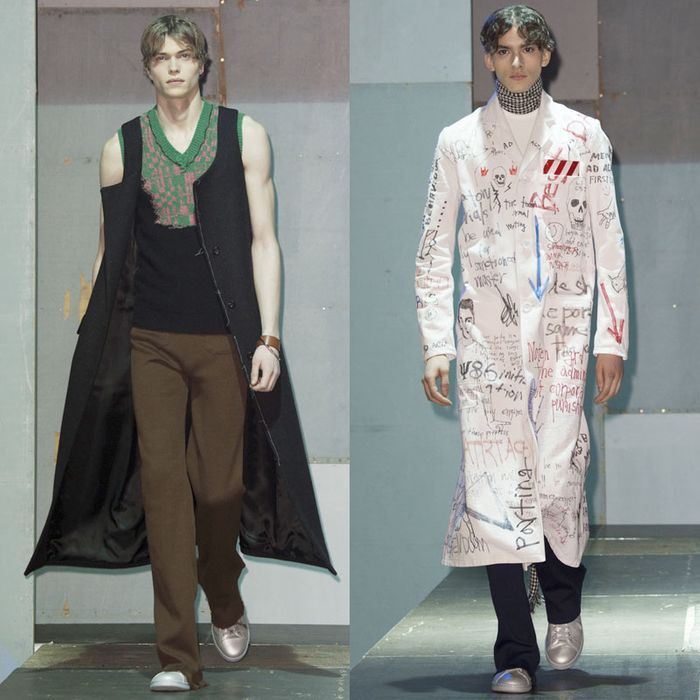 PARIS — It's only the second day of the men's shows in Paris, but already a few themes have emerged: There's an X-rated aspect to some of the shows (Walter Van Beirendonck sent butt-plug brooches down his runway, and Rick Owens deployed some full-frontal male nudity), while elsewhere, things are looking far more feminine.
Last night at Raf Simons, for example, several female models showed up on the runway. Not that the collection was femme, but quite the opposite, as women were styled as tomboys in preppy, worn-out knits and truly excellent slouchy trousers with kick flares. Seriously, just as we were admiring these on the boys (and wishing Raf would make them for women), out came Hanne Gaby wearing a pair of her own.
Elsewhere, the collection featured jacquard coats and sleeveless wool trenches with frayed edges, but the highlight (and, we'll bet, the most-Instagrammed) were the sweeping trench coats scrawled with graffiti. They called to mind the kind of childhood doodles you might see in a bathroom stall or on a school diary. Themes of youth are ever present in Raf's mind.
The show felt like it was a world away from Simons's days at Dior and Jil Sander — it took place, for one, in a frigid, vacant warehouse on the outskirts of Paris (like a rave venue in Bushwick). There was no seating and no discernible photo pit, and there was a Deep Purple soundtrack. It was loose and just a little gritty, like a throwback to the designer's indie roots (even if everyone from A$AP Rocky to the buyers from Selfridges was present and accounted for).
At Lemaire (the recently rebranded collection by Christophe Lemaire) earlier that day, there was no female casting, but there were clear items borrowed from a woman's wardrobe: a delicate silk twill shirt, wool stoles that models wore over their shoulders. We saw something similar at Gucci in Milan, where the freshly anointed creative director Alessandro Michele and his team pulled together a last-minute men's collection with ruffle-necked shirts and romantic pussy-bow blouses.
Women also made an appearance at Prada, as Miuccia Prada continued to explore her ongoing fascination with gender and context. She presented the women's pre-fall 2015 collection side-by-side with the men's. It was nice, after a month of dudes, to finally see some women on the runway.
See the full Raf Simons fall 2015 collection here.
See the full Lemaire fall 2015 collection here.
See the full Gucci fall 2015 collection here.