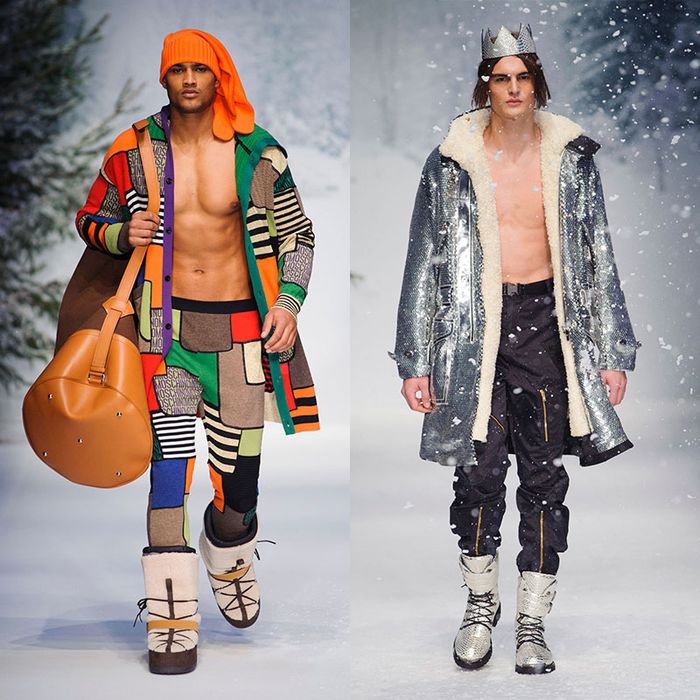 Jeremy Scott has done something to London. His fall-winter 2015 Moschino menswear show yesterday attracted, once again, a frantic pack of fans who flooded the street. Inside, the Cut spotted not one but two grown, adult women wearing Miley-style bunches — one with gold scrunchies. When did we all get so kitsch? It's Moschino mania.
But inside the high-ceilinged Lindley Hall, it all felt relatively serene. The room was filled with snow-covered fir trees — a peaceful winter wonderland. It was only when the first model stepped out, magnificently buff and bare-chested under his patchwork jacket, that it became clear what this really was: a party on the slopes.
The collection was skiwear-meets-clubwear, and if a look wasn't shiny then it was almost certainly furry. It was PETA's worst nightmare, in fact, with hats, coats, and boots covered in pelts, and fur tails clipped onto bags like they were hunting trophies. Elsewhere there were jackets printed with trompe l'oeil images of denim, and silver bags shaped like enormous ski gloves — coming soon to a street-style blog near you.
It seems Scott's logo-mania has died down, as there were no more references to other brands — although if you were dreaming of wearing a MOSCHINO-emblazoned, furry fanny pack next season, then good news: Your dreams have been answered.
Scott is nothing if not a crowd-pleaser, and his casting technique seems to be all about the sex: women (like Jourdan Dunn, walking this show in Moschino womenswear) are curvy and in underwear. Men are muscular, macho, and topless. Artificial snow fell heavily from the ceiling throughout the show, which caused coughing fits in the audience — but at the end, the Cut overheard one guest declaring: "It was totally worth it for the models."