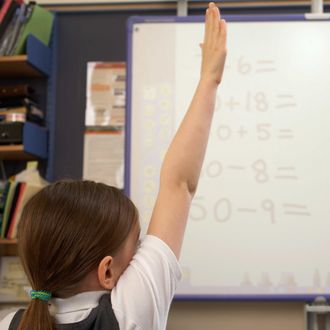 Despite the persistent gap in equal gender representation when it comes to certain math and science fields, which are still dominated by men, girls have been better overall students than boys for a while. And a new study in the journal Intelligence takes this research worldwide, finding that in 70 percent of the countries studied, girls outperform boys in the classroom.
"We studied the educational achievement levels of 1.5 million 15-year-olds from around the world using data collected between 2000 and 2010," said David Geary, Curators Professor of Psychological Sciences in the College of Arts and Science at [the University of Missouri-Columbia]. "Even in countries where women's liberties are severely restricted, we found that girls are outperforming boys in reading, mathematics, and science literacy by age 15, regardless of political, economic, social or gender equality issues and policies found in those countries."

According to the data, boys fall behind girls in overall achievement across reading, mathematics, and science in 70 percent of the countries studied. Boys outperform girls in only three countries or regions: Colombia, Costa Rica and the Indian state, Himachal Pradesh. Boys and girls had similar educational achievements in the United States and United Kingdom.
That main takeaway — a lack of a correlation between overall gender equity and classroom-performance equity — is an important one, hinting that classroom settings are, at least in certain ways, operating at a remove from the societal forces swirling around outside them. Given the right sort of support, girls growing up in countries that don't treat women well could still be in a good position to attain the tools they need to create better lives for themselves. 
In the meantime, the fact that boys are falling behind "has strong implications for national economic prospects as well as social stability," the researchers write, "as young men who are not well integrated into the economic structures of their society are prone to crime and violence." In other words: There's lots of work to do all around.