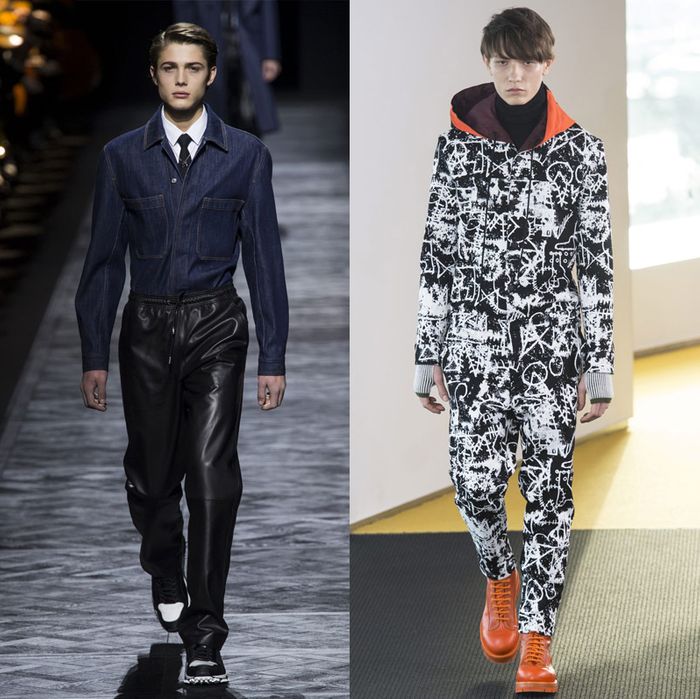 PARIS — The payoff for Kenzo's habitual weekend a.m. show times (besides the clothes, of course) is invariably some grand venue to stage the whole affair — Carol Lim and Humberto Leon have held their show at metro stations (complete with trains), the crumbling Samaritaine department store, a grande salle de judo on the outskirts of Paris; the list goes on and on. Saturday morning was no exception, with the show held in the just-opened Jean Nouvel–designed Philharmonie de Paris, which looks like a giant spaceship landed in the 19th arrondissement.
It was a welcome colorful start to a gray day. Standouts included bomber jackets with mottled-rainbow fleece collars, jean jackets treated neon yellow or orange, sweaters and shirts printed with enigmatic runes, and, of course, there was a flight suit for fans ready to orbit. (Yes, some shiny silver was involved.) It was bright and fun, but didn't veer into being camp for those who don't believe the truth is out there.
Across town at the majestic Oratoire du Louvre, faint sunlight streamed in from the windows during the contemplative Sacai presentation. Whereas multiple designers have been showing bright colors and shorts, the Japanese designer Abe Chitose prepared for a harsher winter with fleece coats, flowing oversize wool ponchos, and a predominantly darker palette. Flourishes like elastic-ankle track pants and huge scarves made it a not-too-somber (despite being whisper-quiet) affair.
It was then off to the southwest edge of town, to the Tennis Club de Paris, for Dior Homme's decidedly non-sporty outing. Dramatically, a curtain dropped to reveal an orchestra, and the show started out with tuxedos (some with tails), made younger and more casual with the addition of baseball caps. It was traditional Dior chic in mostly black and gray, but then some curveballs emerged like drawstring leather pants and ankle-length overcoats.
AMI's clothes are always wearable, chic, and, frankly, just as affable as the line's designer, Alexandre Mattiussi, who is always smiling and wearing a trademark Where's Waldo red beanie. It made it all the more weird to be in a dark underground parking lot with production assistants spraying the ground with hoses for the show. Death disco roared and models came out in 16-hole boots, rolled-up jeans, and shiny black trenches. There were still plenty of preppy elements — and the vibe of the collection felt almost like an honor-student teen had suddenly discovered Joy Division and early '80s Manchester groups (or at least the current crop of bands inspired by them). Mattiussi came out for the bow in (gasp!) a dark-navy wool cap instead of a red one. Metaphoric? Was this dark tonal shift due to some personal catastrophe?
"Not at all!" Mattiussi said backstage. "I'm super-happy and my life is really cool. It's not a dark side, just more cinematic. And I quit smoking." Hmm, no matter the reason, it was a welcome veer from his oeuvre, shows off his scope, and reaffirms that he is deservedly a one-to-watch.
Androgyny has been a buzzword at the European men's collections, but Umit Benan refreshingly went the other route with a standout collection of fisherman-inspired, manly clothes for salty seamen. Sunday's opening model, with a scraggly gray beard, mariner sweater, and undone overalls, was so grizzled and real he could have replaced the Gorton's fisherman on the brand's boxes of frozen fish sticks. It was all very literal, with models carrying buckets and fishing poles and set to a video backdrop of a dilapidated pier and crashing waves, but Benan wasn't closed in by wharf archetypes. The sounds of the ocean crashing morphed into disco, and rugged wool suits, leather pants, and coogie-esque sweaters were chucked into the mix. The final model hurled his beanie into the crowd, and Benan came out and gave him a bro-hug. Benan's clothes have a great translatable element for Americans, and he deserves a bigger profile.
Later that night, in an out-of-the-way, sketch-ball part of the 19th arrondissement, Thom Browne staged a perplexing show. Set against a white tableau, a model got out of a bed, went about his day, changed from a white suit to a black one, and went to sleep as eerie music swirled. It was an interminable, Waiting for Godot–like prologue that led to black snow falling and then a lugubrious parade of incubi dandies, the gentleman's counterpart to the Met Costume Institute's "Death Becomes Her" exhibition. The models had bone-white pallors and Browne riffed on ink-black Victorian-era funereal garb, top hats, and waistcoats. The collection also featured his signature high-water trousers and man-skirts (mini and maxi length), which have been a trend at the Paris shows. There was a Tim Burton–like playfulness to all of this doom and gloom, though, with weird accessories that mimicked a turtle's carapace, and cool black-on-black printed jackets and tailored overcoats stood out like gems (or at least onyx).
See the full Kenzo fall 2015 collection here.
See the full Dior Homme fall 2015 collection here.
See the full Thom Browne fall 2015 collection here.
See the full AMI fall 2015 collection here.

See the full Umit Benan fall 2015 collection here.