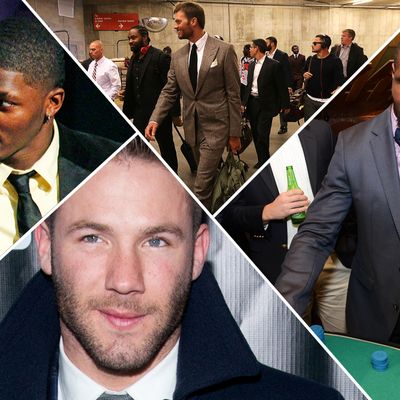 The New England Patriots have been called many things — champions, competitors, cheaters. But missing in talk of Super Bowl rings, deflated balls, Revis Island, season-long NFL scandals, and the Gronk spike is something that, when it comes to success off the field, may be just as important: These men can dress.
If you've ever tuned in to a postgame press conference during the regular football season (guilty as charged), you've seen the parade of men — many of them millionaire men, with a stable of press handlers and image consultants — standing in front of a podium wearing, at best, ill-fitting, oddly shiny button-downs; at worst, oversize logo'd T-shirts that may or may not have been washed since the previous week's game. I've seen unironic Elmer Fudd hats. I've seen camo jackets — as in, the type you'd actually wear hunting. I've seen bolo ties. Even among higher-visibility quarterbacks, off-the-field looks fall somewhere between forgettable and groan-worthy; Aaron Rodgers, considered to have one of the best arms in the league, favors Men's Wearhouse–esque suits when he hits red-carpet events with his current girlfriend, Olivia Munn (who could easily lend him her stylist).
And then, like a New England lighthouse cutting through the darkness, there are the Pats.
What started with just Tom Brady — Mr. Gisele Bündchen, Met Gala regular, VMan magazine cover star, Ugg model — has morphed into a full-fledged team of menswear mavens. Just as the quarterback is the de facto leader on the field, Brady has led his teammates into a world of pocket squares, designer denim, fashion sneakers, and statement sweaters.
They are the Football Dandies, a small but growing group within the team who have traded polyester jerseys for selvedge denim, swapped helmet-hair for the hipster high-and-tight cut, equipment bags for a leather backpack. They're just as likely to make an appearance at a Rag & Bone party (as Pats wide receiver and Brady's game-day go-to target Julian Edelman has) as they are to be voted to the Pro Bowl.
And while the team keeps on winning on the field — Brady, who has spent his entire career playing for the Pats, has the all-time highest winning percentage of any QB in the Super Bowl era — off of it, they're rewriting the coded assumptions of masculinity that go hand-in-hand with the most American of sports. In a league where the only openly gay player was deemed a "distraction" by sports analysts, this is a big deal.
Take Darrelle Revis: The Patriot cornerback has admitted to owning 3,000 pairs of shoes, and fills his Instagram feed with carefully arranged shoe selfies. His "business trip" (that's football-speak for an away game, and yes, Pats players post photos of their outfits using the hashtag #businesstrip) attire often includes square-bottom ties and cropped-just-right pants that could get him sponsored by Thom Browne. Postgame, on the other hand, he's been spotted in drop-crotch pants that are more Undercover than Under Armour.
The list goes on: Wide receiver Danny Amendola, another one of Brady's on-field targets, favors A.P.C.-esque striped sweaters and Danner-inspired hiking boots en route to the locker room. Rob Ninkovich, the team's defensive end, is a lumbersexual poster boy with an impeccably groomed beard and slim-cut (well, as slim as they get on a burly 260-pounder) plaid button-downs. Tight end Tim Wright is a master of the jacket-tie-pocket-square trifecta. "It definitely seems like there's some sort of unofficial off-duty uniform with the Patriots," a fashion editor friend (and lifelong Green Bay Packers fan) tells me.
This is hardly the first time we've seen athletes make fashion plays; from tennis to basketball to hockey, the connection between players and the fashion world can be a close one. There are other individual football players (both past and present) with standout clothing choices — take, for example, Joe Namath and his sideline furs, or Carolina Panthers QB Cam Newton, who showed up to a recent press conference in capris and velvet slippers. But often these guys are attempting it solo. With the Patriots, dressing like winners off the field is practically a team effort.
That all could be changing. "I think there is [an evolution across the NFL], and Tom Brady's responsible for pushing that," says sports writer Tim Ryan, who launched a weekly column on Medium featuring the best and worst of quarterback-press-conference style this past season. His reasoning? In a world where everyone is a brand, there's no reason why pro athletes can't get in on the act. "If you're a good-looking guy you're thinking, If I'm spiffy at the podium, maybe I'll get a call from Ugg or another company to expand my brand," Ryan explains. After all, Nike can only sponsor so many athletes.
The Football Dandy looks like he's here to stay. And at the very least, there promises to be a very good-looking post–Super Bowl press conference with the Patriots. Tell your boyfriend to take notes.
This story was originally posted in January of 2015.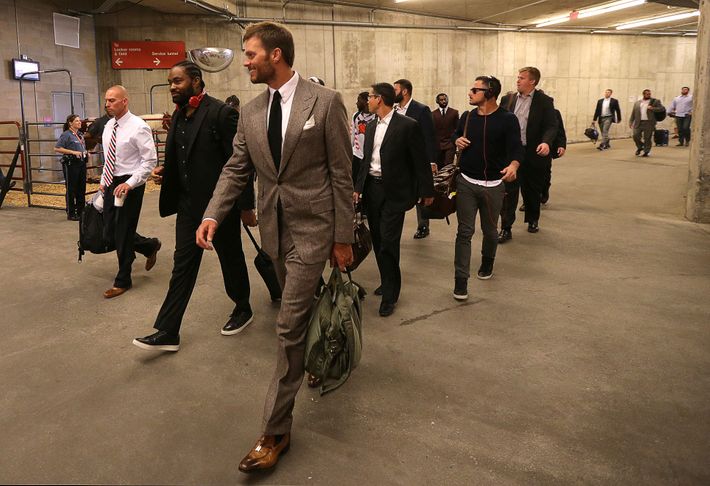 Tom Brady
The official team leader — in padding or, as seen here, tasseled loafers.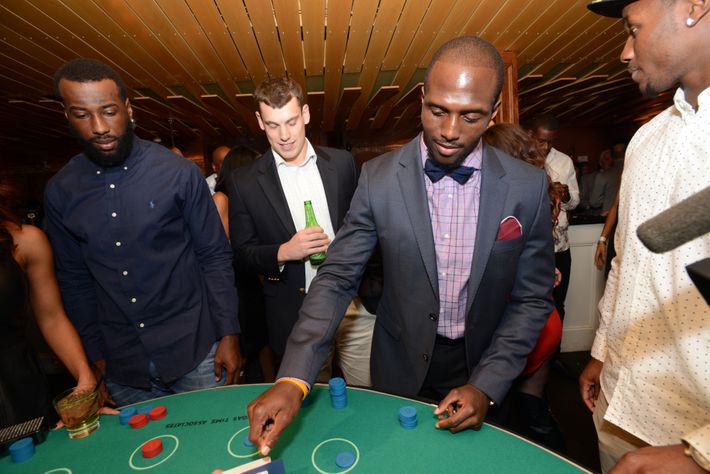 Devin McCourty
Patterned shirt? Check. Bow tie? Check. Pocket square? Check. Devin McCourty (joined by Darrelle Revis) nails the Football Dandy suit.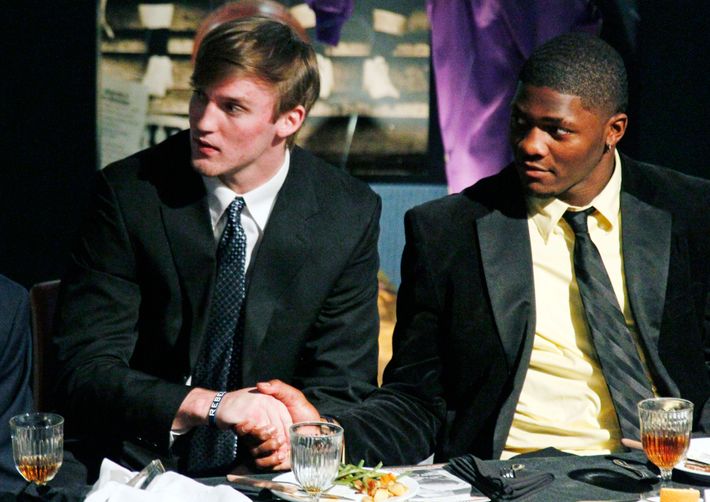 Bo Wallace, Jamie Collins
Jamie Collins may just be a rookie with the Patriots, but he's proven himself a fast learner with his off-field velvet jacket.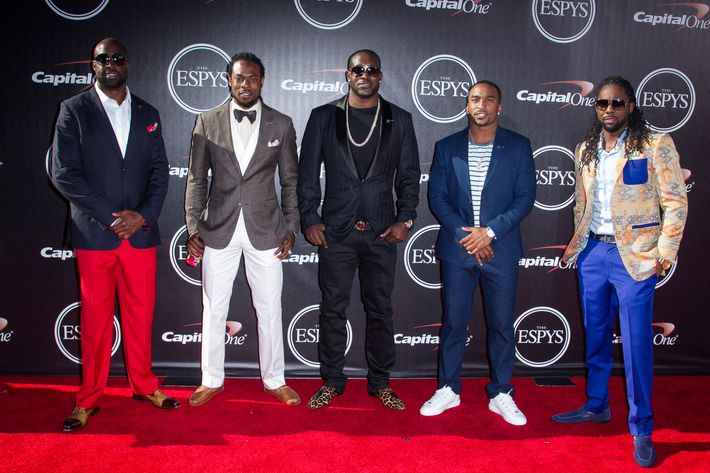 Brandon Browner, Richard Sherman, Kam Chancellor, Jeron Joh
Brandon Browner traded Seattle's Legion of Boom for New England's Football Dandies. Not a bad choice, if you ask us.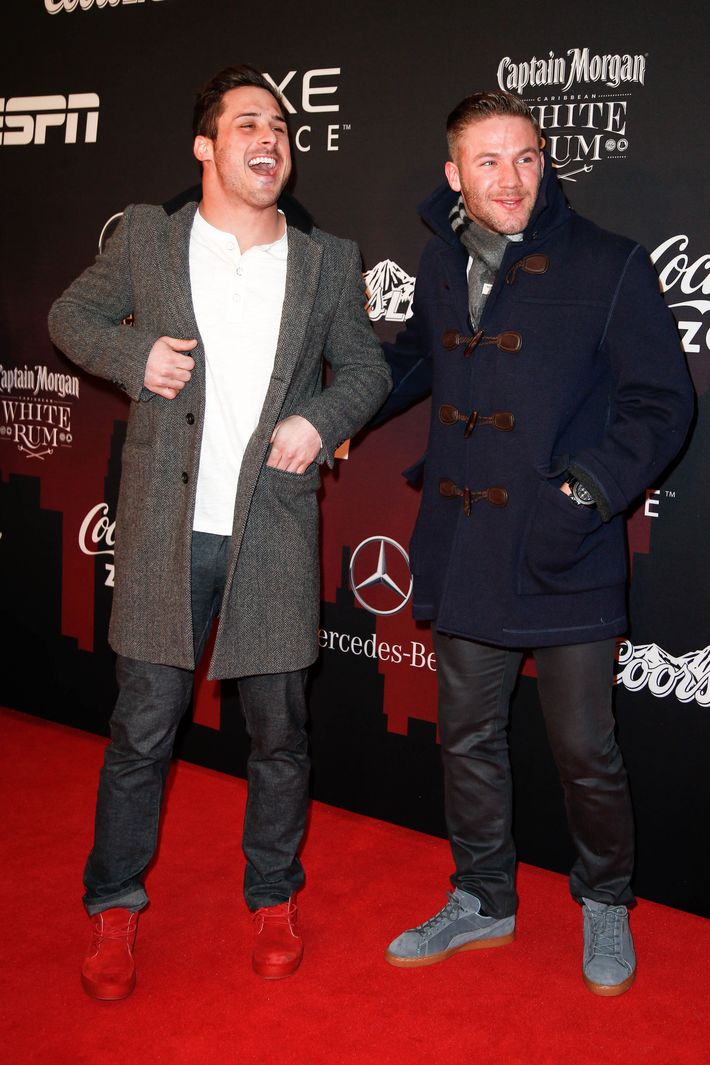 Danny Amendola, Julian Edelman
A Football Dandy is never without a statement coat — just ask Patriots wide receivers Danny Amendola and Julian Edelman.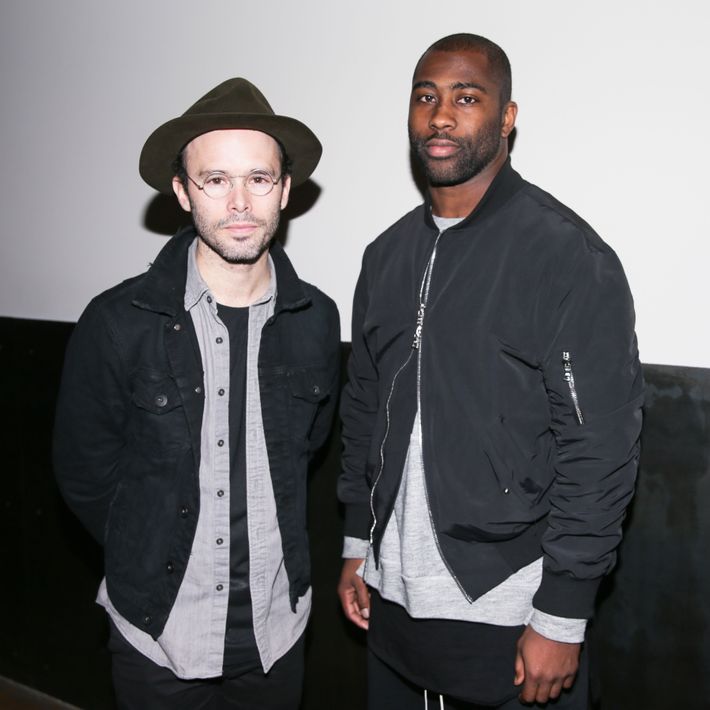 Daniel Arsham, Darrelle Revis
Not only does Darrelle Revis hang out with artists, but, with the way he dresses, he could pass as one, too.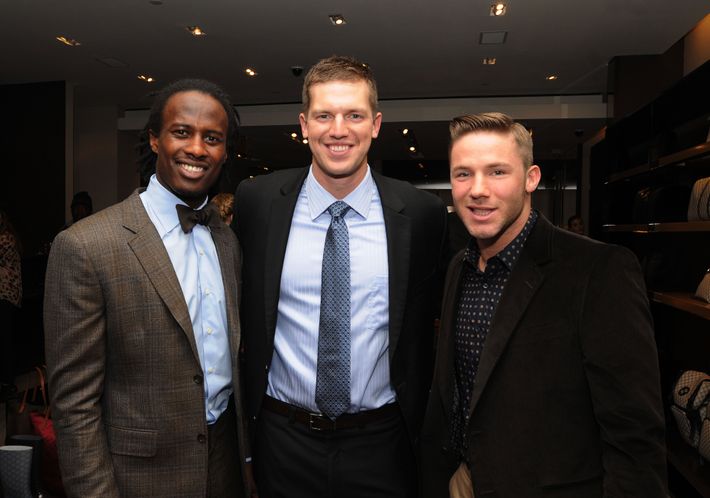 Julian Edelman, Brandon Lloyd, Zoltán Meskó
Gucci football party is not an oxymoron — as seen here by Julian Edelman and his former Patriots teammates Brandon Lloyd and Zoltán Meskó.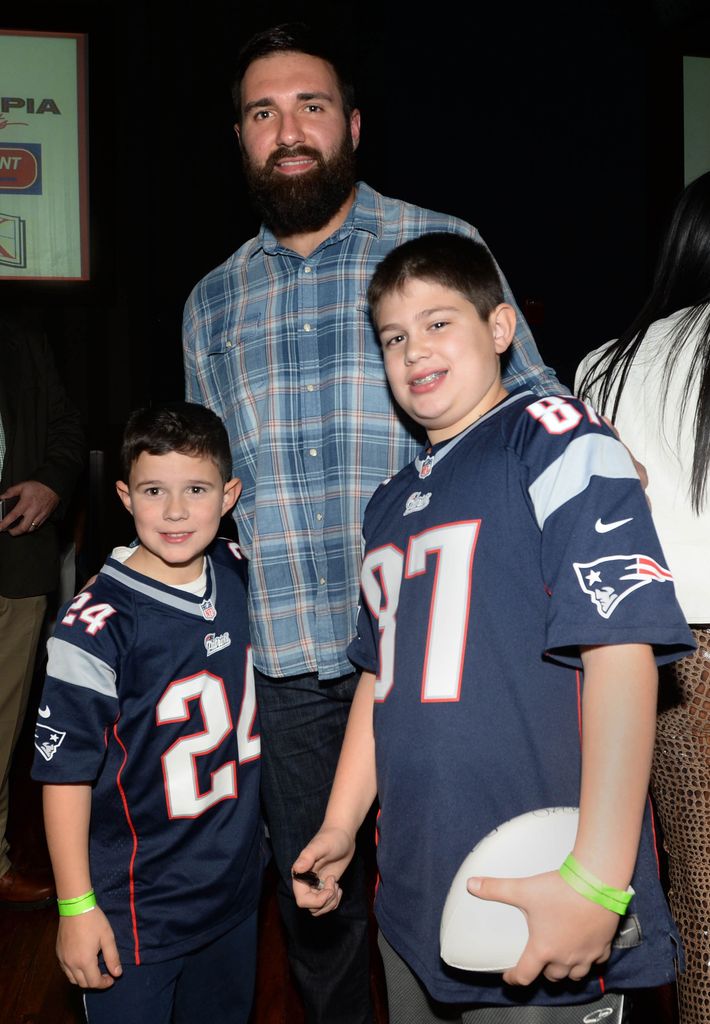 Rob Ninkovich
The lumbersexual: a trend that's not just limited to New York. In New England, Rob Ninkovich is one of its staunchest supporters.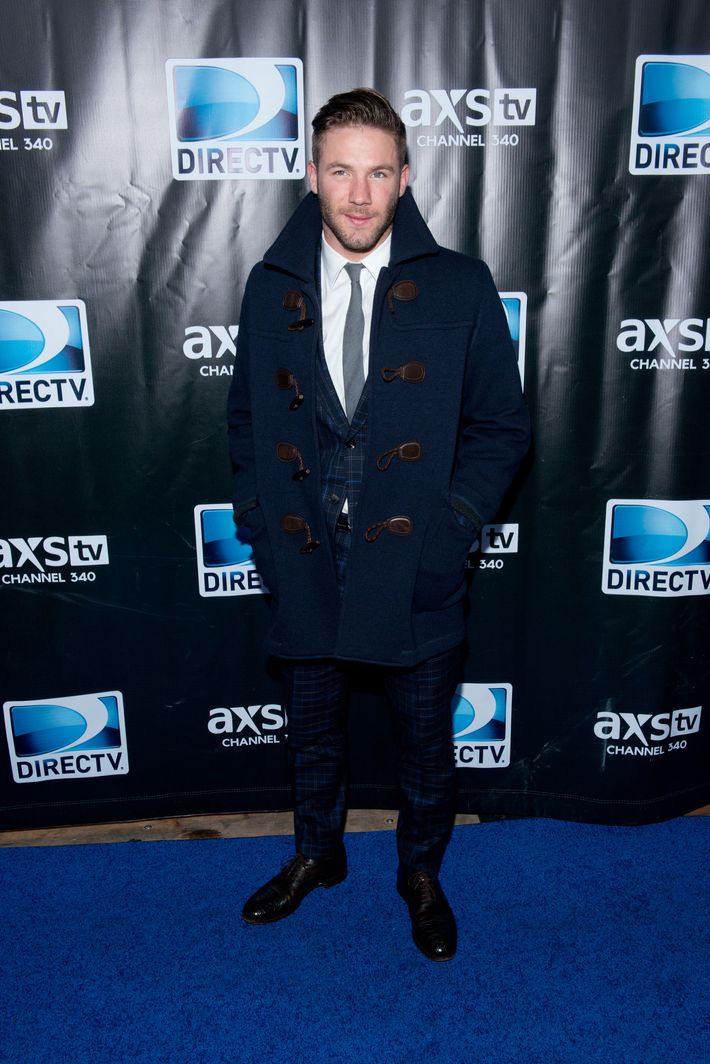 Julian Edelman
When he's not hanging out at Rag & Bone parties or starring in a John Varvatos campaign, Julian Edelman likes to wear plaid suits just like any other regular Joe.