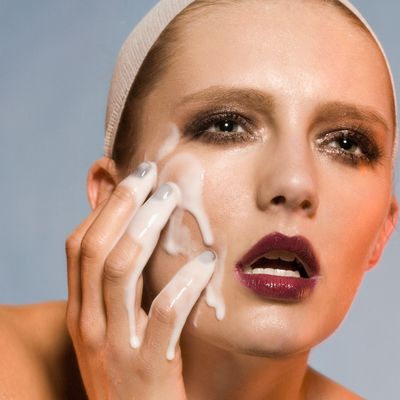 Photo: Harry Vorsteher/Corbis
Doctors have slowed down on prescribing antibiotics for adult acne because the bacteria responsible for zits have become resistant to the drugs, The Wall Street Journal reports. "Our ability to treat moderate to severe acne has been compromised," said Dr. Whitney Bowe. Even more apocalyptic than drug-resistant zits are other drug-resistant infections, like MRSA, a.k.a. the Superbug, which are treated with the same antibiotics. Another dermatologist publicly voiced her concerns about putting teenagers at an increased risk of MRSA for the sake of their complexions.
"The pit in my stomach grows a little bigger every time I prescribe oral antibiotics to healthy, athletic teenagers for their acne knowing I am increasing their risk of contracting MRSA from the locker room, classroom or anywhere in the community," dermatologist Sandra Johnson of Fort Smith, Ark., wrote in a February letter to the professional newsletter Dermatology Times. Dr. Johnson says many patients ask for antibiotics because their friends are on them and it is difficult to steer them to other treatments.
Other treatments include chemical peels, lower doses of antibiotics, Accutane (which apparently doesn't make us as suicidal as once believed), and, ugh, cutting out dairy and processed carbs.