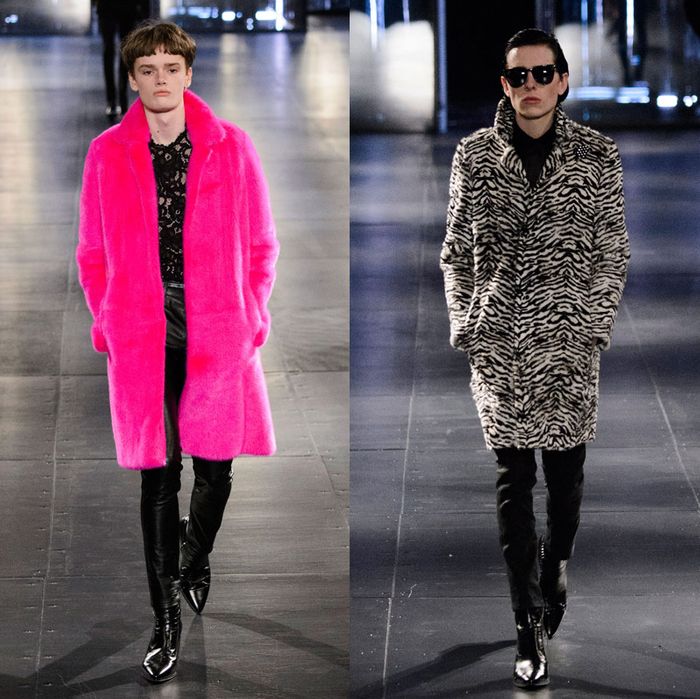 Saint Laurent closed Men's Fashion Week last night in front of some of the industry's biggest players: Azzedine Alaïa, François-Henri Pinault, Salma Hayek, and Riccardo Tisci, as well as many of the editors who only arrived yesterday for the start of couture. It was a good opportunity to show Carine and Anna some highlights from women's pre-fall 2015, which made up almost one third of the looks last night, as was the theme this season.
Also present was the requisite cast of musicians — like Miles Kane and Alex Turner from the Last Shadow Puppets — and their posse, some sitting cross-legged on the floor in front of the front row. Slimane's crew of cool kids grows larger each season — but so obscure were some of these attendees that photographers had to meekly lean forward to ask them how to spell their names. No matter: They had the right look.
While the theme at Saint Laurent is eternally rock and roll, this season Slimane added a little glam rock. The collection featured animal prints, bedazzled blazers, mesh bodysuits, and even a hot-pink mink coat thrown in the mix. There were high-heeled boots (the same style was sported by both men and women), and we have to admit the men managed very well in them. Though, one obviously has no choice but to strut while wearing tighter-than-tight leather pants.
For the girls, Slimane continued his homage to the swinging '60s — shift dresses dominated the runway again this season, but this time styled with biker or military jackets. Despite it being pre-fall, models wore what will surely be next season's accessory du jour: the beret. Which, as of that precise moment, became officially cool again.