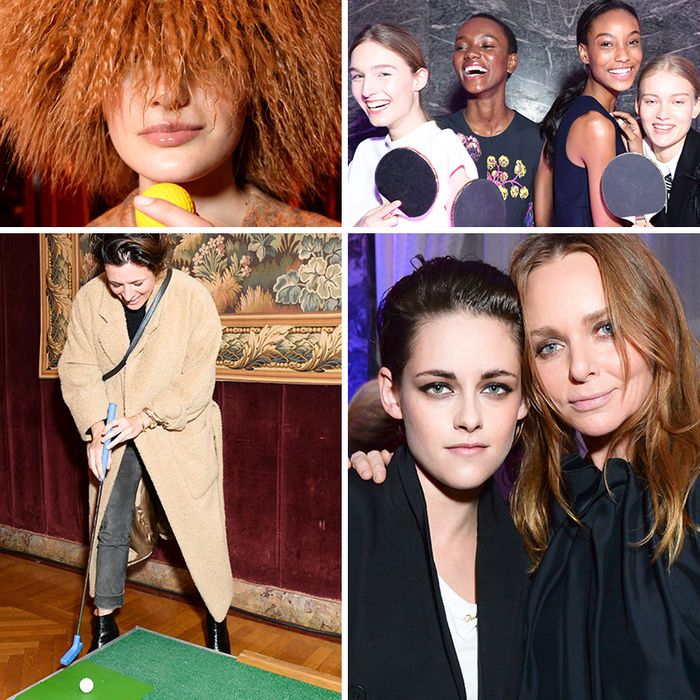 Being serenaded by a group of Yale men in tuxes and tails might be a fashion-show first. But that was all part of the uptown charm of Stella McCartney's pre-fall presentation last night. Held at the Burden Mansion on the (very) Upper East Side, the night also featured models playing mini-golf and table tennis, a performance from the aforementioned Yale Alley Cats, and appearances from McCartney's usual eclectic group of pals: Kristen Stewart, Chloë Sevigny, Miranda July, Rachel Feinstein, and Taryn Simon.
The accessories had more than a whiff of '70s glam-rock, notably a pair of Bowie-worthy platform creepers emblazoned with stars, while mod little dresses with an oversize-bow print, a take on an untied tuxedo, called back to the previous decade of British history. Though there were plenty of classic pieces like the perfect white wool coat and plenty of neutral-colored turtlenecks — "This time of year, I want my camel and my gray," the designer noted — McCartney also collaborated with artist Will Sweeney on a psychedelic floral print that recurred throughout the collection. In keeping with her dedication to all things green, the collection featured Patagonia sustainable wool. On the way out, attendees got pins declaring, "Fur Free Fur." Explained the designer, "I'm trying to stop everyone from getting paint tossed on the faux-fur coats. You know, because it looks like an actual fur. You can stick it right on there and avoid the whole thing, just say, No, no no! It's not fur, look at the pin." Always looking out for us, that Stella.
Additional reporting by Ericka Goodman.