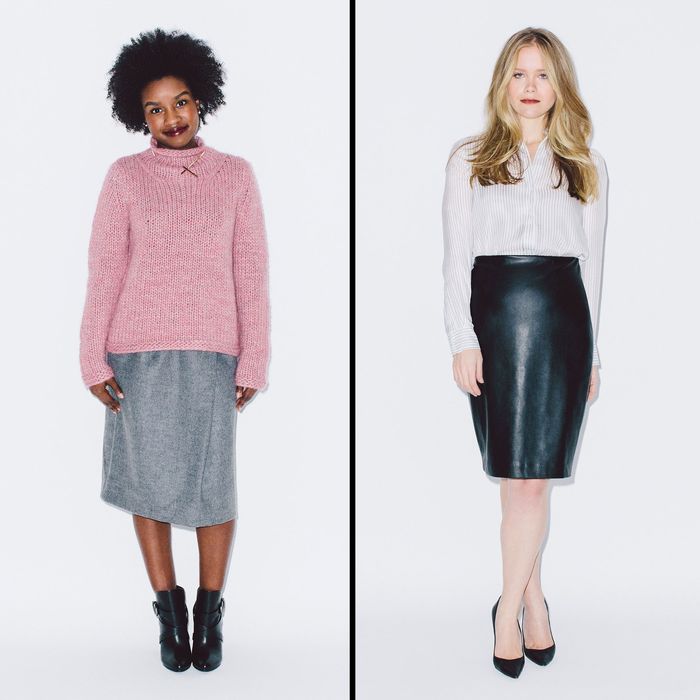 This week on the Cut we're exploring how to get your act together when it comes to personal style — from organizing your closet, to finding your signature scent, to figuring out your work uniform.
Great wardrobes are built on the solid foundations of well-fitting basics. Yet, when you buy clothes straight off the rack, they're most often sized to fit a 5'10" model (not exactly the average woman). Pants tend to run long, skirts hit at an awkward length, and waists will have weird things going on with the pockets. But no matter what your shape, tailoring will help your clothes fit better. If you find a good tailor, you can pass a $30 tuxedo shirt for a $300 one. Then, if you add good accessories, your entire outfit will instantly appear like you spent much more than you really did.
As an experiment, the Cut gathered up a few inexpensive basics and three non-model "real" women to fit them — before and after alterations. We also asked Malisa Browman, a fit consultant at In-House Atelier who has worked with everyone from Jay and Bey to Gisele Bündchen, to weigh in on what's worth the tailoring splurge and what little adjustments you should ask for the next time you bring a piece to be tweaked. Click ahead to learn from the transformations.
Photographer: Eric T. White; Styling by Diana Tsui; Makeup by Ashleigh Ciucci; Hair by Aaron Genia; Tailoring: Angela Donhauser for Lars Nord Studio; Models: Sequoia Armstrong, Kathleen Dougherty, and Tahirah Hairston; Photo Editor: Emily Shornick; Photo Assistant: Stephen Tang; Fashion Assistant: Tahirah Hairston.
Slimming Boyfriend Jeans
Browman says you can cut the hem yourself since the style is meant to be worn rolled up, but you should ask your tailor to add two darts at the waist ($5) for a better fit. If the leg is too roomy, nip it in at the knees ($15 to $25). That will give you the slouch without sacrificing the shape.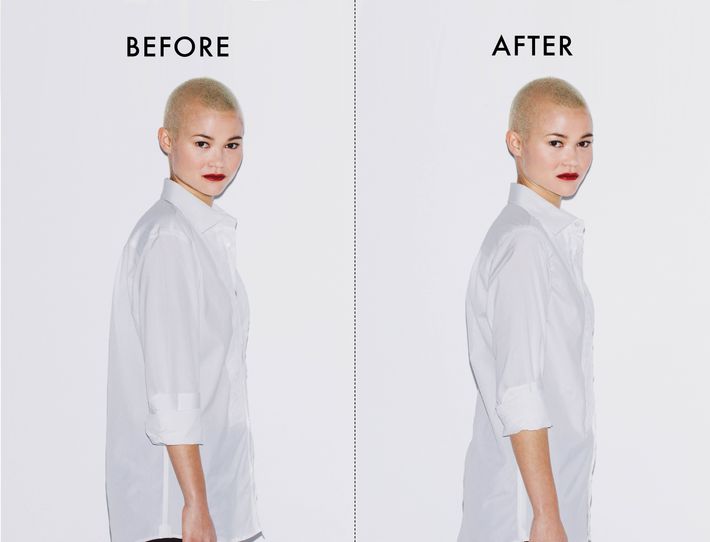 Taking In a Men's Tuxedo Shirt
Begin by asking your tailor to slim the waist and arms ($5 to $10 each) so it has a menswear-inspired feel without being overly slouchy. For an extra $15, you can shorten the front and keep the back long for a true tuxedo-inspired high-low silhouette. And if you've purchased a more costly shirt that you'll have for a while, take in the shoulders for $50.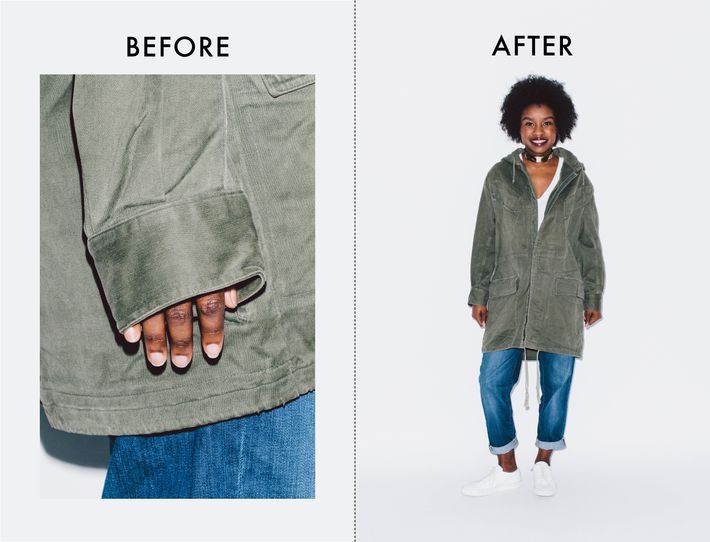 Transforming a Men's Vintage Army Jacket
Altering a vintage army jacket is a smart investment since it's a classic, durable garment and often not well-tailored. It will cost $15 to $25 to take up the sleeves. You can keep the slouchy shoulder, but if it's too big, spend another $50 to bring it up. You're going to wind up spending $150 for a jacket you can wear for years to come. A simliar designer jacket runs into the thousands.
Removing Pockets From Pants and Slimming a Coat Sleeve
This trick works well for most ill-fitting pants, but especially benefits light trousers where the pockets show through in a more obvious way. Most tailors will charge you $5 to $10 to cut them out and sew them shut to create a clean line. Alternately, if you prefer to keep your pockets, Browman says to replace the white fabric with one that matches your skin tone for $20, not including the cost of materials. As for the coat, the most important change would be to slim the sleeves for $25 to $45. It's a subtle change that creates figure-flattering separation between your body and arms. As for length, here we shortened the sleeve ($35) to hit the wrist, but they can also be lengthened if you have long limbs. Most coats have two to three inches of extra fabric for that reason.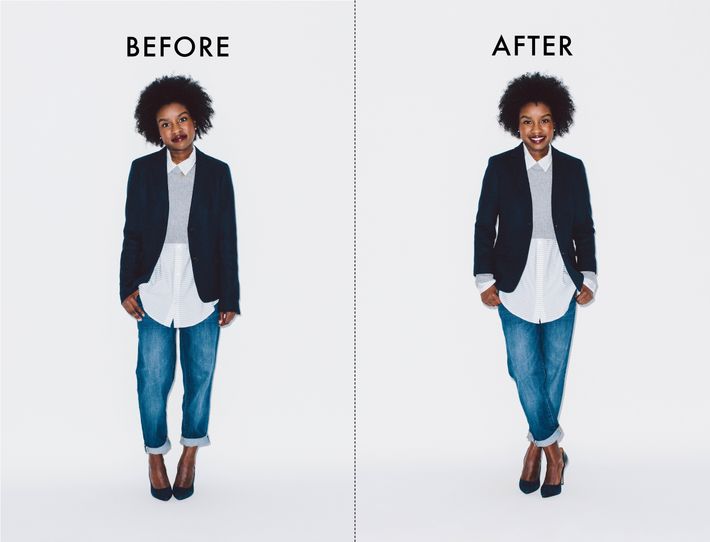 Creating a Shrunken Schoolboy-Inspired Blazer
Shortening the sleeves is much more flattering on a petite frame and will cost between $15 and $30. You want it to hit about two inches above the wrist, to further lengthen the arm.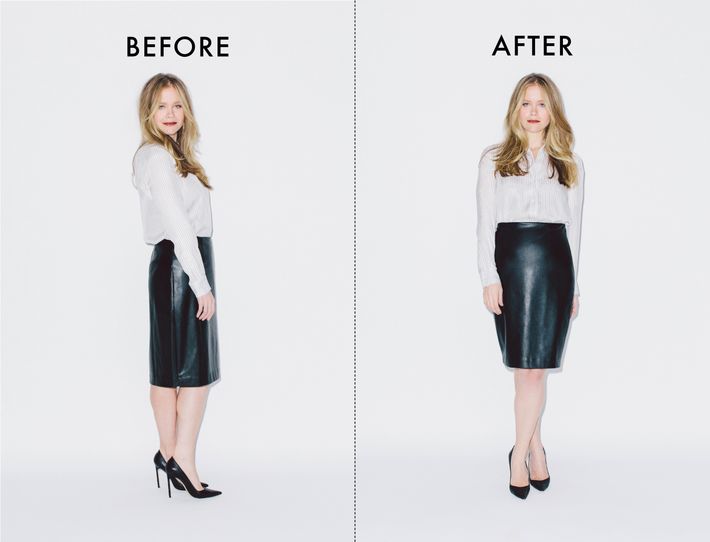 Taking in a Pencil Skirt
If you're curvier in the hip area, Browman suggests sizing up, then taking in the waist. On a narrower frame, Browman will take in the lower part of the skirt to create the illusion of an hourglass shape. Depending on fabric, this could range from $35 to $75 with leather styles falling on the high end.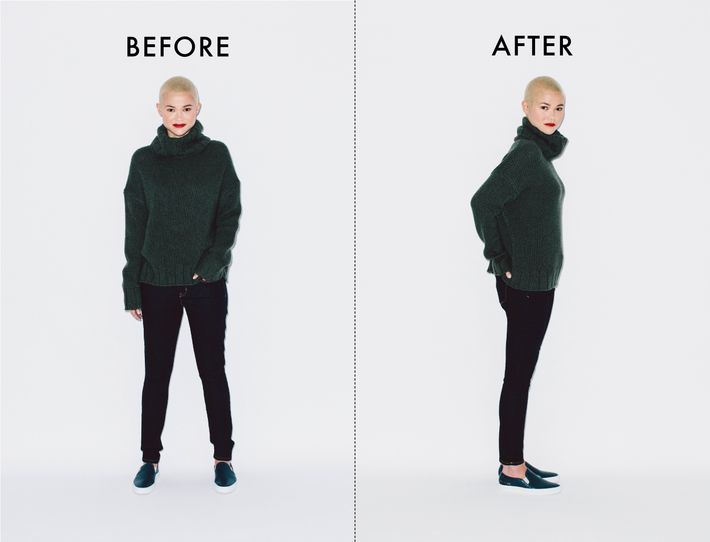 Hemming Skinny Jeans
Browman says to keep in mind two important details when you get jeans hemmed. The first is to ask your tailor to match the top stitch, which is a heavier weight of thread that's usually a bright color. The second is that your tailor should not only trim the length but also taper the leg accordingly, to retain the proper shape. This will cost $15, max.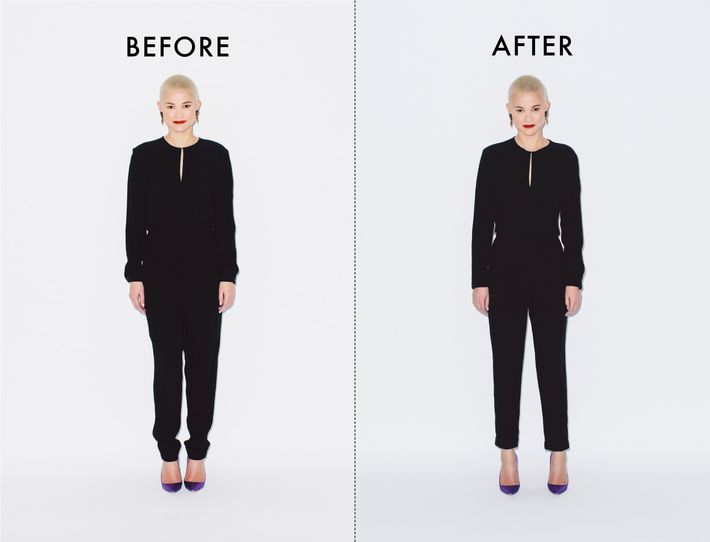 Altering a Jumpsuit
The jumpsuit can be the perfect uniform if it fits correctly. For $15, have it hemmed it to hit the ankle. If you need to take it in at the waist or arms, that's an extra $25 to $50, depending on how much work is needed. Browman also recommends checking the rise, which is the length between the waistline and the bottom of the crotch. For long torsos, be sure there's adequate fabric (to avoid camel toe). Petite women, on the other hand, need to be wary of excess fabric that can look like a diaper. These are not cheap or easy changes for a tailor, so if you see either, pass on the jumpsuit.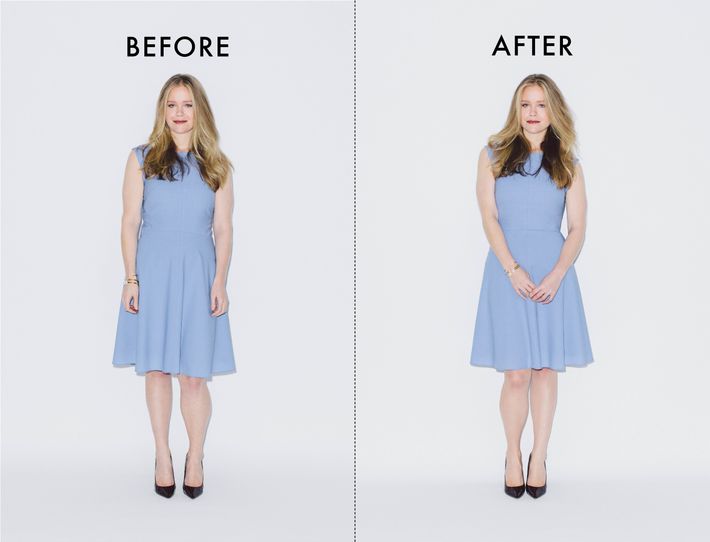 Nipping the Waist of a Dress
If a dress fits well at the shoulders and hits the knee in the right spot, but the waist is too big, consider having the waist altered. Browman says the tailor should take it in at the seams located in the back to retain the overall silhouette, while creating a slim, hourglass figure. This should cost between $15 and $35.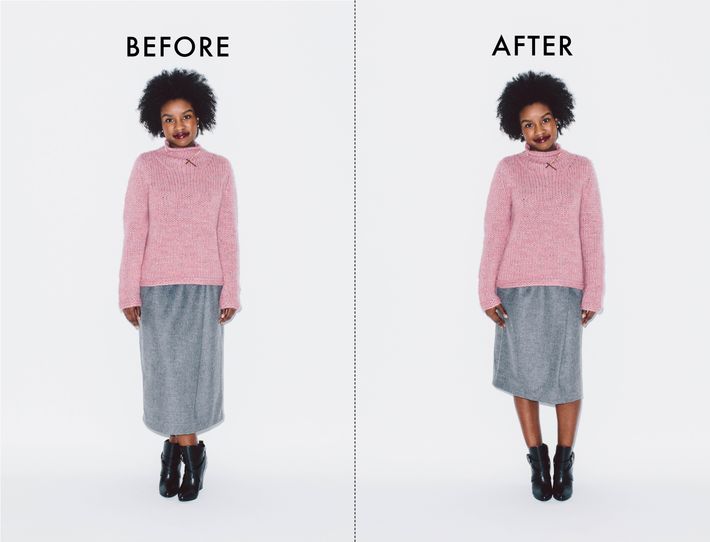 Hemming a Midi Skirt
The most-flattering skirt lengths for petite girls fall into three categories, says Browman. Minis should hit four inches above the knee, knee-length should be mid-joint, and midis should fall where the calf starts. All hemming charges are around $15 to $25.