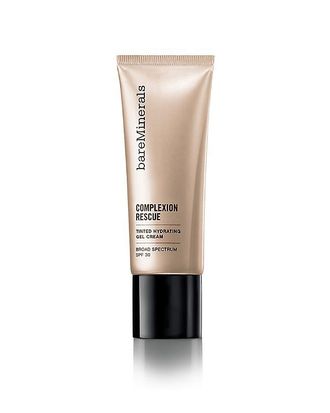 Photo: Courtesy of bareMinerals
I would call bareMinerals' new Complexion Rescue the best foundation to touch my face, but that would be a lie. It's not a foundation. It's not a BB or CC cream either — it's a light gel-cream hybrid with SPF 30 that combines the best of what foundation, concealer, and BB cream have to offer. I don't know exactly what to call it. It's like an early Valentine's Day present to my face, and I think I'm in love.
I tried Complexion Rescue for the first time a month ago. Using the brand's Smoothing Face Brush, I swept the formula over my face, which evened my skin tone, blurred a few dark spots out of focus, and made my face look radiant and soft. The coverage isn't particularly heavy, but that's also what makes the cream so special. It hides imperfections while still making your skin look like skin.
Though I wouldn't suggest ditching your morning moisturizer, Complexion Rescue is a light cream that absorbs into skin like water takes to soil. Because I tend to be oily, I typically steer away from liquid and cream foundations. Complexion Rescue is different, though, because unlike a tinted moisturizer or BB cream, the texture is lighter and less sticky. It moisturizes without turning my face into a greasy mess, which is particularly helpful when I need to pull a long workday. Between the coverage, hydration, and overall airbrushed effect, Complexion Rescue is the best new foundation on the market. Or perhaps it's BB cream. Whatever it is, it's brilliant.
Complexion Rescue, $29 at Sephora.