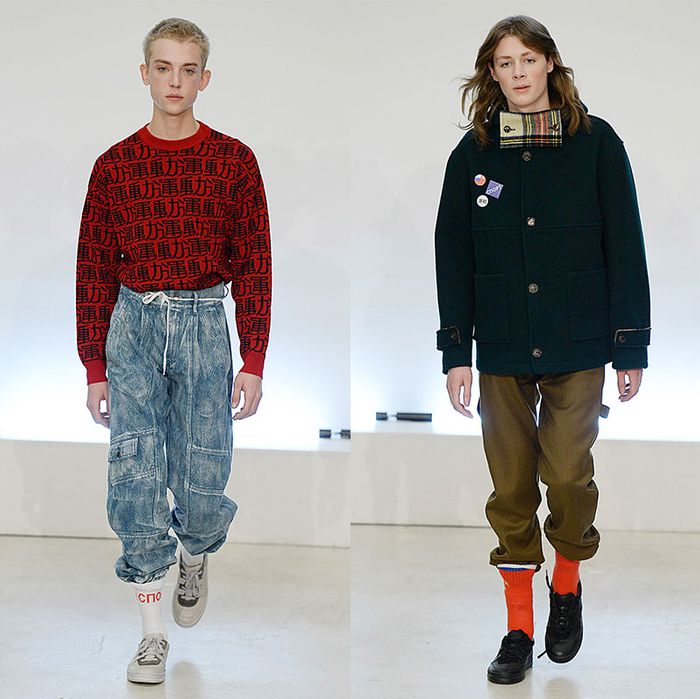 PARIS — Set in an intimate second-story chapel of an 11th arrondissement Protestant church, Gosha Rubchinskiy's fall 2015 show featured stained-glass windows and production assistants burning incense. But the 31-year-old Russian designer's collection worshipped more at the altar of streetwear than anything religious — although, there was a hooded brown jumpsuit that could be seen as an updated monk's habit.
Set to a throbbing original score by fellow countrymen charmingly named BUTTECHNO, Rubchinskiy showed off a Pan-European bad-boy street look. White socks were pulled up over pants, a style popular with everyone from early 2000s French lite-gangsters called "lascards" to Manchester casuals, and a look that never took off in the States but should have. The jeans were bleached and fitted, and sportswear elements like track pants dominated. Cleverly, the designer hijacked the Tommy Hilfiger logo, morphing it with Russian lettering. Sweaters and faux-chavvy soccer-hooligan scarves featured "Sport" emblazoned on them in Russian and Chinese, referencing the two countries vying for the almighty fashion dollar.
It was a return to form of sorts for Rubchinskiy. After showing in his native country since 2008, Comme des Garçons began backing him in 2012 (he's sold in hip outlets like Opening Ceremony and Dover Street Market). He debuted in Paris last season (with a collection that was very CDG, showing the mixing and matching of plaids). This season, he's moved on to a new toughness: His models would look sketchy walking down a dimly lit alley — in the best way possible.