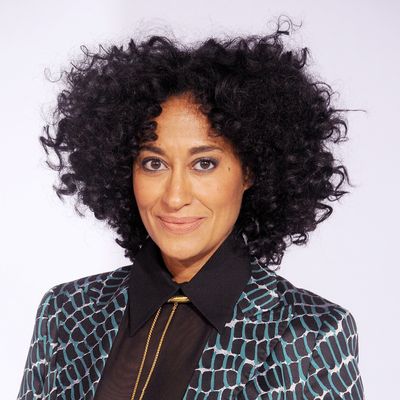 Photo: Gregg DeGuire/Getty Images
Tracee Ellis Ross is amazing for many reasons, one of which is her willingness to speak frankly about her natural hair. She does it again in this interview with the The New York Times Magazine, in which she explains how her hair dictates her shooting schedule on Black-ish:
On "black-ish," there's a lot that has to be done working around my hair, in terms of scheduling. I play a doctor, so my hair has to be back when I'm in scrubs. I wouldn't be at the hospital with my natural big hair out, so I usually have a bun. They try to schedule a lot of those scenes in the same day, so we don't have to go from having my hair out to having it in. You can't go from a bun to out and expect to look gorgeous.

Thank you, Tracee, for reminding us that it's okay, and sometimes totally necessary, for people with curly, natural, or otherwise high-maintenance hair to schedule life (showers, spin classes, beach trips, dates, adult sleepovers, important meetings, etc.) around when it looks the most gorgeous.