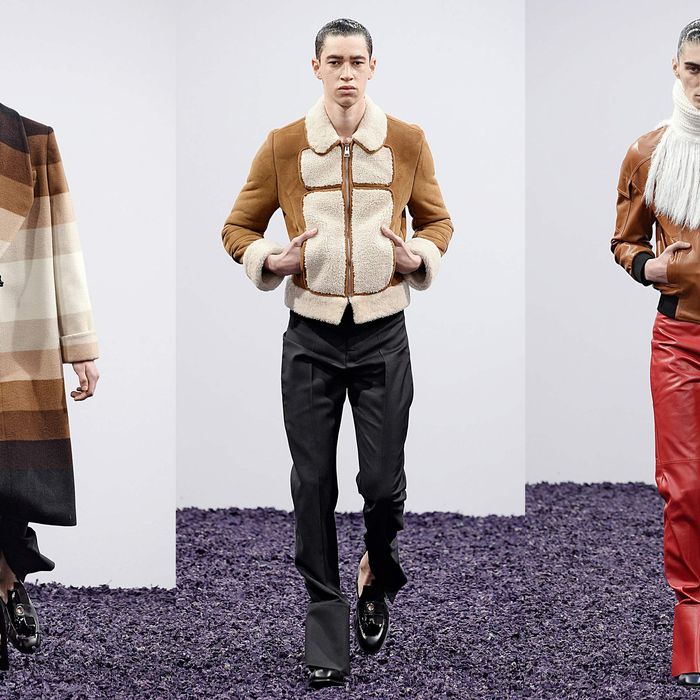 Photo: Catwalking/Getty Images
Is there a man in your life whom you'd describe as "a free-spirited thinker with an interest in pataphysics"? Of course there is. And according to the show notes, he's exactly the type of guy who inspired J.W. Anderson's fall-winter 2015 menswear collection, presented yesterday in London. 
(Judging from a quick Google, pataphysics is a jokey, made-up branch of science, and should in fact always be written with an apostrophe in front of it: 'pataphysics. What it has to do with menswear is another question.)
Anderson's collection had a vaguely 1970s vibe: lots of tight turtleneck sweaters, fur coats, sheepskin jackets, and fringed scarves. The trousers were slightly flared — skinny to the ankle, with an oversize, split cuff that billowed around black patent loafers. There were velvet suits and red leather trousers and mismatched, chunky buttons that reminded me of the giant earrings worn by my mother in the 1980s.
There were no bags this season, but a few models carried what looked like a small silver spoon on a chain, dangling casually from one hand. What does it mean? Maybe the appeal is in the fact that it makes no sense. As usual with Anderson's shows, it's not easy to imagine these looks walking past you on the street — but he's known among buyers for his skill at editing his runway collections, spinning the pieces into far more wearable designs for retail. (You don't get an investment from LVMH unless you understand what people want to buy.)
From the show space, with its shredded rubber floor and stark lighting, to the characteristic weirdness of the collection, there was a self-assurance about the whole package. Even in London, home to designers who revel in being anti-commercial and edgy, no one does what Anderson does, or at least not with such quiet conviction.