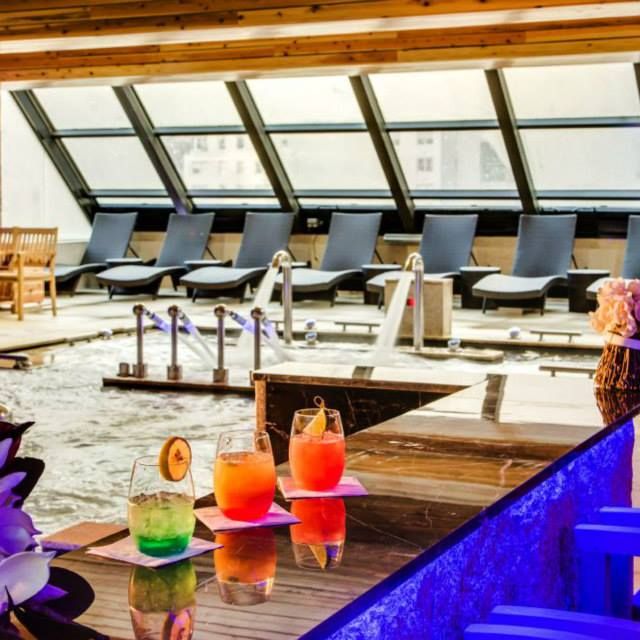 Photo: Spa Castle Premiere/Facebook
Spa Castle's Premier 57, the younger Manhattan cousin of Spa Castle College Point in Queens, opened in Midtown last month. Like its significantly larger Queens equivalent, Premier 57 is a Korean megaspa with rooftop jet pools, clothing-optional hot tubs in the locker rooms, and milk-and-honey full-body exfoliation stations. It costs slightly more than College Point ($65 for a day pass, versus $40), boasts an aromatherapy room with a waterfall cascade, and doesn't admit kids. This promise of relaxation without other people's toddlers running around, paired with the convenience of Midtown East, generated plenty of excitement this fall.
But the season has not been a happy one for Spa Castle. First, Premier 57's future neighbors, the Ritz Tower at 465 Park Avenue, filed suit, citing a 1974 agreement ensuring the Ritz an unobstructed view over their neighbor's roof (it was denied, and the roof now has six foot-soaking stations). Then, in December, Forest Hills resident Hock Ma was discovered dead in a rooftop hot tub at Spa Castle College Point. This caught the Health Department's attention, and it turned a sharp eye on the Premier 57 location, too, only to find its pools, hot tubs, saunas, and steam rooms to be operating without a permit. This Tuesday, just before 6 p.m., the Health Department shut down the spa until further notice. Health Department Press Secretary Levi Fishman informed us Thursday afternoon that Spa Castle is "currently in the process of applying for the permit to operate a bathing establishment. They have not yet submitted all of the required information, but once they do, we will complete our review."
I poked my head into Spa Castle Premier 57's lobby, on the eighth floor of the Galleria at 115 East 57th Street, on Wednesday evening just before 8 p.m. There was no caution tape in sight. It's windowless and low ceiling-ed, with a bright-orange geometric print on the wall. Two harried staff members apologized to the puzzled-looking young couple in front of me, who were asking if the spa would be open on Friday. The employees handed off vouchers for a free visit and suggested that the couple call the front desk before planning a return visit.
Nate Saete, 29, of Bushwick, was in the men's sauna on Tuesday when the spa was forced to evacuate. "There wasn't anything I saw that seemed abnormal that day," he said — that is, until after his companion had left.
"It was around 5:45 or so. I was inside the locker rooms, where they have hot tubs that are clothing-optional. A Spa Castle locker room attendant came in and said, 'Spa Castle is closing immediately. We need everyone to leave.' With the jets it was hard to hear what he was saying, because he was speaking softly, so a couple of us asked him to repeat it. He said, 'We need to close immediately; the Health Department is here, and we can't be open any longer for the rest of the day.' And everyone was shocked and not angry or anything like that; it was more like, Is this really happening? This is weird."
Meanwhile, Spa Castle is holding firm. As of Thursday evening, chief executive director of operations Stephanie Chon maintains that "There are no health or safety violations to address. Premier is working to expedite a resolution on a permitting issue." And in the meantime, "Guests with appointments are being contacted directly to reschedule at a future date." Pretty optimistic, all around.