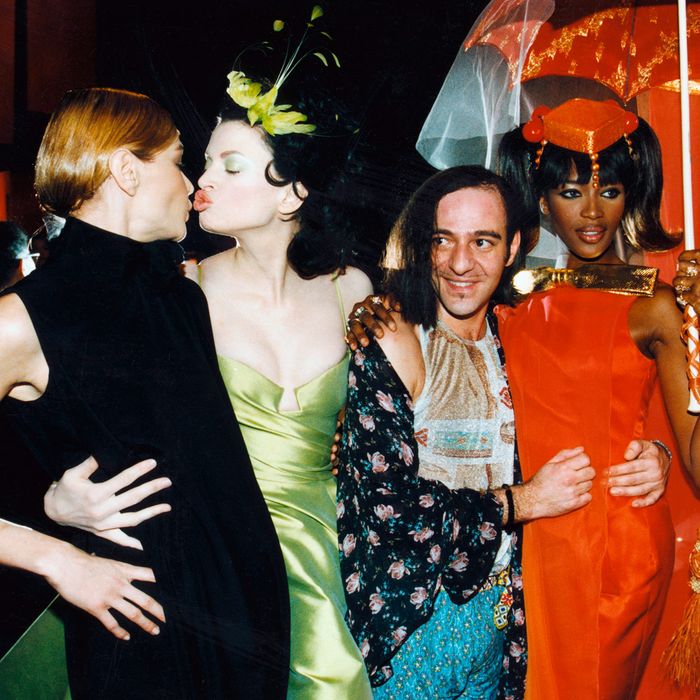 Photo: Laszlo Veres/Corbis
If a trend has emerged over the past year of frenetic designer entrances and exits from fashion houses, it's that quiet, steady rung-climbers are beginning to gain on the industry's bigger names. Last week, after much speculation in the press that Hedi Slimane or Tom Ford might head to Gucci, the house announced that 42-year-old Alessandro Michele — who joined its design team 12 years ago, eventually working his way up to head of accessories — had ascended to the creative-director spot. Rather than recycle an existing star from a pool of big names, Gucci went with a dark horse. It's telling that in his statement on Michele's hire, Gucci CEO Marco Bizzarri referenced the fact that the company honed his talents, and that "his knowledge of the company and the design teams in place will … allow him to move quickly and seamlessly" into the top role.
Call it the farm-team approach. In recent months, Hermès appointed Nadège Vanhee-Cybulski — who had been an influential presence at the Row — as artistic director. Céline accessories head Johnny Coca migrated to Mulberry, Sonia Rykiel opted for Julie de Libran, a Louis Vuitton vet who served as Marc Jacobs's second-in-command during his tenure there, and Miuccia Prada's former deputy Rodolfo Paglialunga nabbed the brass ring at Jil Sander. Press announcements about these hires often doubled as explainers to the general public; after all, these names are little-known even among those who cover the industry. Certainly, it's gratifying to see decades' worth of hard work be rewarded. And it's easy to see why luxury houses would want to place their bets on someone who's already proven their success within the company. In fashion, that's the closest thing to a sure bet that exists.
But doesn't it make you long for the days of splashy designer appointments, houses fighting over big names, Champagne thrown in faces and intra-designer feuds conducted in the pages of Women's Wear Daily? Tom Ford's departure from Gucci germinated a jokey "Shouts & Murmurs" piece about how to cope — "There are seven stages a person goes through when Tom Ford leaves Gucci," it read — but now, the revolving door spins with little fanfare. The new, quieter approach reflects a certain caution on the part of  brands, who understandably prefer to groom future stars rather than take on the baggage of existing ones. But what does this mean for those of us who love to take in the pageantry?
Just as movie studios are increasingly opting for an interchangeable bank of Chrises over established A-listers, so do design houses seem to prefer assets they can control — people who will be committed to the house over their own fame. Gone are the days when Yves Saint Laurent lolled nude to promote his fragrance, Valentino held court with countesses, and Tom Ford covered Vanity Fair with two naked movie stars. (All of which, by the way, generated great publicity for their respective brands.) When Ford left the Gucci Group and launched a namesake company, he retained his star status — there's an essence of Ford-ness that persists no matter where he works, even when he extends his reach to Hollywood. Designers like Ford have learned to craft themselves into total packages — complete with ultrarecognizable looks, personalities, sound bites, and entourages — that effectively make them free agents in the fashion world, and — in the case of some, like Lagerfeld — even larger than the brands they design for. People love to parse Lagerfeld's endless stream of quotes not just because they're so darn entertaining, but because it's rare these days to get a sound bite that doesn't smack of a verbal press release. 
As these luxury houses let designers take the reins, they may well be planning to groom the next Galliano or Ford. And it will be interesting to see if they encourage these talents to take on larger-than-life status. Look at the house of Givenchy in the mid-'90s for a lesson in how risk-taking can transform a brand. When John Galliano was hired in 1995, the maison was the province of LBD-wearers and Galliano was an outsider: a Brit, a headline-making rebel, and a fan of elaborate 18th-century fashion with a punk ethos, epitomized in the cornucopia hats he showed for the house. He couldn't have been more unlike Hubert de Givenchy, who had been at the helm there for 43 years. Galliano's revamp earned raves, and resulted in his being moved to the top post at Dior by the LVMH brass. Alexander McQueen — who, like Galliano, was already a known quantity among fashion followers — took his spot and immediately shook things up again with his gold ram-horn headdresses and alien motherboard suits. YSL at Dior, Lagerfeld at Chanel, Ford at Gucci — all could be considered counterintuitive choices for their respective houses until, suddenly, they weren't. This un-replicable alchemy was what made the houses new and relevant, even if there were a few bumps along the way. A few bad reviews or scandalized buyers didn't belie the press Galliano and McQueen brought the revitalized house.
But with all the focus on brand heritage and DNA, finding someone who fits into a house's existing aesthetic, who won't rock the boat overmuch, is increasingly a priority for many brands. When every other industry is obsessed with "disruption," fashion is clinging to security over innovation. That approach, while it makes sense in the short term, is riskier long-term, because to stand out from the throngs of designers competing for attention, designers need to be more daring than ever.
Even the most headline-making designers today are relatively tame personae compared to their '80s and '90s counterparts. Yes, after achieving fame at Dior Homme, Hedi Slimane dared to come back and utterly reimagine the Saint Laurent brand, but he's hardly a Ford-like playboy off-runway, preferring to remain low-key in L.A. If the Renzo Rosso–facilitated reemergence of Galliano succeeds, the conventional wisdom could be overturned — though even the famous peacock is visibly under the thumb of his corporate parent, having traded his array of outfits for a Margiela lab coat.
How is this incoming class of creative directors supposed to carve out an identity if they've spent their entire careers working for an existing house? Fewer and fewer start out on their own, since becoming well-known as an independent designer requires funds, luck, hard work, and a healthy heaping of fairy dust. The career path now involves working your way up the very traditional rungs of an atelier, absorbing its codes, rather than chasing fame. That doesn't mean that, once appointed, they aren't capable of creating a moment or shaking things up — time will tell on that front — only that doesn't seem to be the primary purpose of their jobs anymore. The prevailing sentiment of companies who have stockholders to please and traditions to uphold is "If it ain't broke …" Make no mistake: These days, most designers are adapting to the brands they work for, and not the other way around. The era of attention-getting is out, and the company man is in.