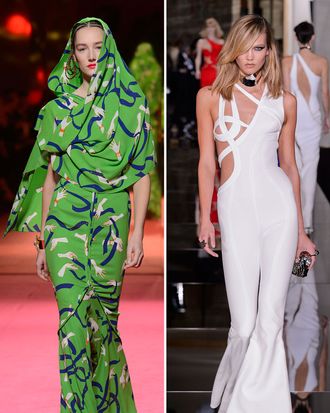 Since Italian businessman Diego Della Valle announced the renaissance of Schiaparelli back in 2012, he's enlisted numerous star collaborators: Farida Khelfa (who remains the maison's ambassador), Christian Lacroix, and then Marco Zanini, who launched the first collection and was creative director up until last November. For the spring-summer 2015 presentation in Paris this morning, there was another name in the mix: the artist and photographer Jean-Paul Goude (he of #BreaktheInternet fame), who cameoed as set designer.
He presented a "Sound and Vision" experience as a backdrop for the show, and above the salon — which had gold walls and shocking pick carpeting — members of the French gospel choir Les Chérubans were positioned in balconies. The soundtrack of the show consisted of a hypnotic base (which made the gold walls shiver), accompanied by their angelic voices. (Couture is, after all, fashion's equivalent of a religious experience.)
As for the clothes, Zanini's atelier picked up where he left off. Taking cues from the archives, they continue to explore eveningwear and feminine tailoring, and that iconic "Schiap" irreverence came through in the quirky surrealist prints and the accessories. Headwear, by Stephen Jones, featured veils and fascinators with cap-hat brims and a fez, which was jauntily styled with a crisp white le smoking.
It was a playful nod to the made-to-measure traditions of couture, in the form of sewing pins that had been fashioned into cuffs and necklaces, and were also used to attach the giant bows on the back of some of the dresses. The intimacy of the presentation allowed for greater visibility of these details, and models took turns walking up and down the room so that we could closely see the backs.
In contrast, last night's Versace couture show was anything but intimate. Press, buyers, clients, and golden girls Kate Hudson and Goldie Hawn all crammed into their seats to see what Donatella had on her mind this season. High-voltage glamour, as it turns out, and a whole lotta skin — brightly colored evening dresses with risqué cutouts, mesh insets, and thigh-high splits. Overall, there was more flesh than there was fabric, and on some of the more precarious styles (ahem, Karlie Kloss look 44) #freethenipple was back in vogue.
Truly, though, the couture element of this collection lay in the precision of the cutting — there was hardly a straight line to be seen, and the panels of fabric curved around the body. This lost impact on some of the more voluminous styles, but worked well when the fabric hugged the body like a second skin, enhancing a woman's curves. Fitting then, that Amber Valletta and Eva Herzigová closed the show.
See the full spring 2015 Versace couture collection here.
See the full spring 2015 Schiaparelli Couture Collection here.