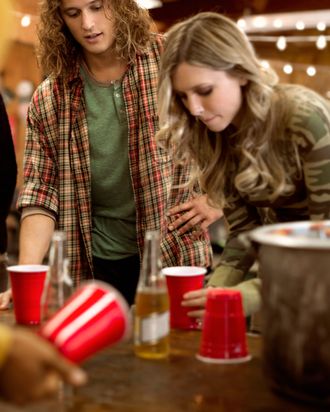 Photo: Chris Crisman/Corbis
Last week, just in time for the start of rush, University of Virginia fraternities signed a new set of rules intended to prevent excessive drinking as well as sexual assault at frat parties. The new rules prohibit punch and kegs (beer must now be served in cans; liquor, by a licensed bartender) and require that parties be supervised by sober fraternity members, which seems like a step in the right direction.
Yet, some argue that there's another easy way to make campus parties safer for women: have women host the parties.
The New York Times reports that at various universities around the country, female students are questioning the longstanding ban on alcohol in sorority houses. For decades, the National Panhellenic Conference has stipulated that its 26 affiliate sororities be dry, according to the Times, "to preserve more placid living environments with lower insurance premiums." As a result, most sororities don't throw house parties — and, at many schools, campus social life continues to be dominated by frats.
"The whole social scene is embedded in the fraternity house, and makes us dependent on them," said Martha McKinnon, a University of Michigan sophomore and Delta Gamma member. "I would definitely feel safer at a sorority party," said Dania Roach, a George Washington senior. "It's the home-court advantage."
Some opponents of changing the sorority alcohol policy are skeptical that "more alcohol" is the solution to campus assault; others say it would make sororities even more expensive. (According to the Times' estimate, members typically pay $25 to $50 a year for insurance, while fraternity members pay around $160 — "largely because of accidents fueled by alcohol.")
But it's not hard to see how the double standard could contribute to a power imbalance. "That dynamic is one of the key reasons fraternity members feel so entitled to women's bodies, because women have no ownership of the social scene. You can't kick a guy out of his own house," said Molly Reckford, a member of Sigma Delta at Dartmouth. A sorority with no national affiliation, Sigma Delta regularly hosts parties with female bartenders — which, according to Reckford, many female students have told her they prefer to frat parties.