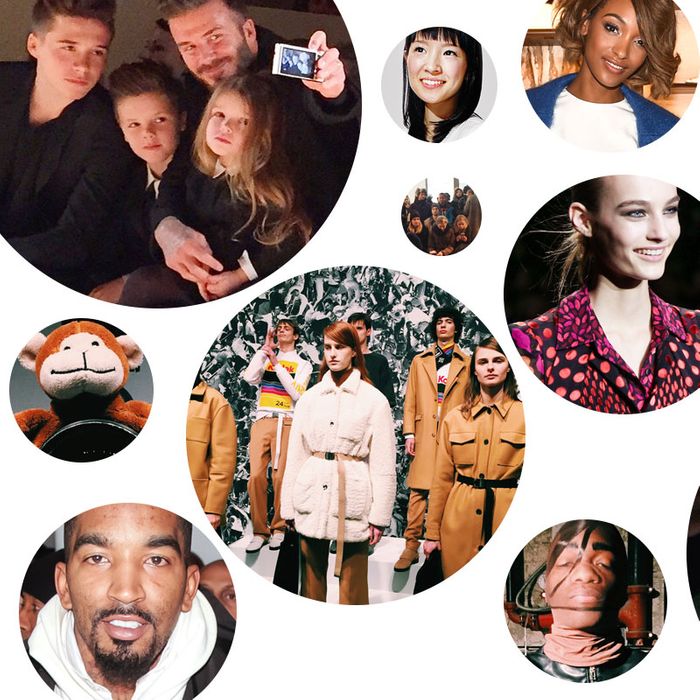 Photo: bagsnob/Instragram, Getty Images, Bobby Doherty, Isabel Wilkinson, BFAnyc
Temperatures fell so low on Saturday and Sunday of Fashion Week that street style quickly stratified: The diehards were willing to go the extra mile to be photographed; everyone else said screw it and put on their warmest down parka. This created a unique power dynamic at the shows: If you skipped tights, it was clear you were somebody. Also, thanks to the NBA's All-Star weekend, there were so many rappers and basketball players at every show and party that almost everybody was somebody.
From bumping into ILoveMakonnen, to meeting North West's favorite monkey, below, the 14 best things that happened to us over the weekend.
1. The Beckham family took a selfie in the front row at Victoria Beckham. The Beckhams, they're just like us. 
2. Sorry, Kanye West: You may think you've already graduated, but Cathy Horyn says you still have some more schooling left.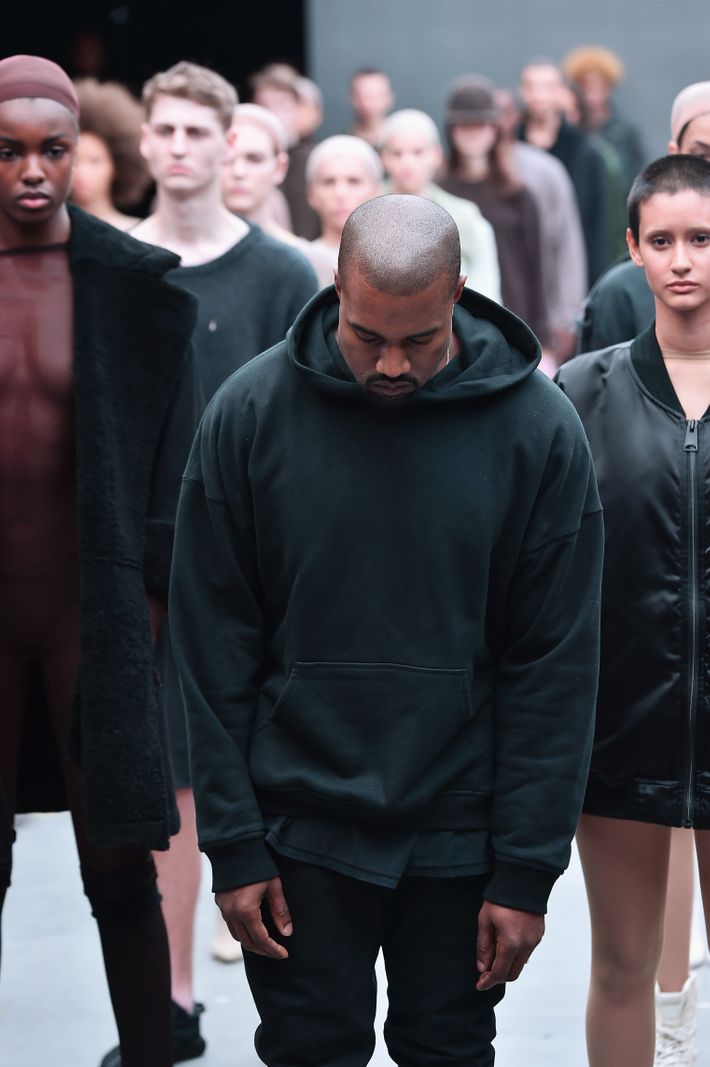 3. If you want to know whether a brand is relevant, check the standing section and not just the front row. When it comes to the cool kids, Public School is taking over where Wang left off.
4. Ever wondered what goes through a model's mind before a show? At the Fendi party, Jourdan Dunn enlightened us: "I'm like, 'Please, bitch, don't fall.' I tell myself: 'Girl, you got this.'" Our new mantra for walking over the black ice all over town.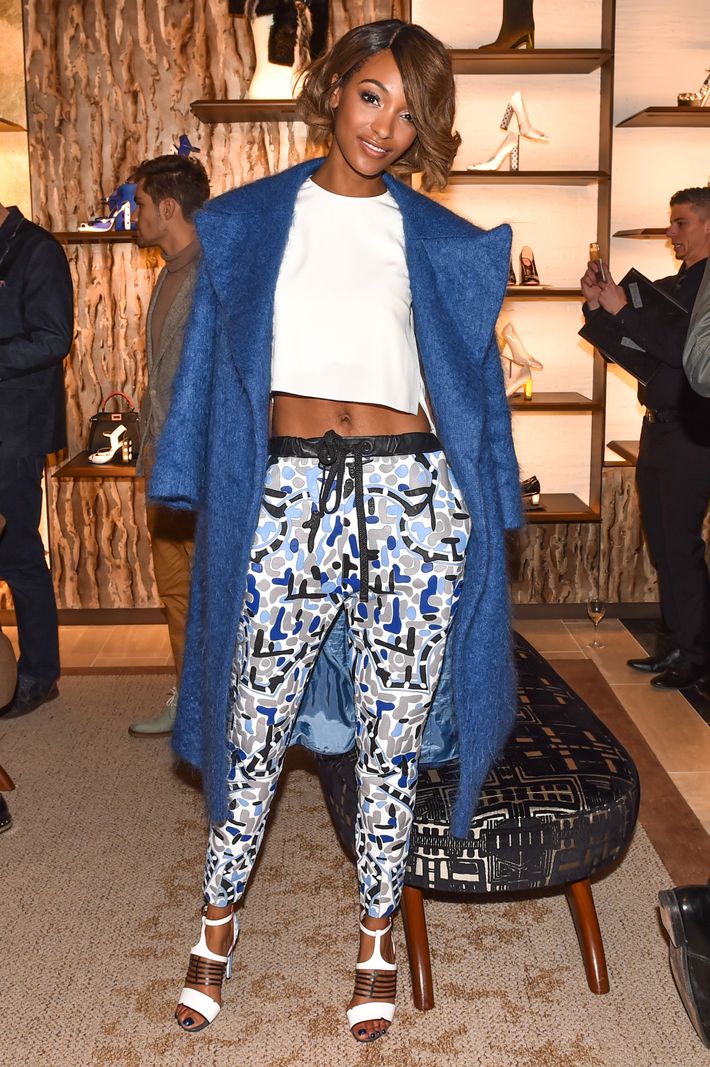 5. Nicki Minaj entered the Alexander Wang show just as Beyoncé's "7/11" began to play. Can't they coordinate this stuff by now?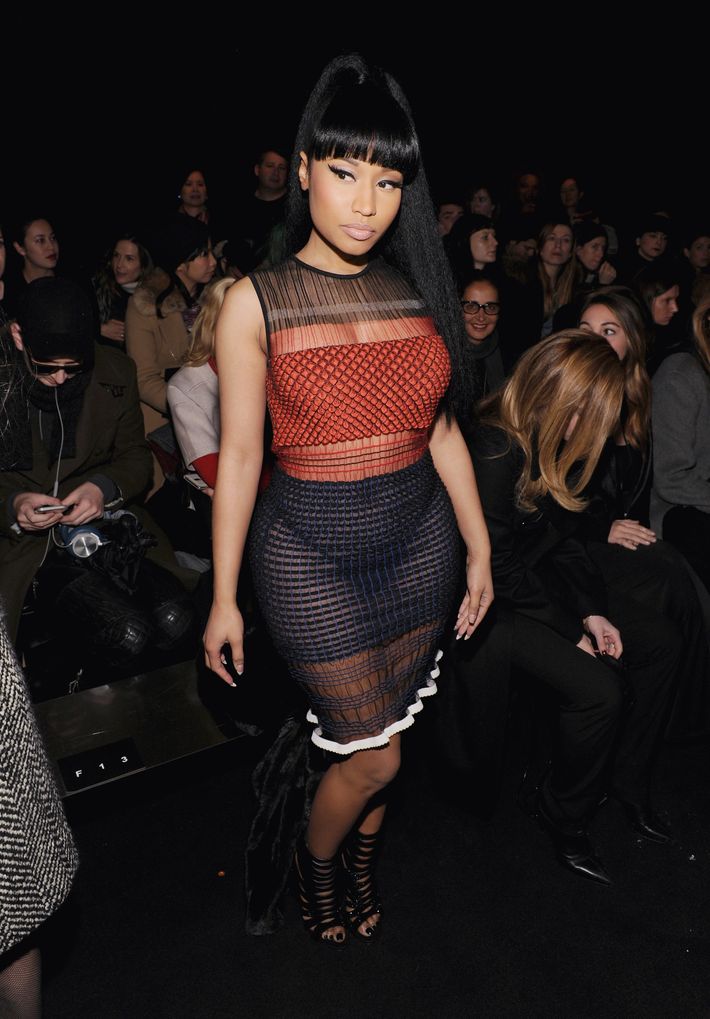 6. Us Weekly reports that North West had her second completely age-appropriate tantrum of the week at Wang. "The cause behind the meltdown was a photographer at the event who was holding a toy monkey." At the Opening Ceremony presentation, we met that monkey — and he didn't seem the least bit remorseful.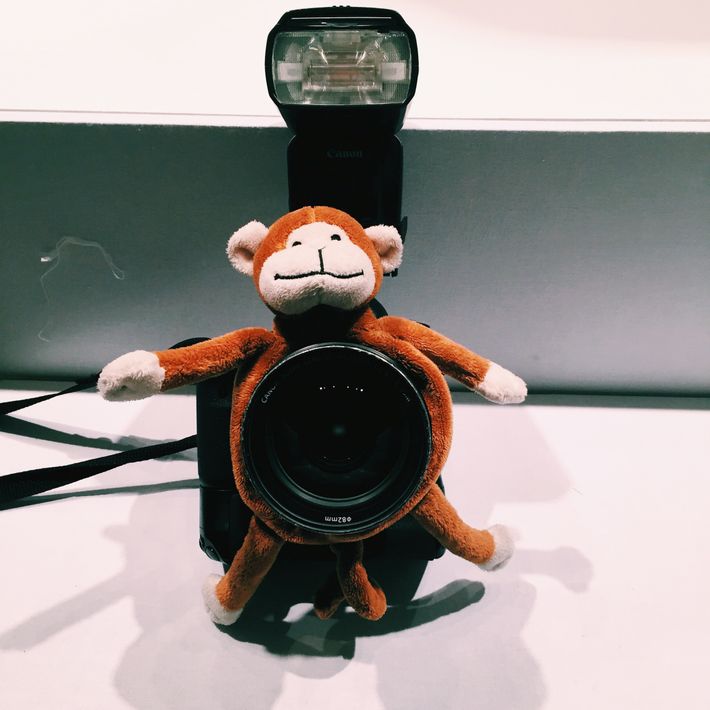 7. Hood by Air's soundtrack referenced everyone's favorite show, Empire.  "I want to show you a faggot really can run this company" came over the loudspeaker, remixed over classical music. Props, Shayne: We could almost see this GIF when we heard it.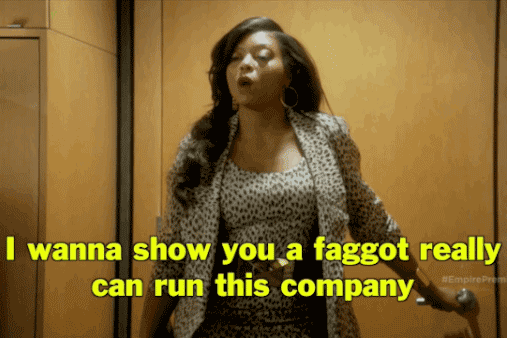 8.  And the most ubiquitous celebrity of Fashion Week goes to … J.R. Smith. He showed up at Public School, Hood by Air, John Elliott & Co., and still had time to host a Maybelline Made party and attend the All-Star Fashion Show. But, you know, we're not complaining.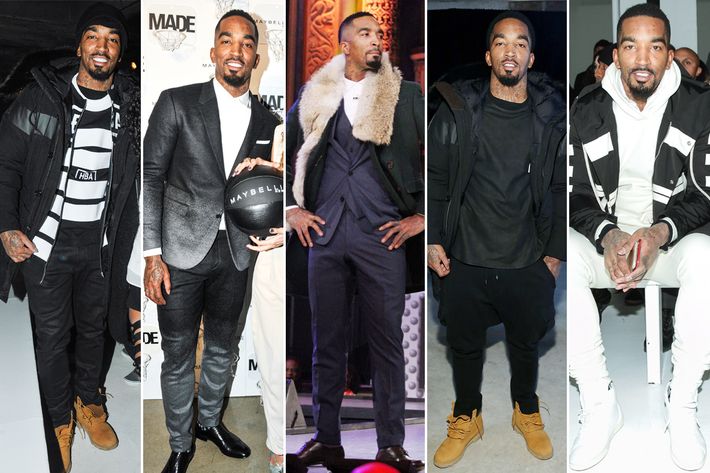 9. We found a prospective intern backstage at Hood by Air: Justin Etienne, a student at FIT, told us how uncomfortable it was to wear a stocking over his face. Then he mentioned he loves the Cut and wants an internship. Justin: Call us.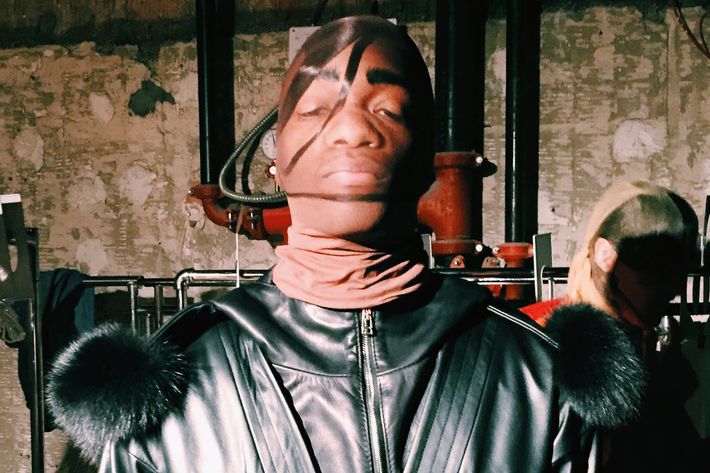 10. If we had a dollar for every conversation we've overheard this weekend about Marie Kondo and The Life-Changing Magic of Tidying Up, we could afford one of those gorgeous pastel Altuzarra furs. But in spite of her advice, we found ourselves at Acne contemplating an impulse purchase of that shearling jacket because it brought us so much joy.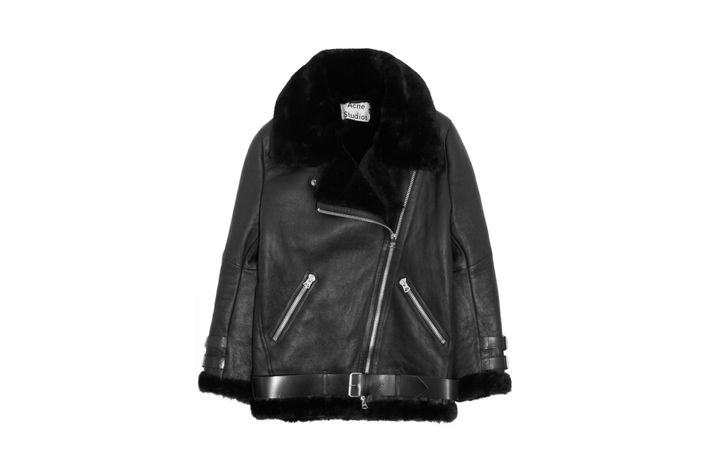 11. Models at Diane von Furstenberg walked to music from the Fifty Shades of Grey soundtrack. And for all the freaks in the audience, she threw in ten seconds of piano music from the orgy scene of Eyes Wide Shut. Just saying: We caught the reference, Diane.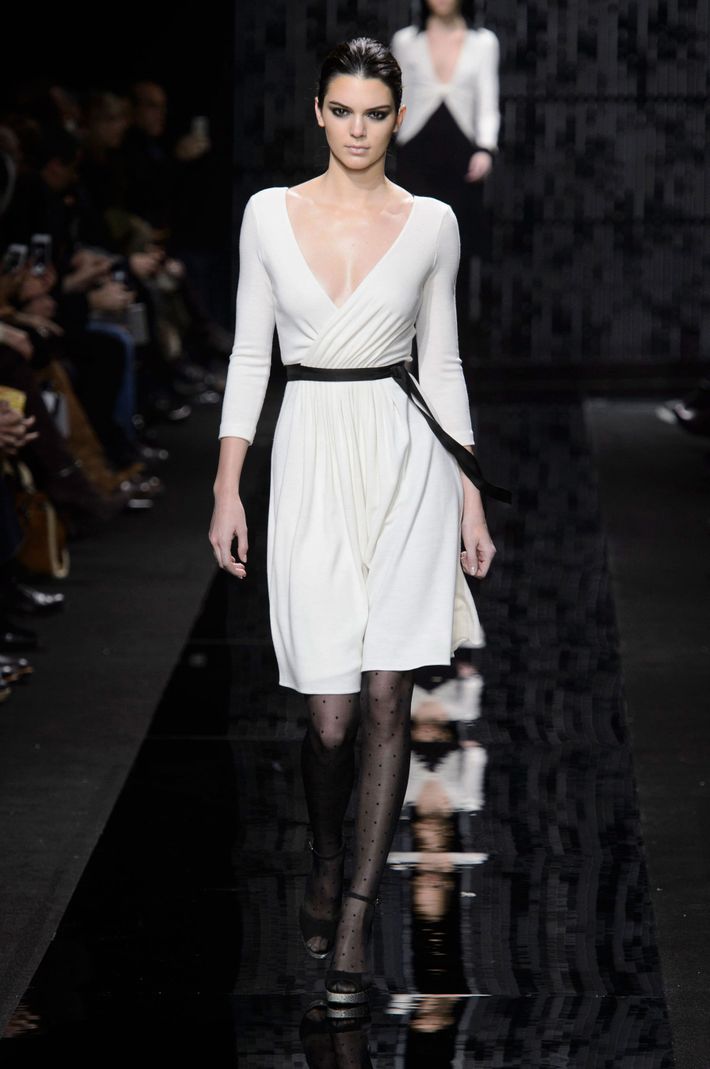 12. Anna allegedly had Advil delivered to her on a silver platter at the DVF show. Because #luxury #power.
13. ILoveMakonnen arrived at Opening Ceremony, wearing vintage Bill Blass. Interesting. He told us he hasn't made it to many shows because he's been partying too hard. Favorite party: Lady Fag with Alexander Wang.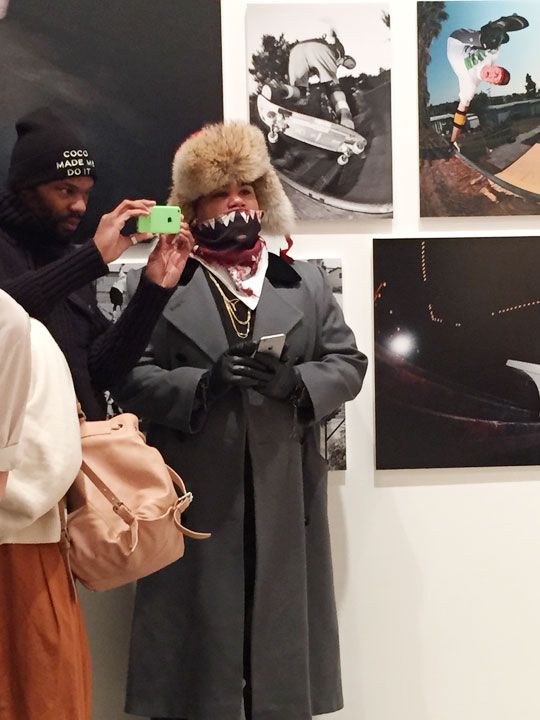 14. Also at Opening Ceremony, J.D. Samson DJ'd a playlist made entirely of songs for which Spike Jonze directed the music videos. We were there for well over an hour and heard no repeats. The man was prolific. Everything from Elastica to Pavement to the Beastie Boys. Plus, our favorite new male model, Charlie James (who has braces), played air-trumpet while modeling in the collection.