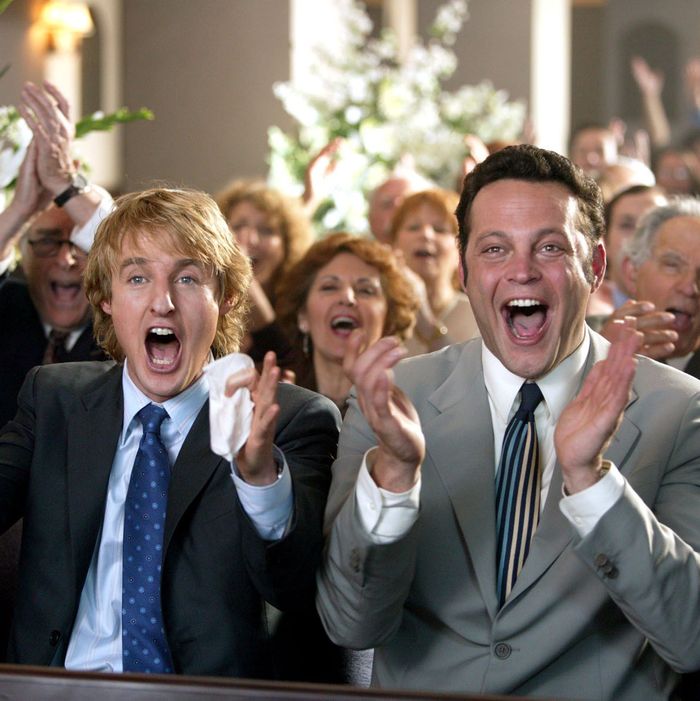 Owen Wilson and Vince Vaughn in Wedding Crashers.
Photo: New Line Cinema/Courtesy Everett Collection
Love it or hate it, the advent of iPad and barcode check-ins has not deterred the horde of crashers who are determined to experience their sliver of the fashion-show experience. With New York Fashion Week kicking off, we asked 21 fashion insiders about their thoughts on the surprisingly hot-button topic. Alexa Chung thinks they're "ballsy," stylist Elisa Nalin once DIY'ed a fake Versace invite, and Valerie Steele, Maria Cornejo, and Rachel Zoe all admitted to crashing fashion shows — though they have nothing on Estée Lauder group president John Demsey, who copped to crashing couture.
Alexa Chung: "I think it's great. Pretty ballsy. It's like Wedding Crashers, but the Zoolander version."
Vera Wang: "Gosh, no one's ever crashed my show. Does that mean, like, my show's not important? [Laughs.] I guess it's probably not a great idea. It's a lot of hard work, people don't always know that, and so much work goes into it from everyone in our industry, so probably it's not the most thoughtful or intelligent thing to do."
Nick Jonas: "I've never done that myself. I think it's very bold, to say the least."

Rachel Zoe: "I once crashed Marc Jacobs. It was the best. I was 22 and a starry-eyed fashion girl."
Thandie Newton: "I have [crashed] by accident! I thought I was invited so I was at the door saying, 'look, look, I know I was invited!' and I was so haughty that the poor doorman was a bit lost and let me go through. And then I got in and realized I wasn't supposed to be there. It wasn't even that fun, but what was important was that I was let in!"

Natasha Lyonne: "Ever since I hit my 30s, it's been increasingly difficult to crash parties. Comes up way less."
Coco Rocha: "I prefer to ignore them and keep watching the show."

Caroline Issa: "Listen, I'm kind of all for it. There's a design university in London, which shall remain nameless, and one of their [requirements] to get a grade was how many shows can you crash. I think it shows passion and love for fashion, which we need. As long as it's done peacefully, I'm like, good for them if they actually manage to get in because that's an amazing skill to have, to blag your way into a show."
Rachel Roy: "I love it. I was that girl in a little town in Northern California [who] always always used to dream about going to a fashion show. So it depends how you crash, I mean, do you go in, politely sit in the back, observe, love it, soak it all in, learn? — or do you go and cause a ruckus? Don't be disrespectful. It's like going to someone's birthday party naked and taking all the attention away from the birthday girl."
Valerie Steele: "People have been crashing shows for decades. I remember years ago in Paris and trying to get into the Viktor & Rolf show and I didn't have a ticket, so my friend took his ticket and bent it, so it looked like two, so I held his arm and the two of us went into the show, arm and arm together. And it worked! Of course it worked."
John Demsey: "I'm not too proud to say I haven't crashed a show — I HAVE crashed a show. I crashed couture in Paris!"
Toni Garrn: "Would my mom be considered a show crasher? She's definitely crashed a show." 

Kelly Bensimon: "I've never crashed a show, but there are many that I'd like to crash. So I feel like if you have the guts to crash a show, then hats off to you because the shows are so incredible and they're such an amazing experience then, you know, go for it."

Maria Cornejo: "When I was a student I tried to crash shows all the time in Paris and it actually worked once, I ended up going to the Issey Miyake show and Grace Jones was there, and that was amazing. You have to let people be enthusiastic as well. Fashion people get a little jaded; it's nice to have a little fresh blood every now and again. It's a nightmare for the PR people, the swapping of seats and all of that, but hey, why not."
Waris Ahluwalia: "I never crash. I never go where I'm not invited."

Bryan Boy: "I would never crash a show. I would rather watch the livestream. If I crash, what's the point? It's kind of like you're being disrespectful to the designer." 

Elisa Nalin, stylist: "I was living in Milan and I would kill to go to a fashion show so you know what we did? Me and my friends, we would fake the invitation. We were all in the industry, so you'd ask around and get to see what the invitation looked like. And then we would just work it out. [At one Versace show] we were almost in. We passed two controls and at the very last one to get in she said, 'Wait a second. Come back.' She takes the invitation. She looks at it and says, 'Uh huh.' And then she burst out laughing and she was like, 'But you know what, you're so clever. I'm going to let you in. You deserve to get into the show.' I had a good time."
Mara Hoffman: "What bothers me more are the ballsy crashers who take a seat, a front-row seat even, and think no one's going to notice. Not cool."  
Tina Craig, Bag Snob: "I think they're very irritating. We go there because we have a job to do, so I've had situations where I go to my seat and someone is sitting there and I ask them to leave and they refuse. It's uncomfortable and awkward. I don't want to have to do that. I'm there to do a job. Brands invite me for a reason. It's not fun for me to hang out. I'm there to work. So I feel like places need to more strict about allowing people in to avoid that. I have run into situations where this woman wouldn't leave my seat. I had to get the PR over and they had to physically remove her. And it's always at Lincoln Center."
Jen Brill: "I think it's cool. I'm happy they exist and people that want to go to shows should go to shows."

Monique Péan: "If you're smart enough to figure it out, all the more power to you."
Reporting by Trupti Rami, Renata Sellitti, Julie Baumgardner, Caroline Ryder, Ericka Goodman, Kylie Gilbert, Kara Warner, and Kurt Orzeck.