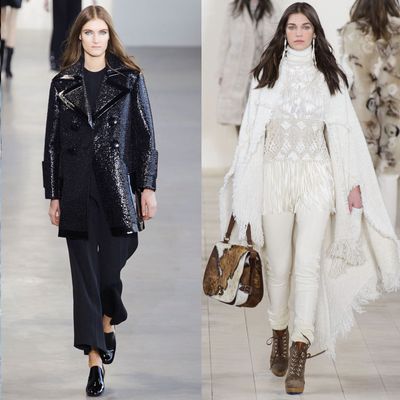 Fashion month usually brings over-the-top looks and accessories designed with fashion editorials in mind. But through all of it, we have to ask ourselves: What would we want to wear? Every day, the Cut brings you editors' picks — items from the runways they'd actually buy.
1. While I've focused on ready-to-wear this Fashion Week, the footwear at Calvin Klein Collection really stood out. The legginglike, slim leather boots were for the genetically gifted, sure, but the patent menswear-ish loafers, with a striking architectural design, were desirable, especially when paired with the equally shiny outerwear.
2. If we're going to do winter white and we're going to need wearable blankets to keep us warm through the blistering cold, then Ralph Lauren has us covered — really. I responded most to the head-to-toe ivory looks, like this capelike sweater. A fringed piece worn over an even fringier top and white jeans makes for monochrome cool.
3. While the adventurous may gravitate toward the shorter checked numbers layered over sheer tulle skirting at Marc Jacobs, this tailored coat is both statement-making and functional. I loved the oversize buttons (a frequently occurring detail this NYFW) and the wide, contrasting panels of embroidery. Worn over lacquered tall boots, it cuts a killer silhouette.