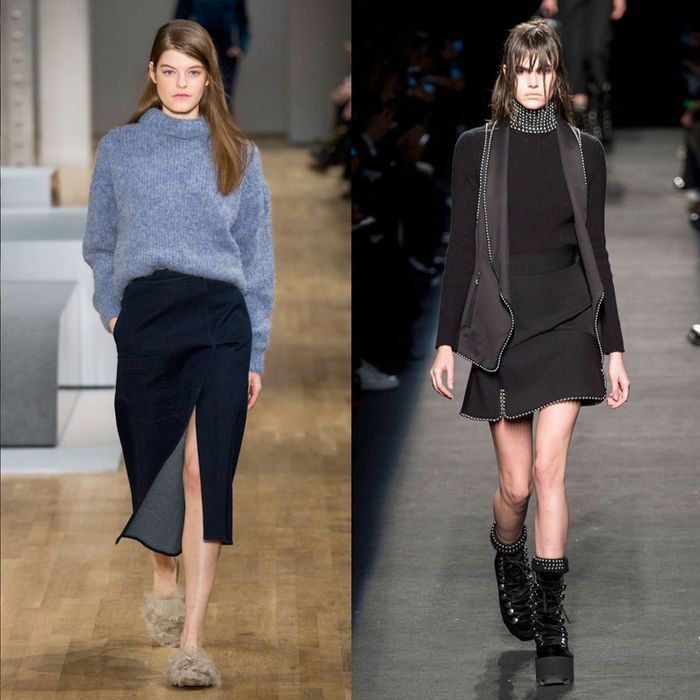 Fashion month usually brings over-the-top looks and accessories designed with fashion editorials in mind. But through all of it, we have to ask ourselves: What would we want to wear? Every day, the Cut brings you editors' picks — items from the runways they'd actually buy.
1. The ultra-romantic Altuzarra show delivered so many of the bells and whistles that get me truly excited. A particular favorite was the black wool blazer festooned with a white shearling collar layered over a gold devoré (a.k.a. burnout) dress with a chantilly lace front and high collar. A happy ending to a Valentine's Day of shows.
2. We've seen a good amount of darker, moodier fashions just a few days into the shows, so it was almost refreshing to see a lighter palette and calmer attitude at Tibi. Even the clothes looked soothing, like this cozy soft-blue ribbed sweater worn with even cozier shearling slip-ons.
3. If anyone can make a hard-core velveteen matted-hair metal head look alluring, it's Wang. His sheer chain-mail dresses will be popular in editorials (and likely with his front-rowers Kim and Nicki, too), but I loved his sassy short skirt and jacket in velvet and studs.
4. Adam Lippes has become a great source for refined but not too precious eveningwear for me (for example, I always feel like I can wear flats with his clothes and still look polished). His fall outing served up a range of desirable proportions, from a mid-calf swing skirt to a fur-trimmed coat as minidress, and this gorgeous, sleek ankle-grazing lace dress covered in an autumnal embroidered garden pattern.