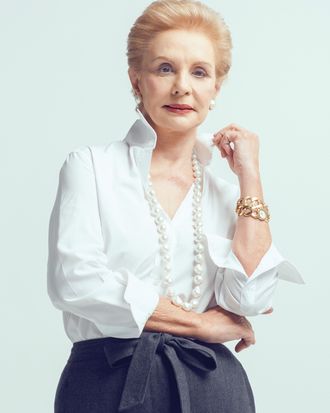 Designer Carolina Herrera.
Photo: Christopher Anderson
Trends come and go — but the clothes that make you feel like you tend to stay the same over time. The Cut asked four women about the clothes they feel the best in — and why.
Carolina Herrera, Designer 
"I can go anywhere if I have my lipstick on."
Why did you pick this outfit? A white shirt always makes me feel most comfortable. As a young girl, I wore crisp white shirts to school and while riding my horses. It has stuck with me ever since.  
What's an example of bad fashion advice? To follow trends. Seeing everyone in the same thing is not amusing.
Do you prefer being dressed up or dressed down? I don't think about it. I dress for the occasion. If I have to be dressed up, I feel as comfortable as when I'm dressed down.
***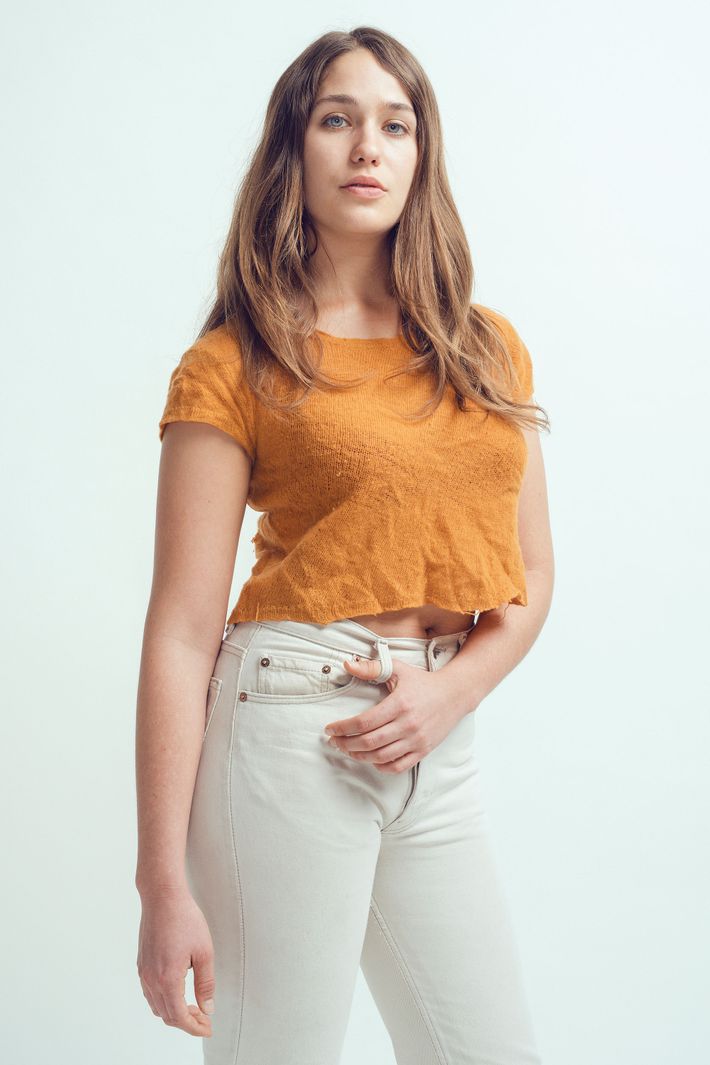 Lola Kirke, Actress
"I've begun to take my friends' 'borrowing' my clothes and never returning them as a major compliment. It spares me a lot of anger."
Why did you pick this outfit? Because a tiny cashmere sweater is a very warm thing.
When's the last time you wore it? I wore a variation of it to this sort of reenactment of the Band's "Last Waltz" concert in some weirdo part of New York State over Thanksgiving. It was amazing—and the closest I'll ever get to sleeping with Rick Danko.
Where did it all come from? This sweater was my mom's. It shrunk in the wash, making it the perfect size for me because for whatever reason I believe I should show my stomach at all times even though I'm not wildly comfortable with it. The jeans were bought off a guy named Red Hawk in Ojai on a camping trip.
What is your favorite compliment to get? "You totally don't have cameltoe."
Worst fashion advice you've gotten? Don't wear clogs with socks.
***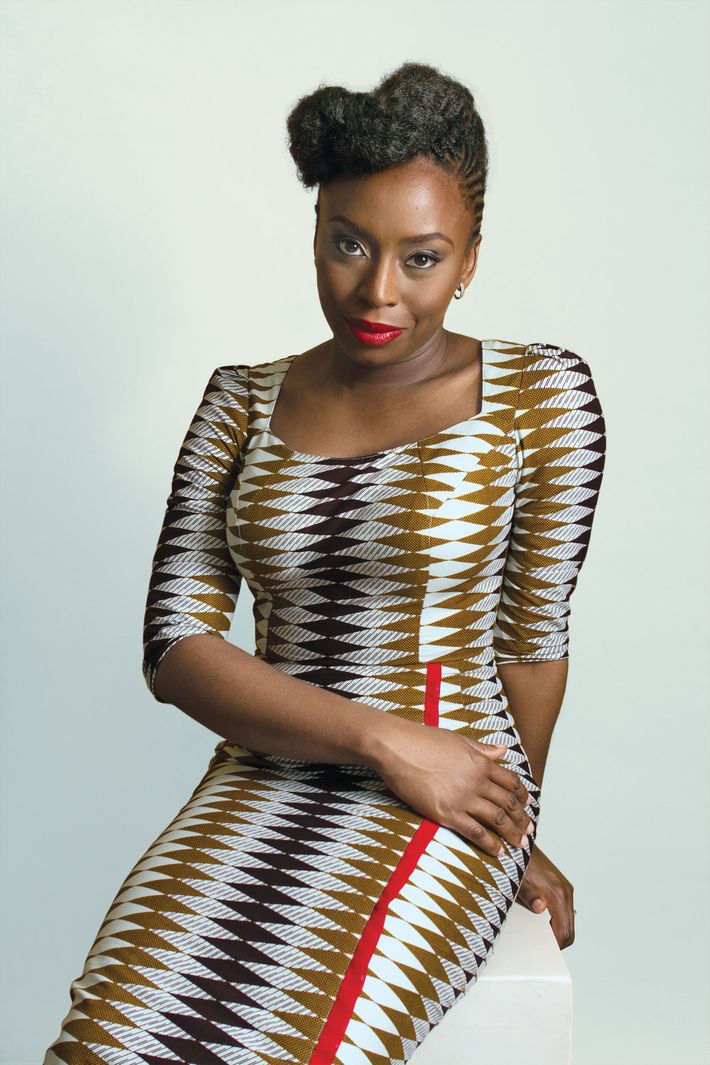 Chimamanda Ngozi Adichie, Writer
"I do think dressing up can be an act of graciousness and respect not only to yourself but to other human beings with whom you interact."
Why did you pick this outfit? This—mid-length, sleeves, high heels—is my favorite silhouette, the silhouette in which I feel most comfortable. Not physically comfortable, by the way—as I quite happily wear clothes that inhibit breathing (this dress does not, though)—but emotionally comfortable.
Where did you get this dress? My mother bought the fabric for me from Nsukka, where she lives in southeastern Nigeria. I designed the dress, and my tailor Razak made it in Lagos.
Do you prefer being dressed up or dressed down? Dressed up. Perhaps this is a consequence of being Nigerian, where we take appearance seriously, or of having been raised by my mother, for whom dressing up is almost a moral imperative.
Do you get complimented on your clothing a lot? At a recent event in Paris, a woman from Martinique wearing a gorgeous headwrap said to me, "You own your style." Which pleased my vanity very much! I think I give more compliments than I get. I have a policy of "never admire quietly."
***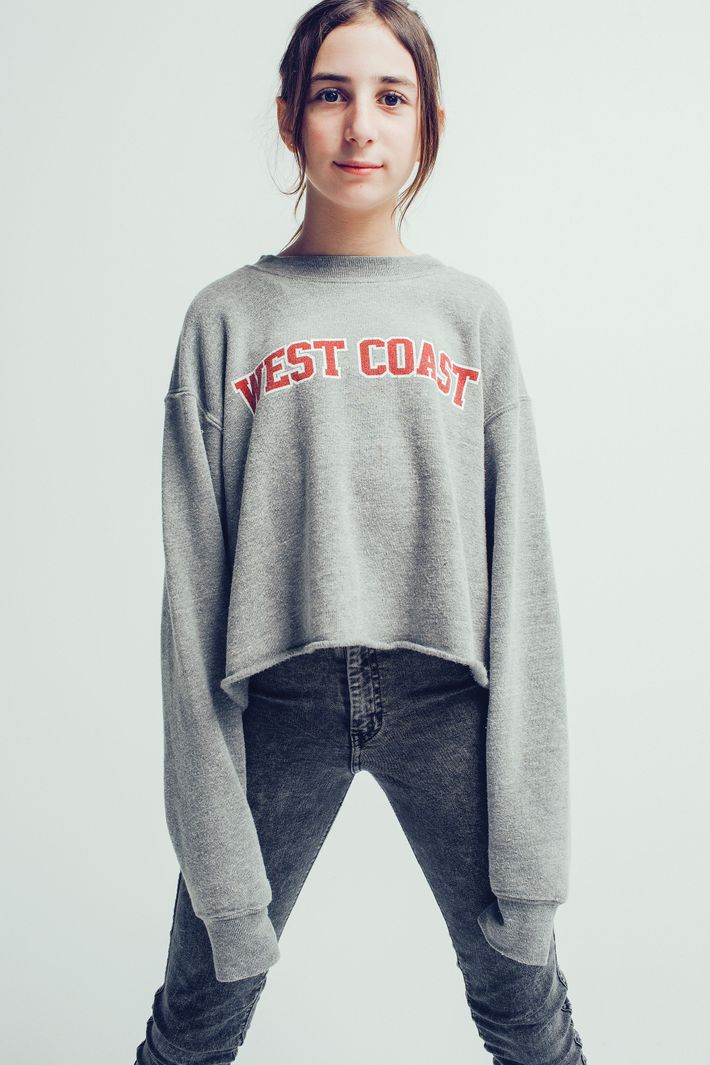 Alice Attal, Seventh-grader
"I don't like to put too much makeup on because it makes you look fake."
Why did you pick this outfit? The top is comfy, the jeans are stylish, and the boots are my favorite shoes.
What do you think this outfit says about you? Probably that I am simple, but in a fashionable way.
Where did it all come from? I got the sweater with WEST COAST written on it at Brandy Melville when I was in Paris about a month ago. What I like about it is that it's comfy. I got the jeans from American Apparel, and what I like about them is that they are faded black.
Do you have any beauty or grooming things that you do every single day? I don't like mascara because anytime you take it off, some of your eyelashes fall out, whereas the eyelash curler has a better and prettier effect on my eyes. I sometimes put on dark or skin-color eye shadow.
What do you most hate to wear? The clothing that boarding schools have, because all of their clothes look alike. Some look really good, but I just don't like wearing the same outfit every day.
Has anyone ever given you good fashion advice? My mom [Charlotte Gainsbourg] keeps telling me to dress simply, even though I don't always do it. It helps me not to exaggerate.
Bad fashion advice? My little sister is obsessed with pink and glitter and wants me to do the same.
*This article appears in the February 9, 2015 issue of New York Magazine.