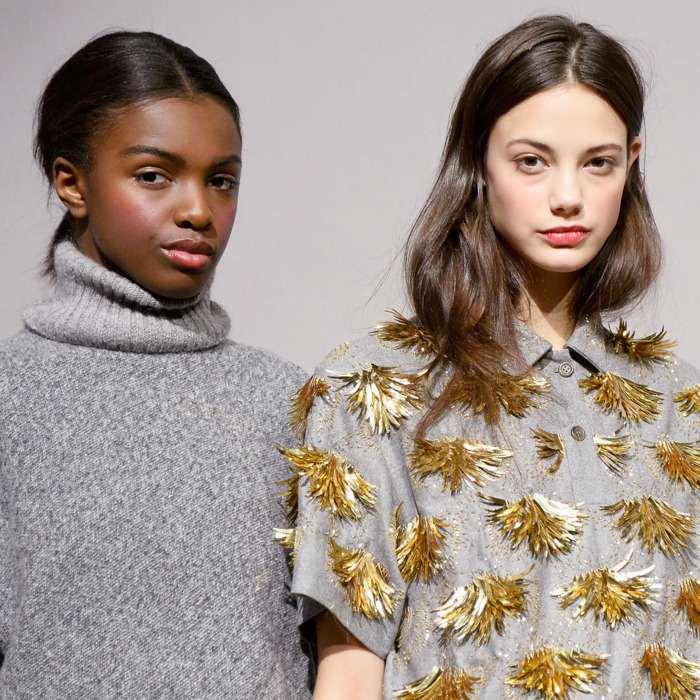 Photo: Fernanda Calfat/Getty Images
For the first time ever this season,  J.Crew opened up its backstage to beauty press. Makeup artist Troi Ollivierre shared the makeup secrets behind the "J.Crew look," which, for fall 2015, meant a subtle flushed lip and slight après-ski glow. Here are five key tips Olliverre told us.
1. Create a fifty-fifty mix of primer and moisturizer. As a base for the skin, Ollivierre used a half-and-half mix of Laura Mercier Foundation Primer with moisturizer. "It's just to create a more even base," Ollivierre explained. The moisturizer adds to the smoothness of the primer. Model's legs were also moisturized with Nivea Body Moisturizer.
2. Highlight in C's to get the J.Crew glow. Ollivierre used fashion's favorite luminizer, RMS Beauty's Living Luminizer, and dotted it on the inner corners of the eye, along the bridge of the nose, and above the cupid's bow of the lips. He also made a generous C-shape starting from the temple or underneath the eyebrow to the high cheekbone to reflect and catch the light.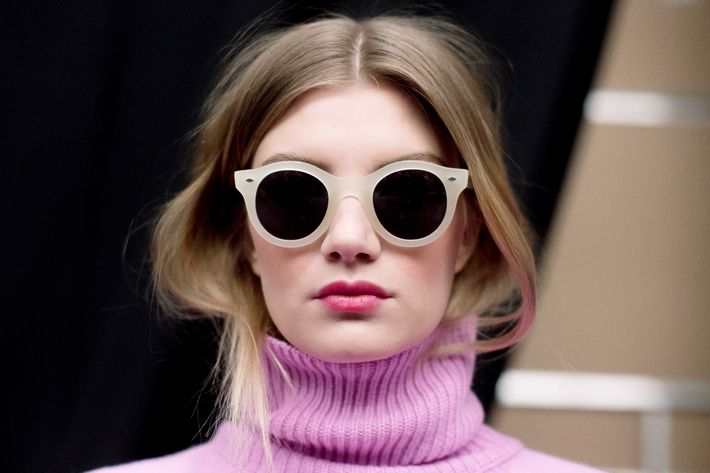 3. There will be "J.Crew" foundation. Ollivierre was tight-lipped on the foundation used on the models, only promising that it will be out "soon." The makeup artist will be adding a sheer, light foundation to his self-named makeup line later this year.
4. Apply your blush differently. To create the après-ski glow, Ollivierre and his team used Stila Convertible Color in Lillium and dotted it on the low apples of the cheek. Conventional blush wisdom suggests that you smile and dot blush on the high apples of your cheek, but Ollivierre explained that a post-ModelFit-like "exercise glow" centers in the lower cheekbone region. If you like dem apples, apply blush starting just a bit below the area that curves up when you smile.
5. A lip stain can give you popsicle lips. The "bit of lip" in today's presentation was also from Ollivierre's forthcoming line of lip stains. To prep the lips, he first exfoliated the model's lips using Fresh's Sugar Lip Polish, then moisturized them with Palmer's Cocoa Butter Stick. Then, he used a rosy lip stain shade called Tim, which he applied with a lip brush to make the color darker in the center. Since the majority of the makeup was applied with the hands, using a brush for the lip stain gave it a noticeable precision.