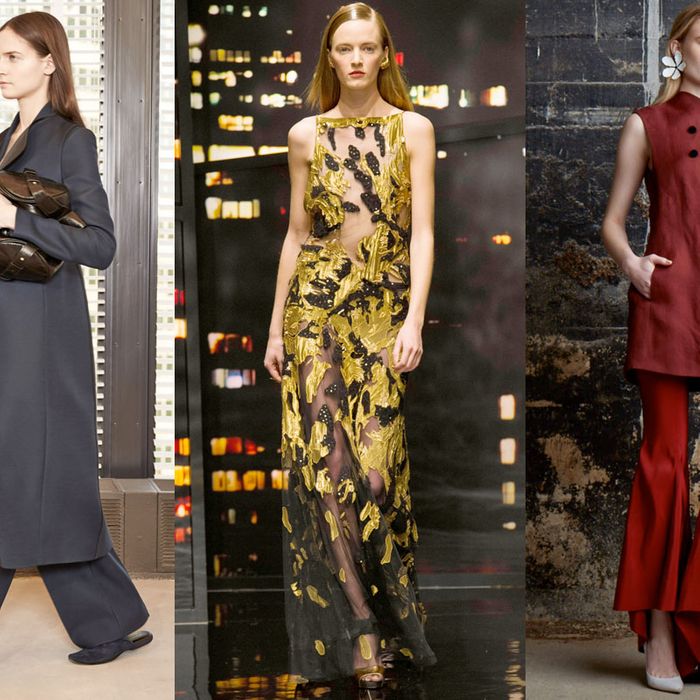 Photo: Imaxtree, Courtesy of Rosie Assoulin, Courtesy of The Row
Fashion month usually brings over-the-top looks and accessories designed with fashion editorials in mind. But through all of it, we have to ask ourselves: What would we want to wear? Every day, the Cut brings you editors' picks — items from the runways they'd actually buy.
1. Swath me in navy Italian wool suiting — only the Olsens, under their label The Row, could create expertly tailored jackets that exude just the right kind of slouchy, pajamalike cool.
2. However impractical, I fully endorse Prabal Gurung's unlikely mash-up of parkas and delicate silk slips. There's something inexplicably satisfying in seeing a hefty, hooded opera coat paired with a slinky cutout number.
3. Again Rosie Assoulin demonstrates a knack for simple geometry and tailoring with dramatic shapes in russet reds, cobalt blue, and hunter greens. This time, though, she's applied her talents to dress trousers — bias-cut silk pants with the same rise-and-fall hem that her skirts and dresses are known for.
4. I've slowly been building up a collection of cropped flared trousers; these ones from Opening Ceremony will make a great addition come fall 2015.
5. Hand-pieced matelassé gold silk cutouts strategically placed over panels of sheer black tulle — one of the last looks at Donna Karan.