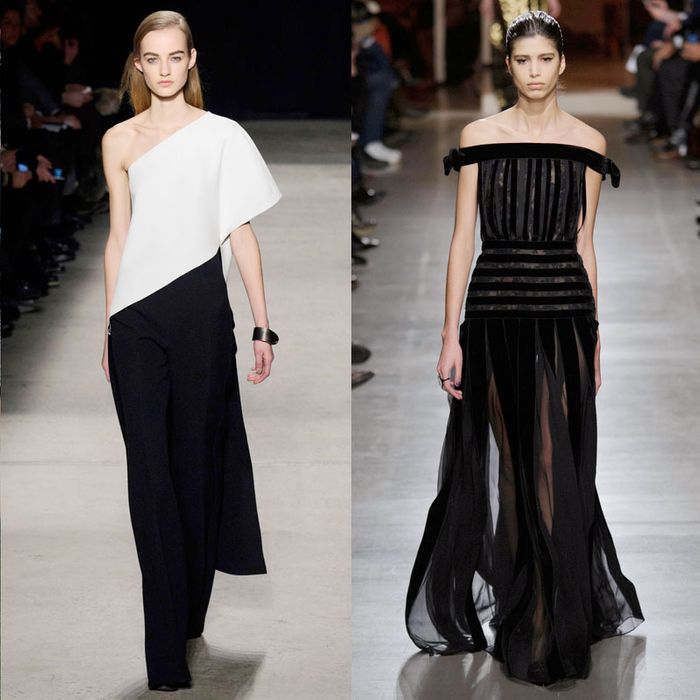 Fashion month usually brings over-the-top looks and accessories designed with fashion editorials in mind. But through all of it, we have to ask ourselves: What would we want to wear? Every day, the Cut brings you editors' picks — items from the runways they'd actually buy.
1. The finale look at Narciso Rodriguez may be the optimal attire for a tall, arty type, but we couldn't help but think it would also work for an ultracool bride. The asymmetric one-sleeve top and super-slim pants brought to mind a most Instagram-ready "I Do."
2. There have already been loads of fur-trimmed parkas playing with typical menswear fabrics this season (Prince of Wales, Harris tweeds, it goes on), but the blue-hued tipping on this Rodarte coat, juxtaposed with the skinny leather trouser and still-popular lace-up boots, looked modern for the coming cold season.
3. The children of the revolution, a.k.a. the models at Marc by Marc, were a riotous study in accessorizing. I loved the lean silhouette of these trousers and this evening jacket worn with a masculine silk neckerchief, studded pointy-toed flats, and a studded beret.
4. Moody, exquisite black runway looks have been a theme this NYFW (see also: Thom Browne), and Peter Copping's debut for Oscar de la Renta followed suit. This off-the-shoulder gown, made from black lace and strips of black velvet, was both romantic and somewhat goth. It has all the makings of a standout moment on the New York social circuit come fall.
5. Styling was king at J.Crew (lessons in layers, scarf inspiration for days), but this look is a reminder that sometimes all you need is a great piece of outerwear to pull all the rest together. Here, a slim pair of worn-in jeans paired with a simple blue oxford (note the unbuttoning), layered with a seemingly everyday navy blazer, but the jacket. A shag shearling in a deep wine color boldly tops everything off. Is it really as easy as it looks? That's the beauty of J.Crew.