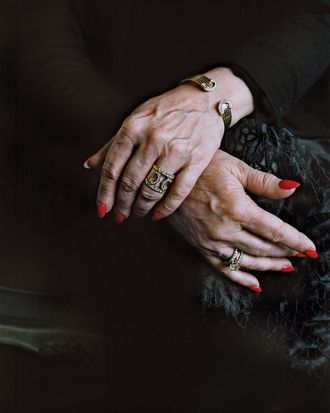 One woman's jewelry includes a double-C Cartier bracelet-and-ring set.
Photo: Danielle Van Ark
By and large, rings serve as signifiers — you can tell a lot from the size of a stone and the finger it's worn on. But whether they're multigenerational heirlooms or tokens from a third marriage, jewels also carry with them distinct memories. We photographed six women wearing the jewelry that means the most to them — and asked them to share the stories behind their pieces. Click through the slideshow to see the results.
Photographs by Daniëlle van Ark; from the series "Everything Fell Into the Right Hands," courtesy of Tegenboschvanvreden, Amsterdam.
*This article appears in the February 9, 2015 issue of New York Magazine.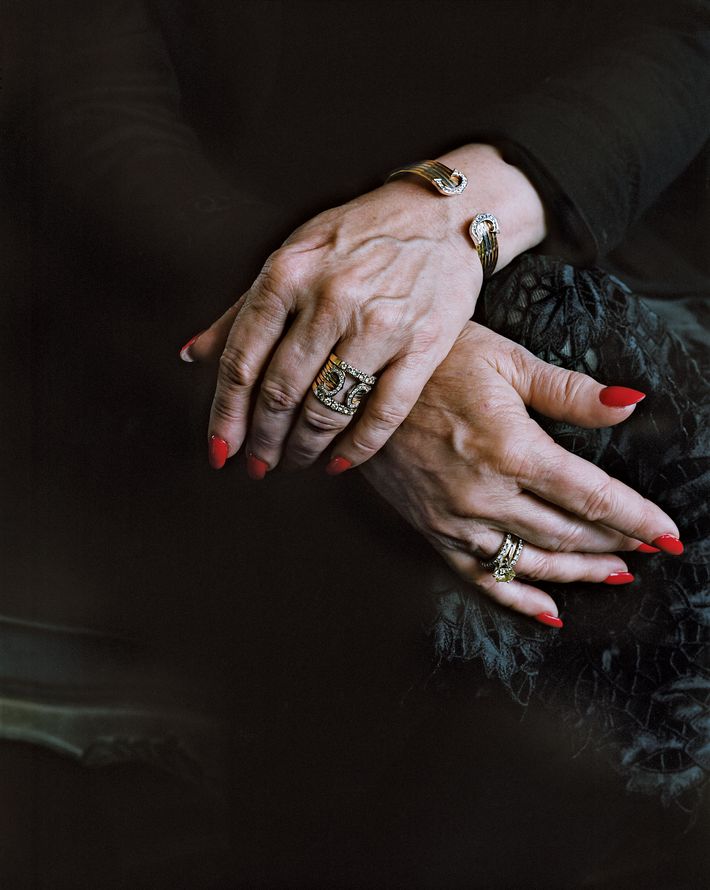 Janny van der Heijden
"Years ago, someone was interested in our house. I was very attached to that house. It was huge and standing on three-and-a-half acres of land. I didn't want to sell it, but that person made an offer we couldn't refuse. As a Band-Aid, my ex-husband bought me the two-carat stone. I settled for that. A little while later, he decided to make a new design out of the three rings — a holy trinity. The double-C Cartier bracelet-and-ring set, that's more of a daily, casual thing."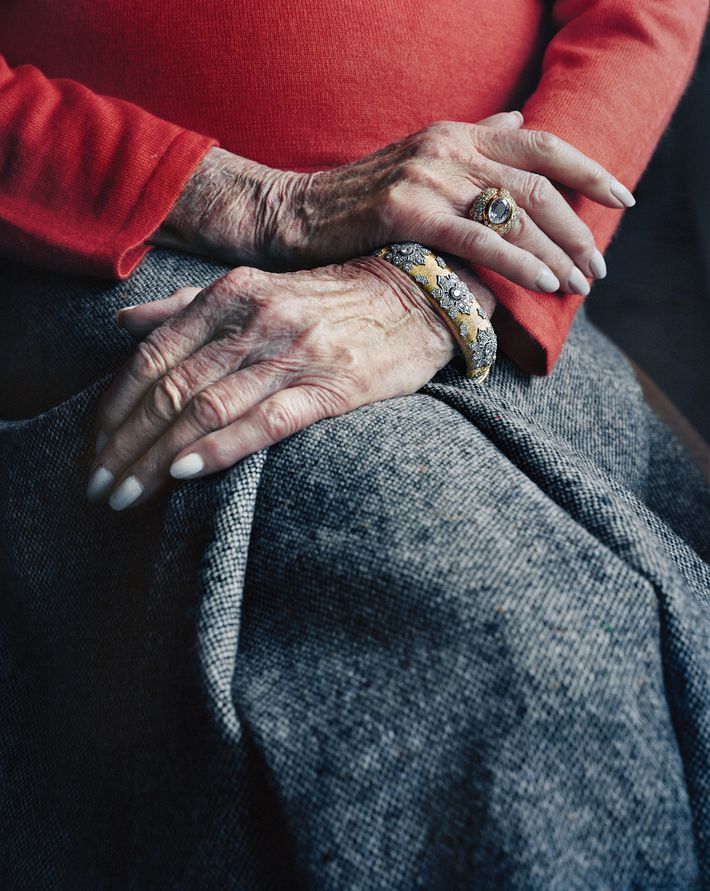 Nanette Laitman
"I wouldn't have bought this set myself, but I inherited it from my mother, who bought everything at Van Cleef & Arpels. I have no emotional attachment to things of any kind. I have attachment to people, not to things. Well, it's sentimental, and I wear it from time to time, but none of it will ever be inherited by my children. They don't like it. They don't want it. They're not interested."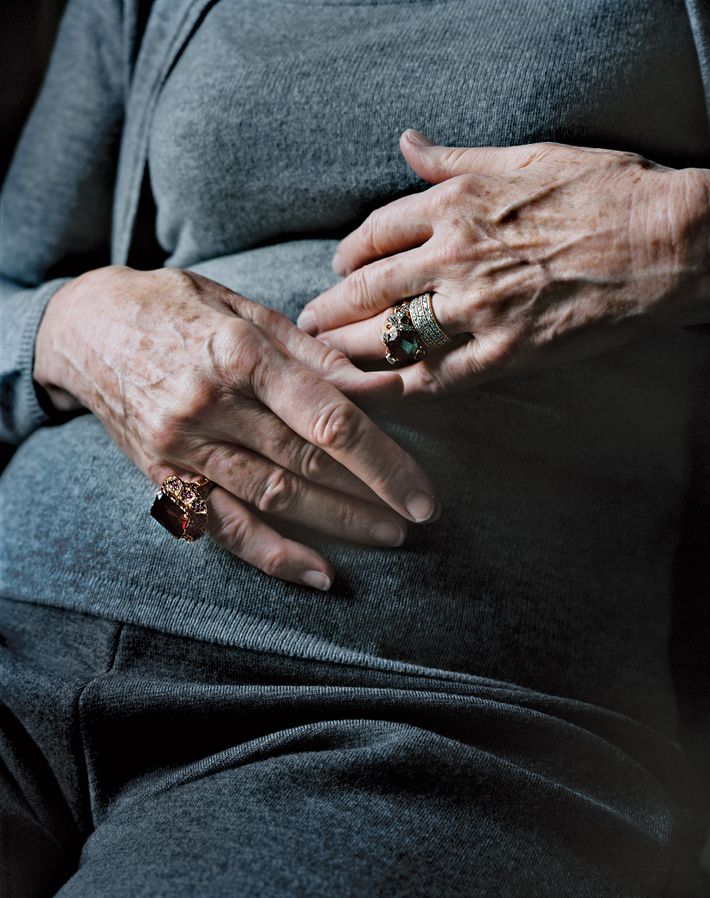 Barbara Tober
"The band is my wedding ring. The original was stolen on the street by a guy with a gun. So, you know, I had to get a new one. I just wear this little guy because I don't want to be killed for my jewelry. We went to Buccellati and bought all of it because I didn't have any rings anymore. The pinkie ring is by Elizabeth Gage. It may be one of the first important pieces we bought during our marriage. We were married 38 years, and we started out very simply."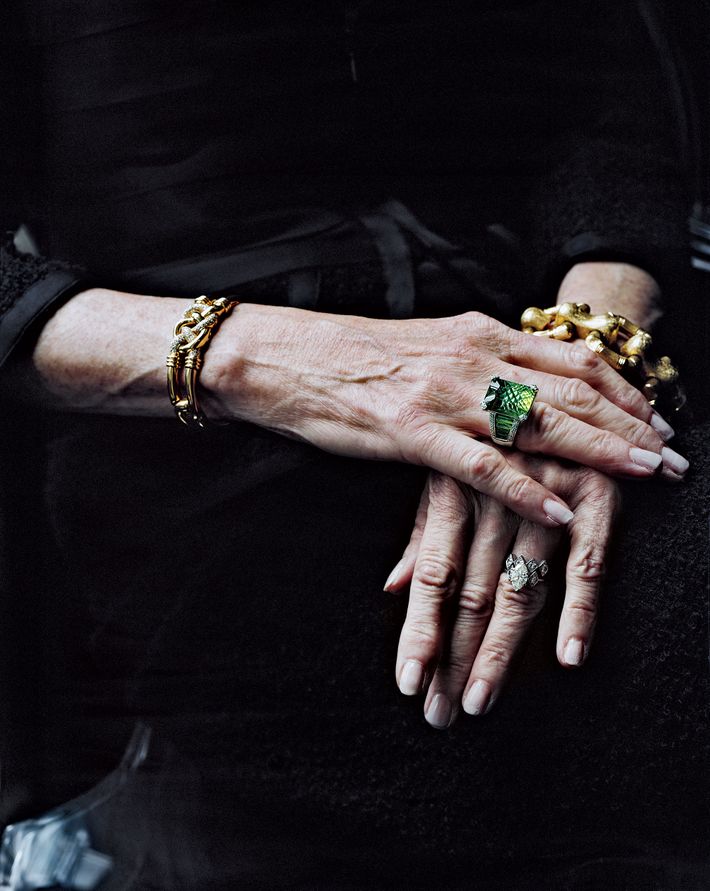 Patricia (Last name withheld by request.)
"The color of the peridot ring is just my favorite. I had been on the lookout for a number of years, and then it was given to me as a 20th-anniversary present. My husband, he's not really interested, but he knew I wanted it. It looks great when you wear it with a pale pink. The Asprey bracelet on my right hand is a fairly new piece — they were actually having a sale, and they only had two. The bamboo bracelet is another anniversary gift. It was Saturday afternoon, about 4:30, when my husband realized he'd forgotten. We had just come back from playing golf, and we stopped into the shop and that was mine. The other ring I designed. I have always loved the Fourth of July and fireworks, and I wanted it to look like an explosion. It never comes off. I've been wearing it for 42 years. It represents my family. My life."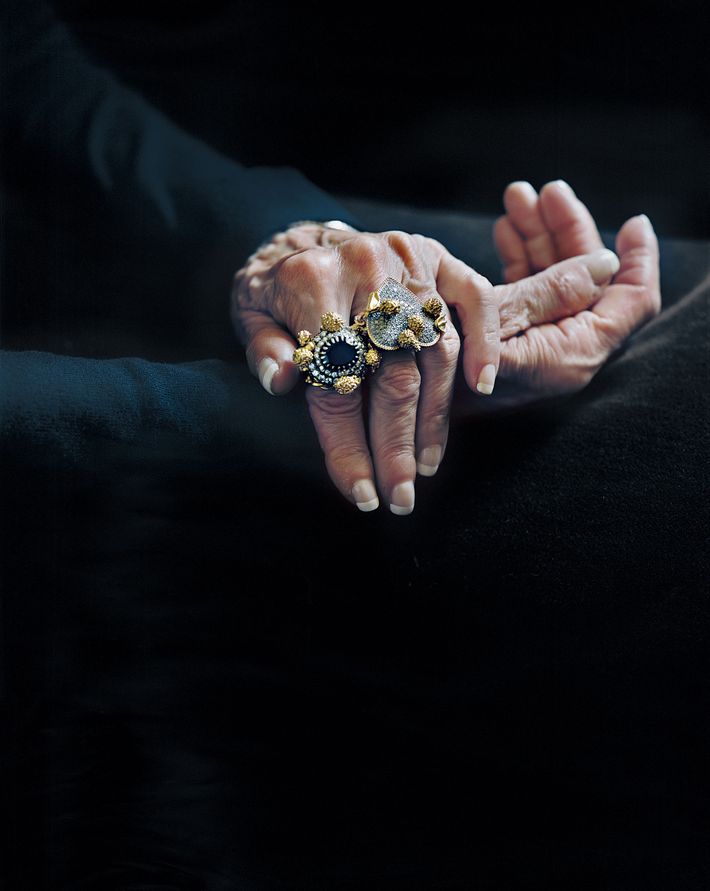 Barbara Flood
"I'm a vintage dealer, and my shop is called Flood's Closet. These are all vintage rings. The little one on my index finger was my mother's. I took it and I gave it to an artist to make all the gold things around it. My mother was in America, but she started her life in Europe — Poland and Russia and Warsaw and all that stuff. The diamond-heart ring was given to me when I was 16, and I did the same thing with it, and I had the same Israeli artist put it together."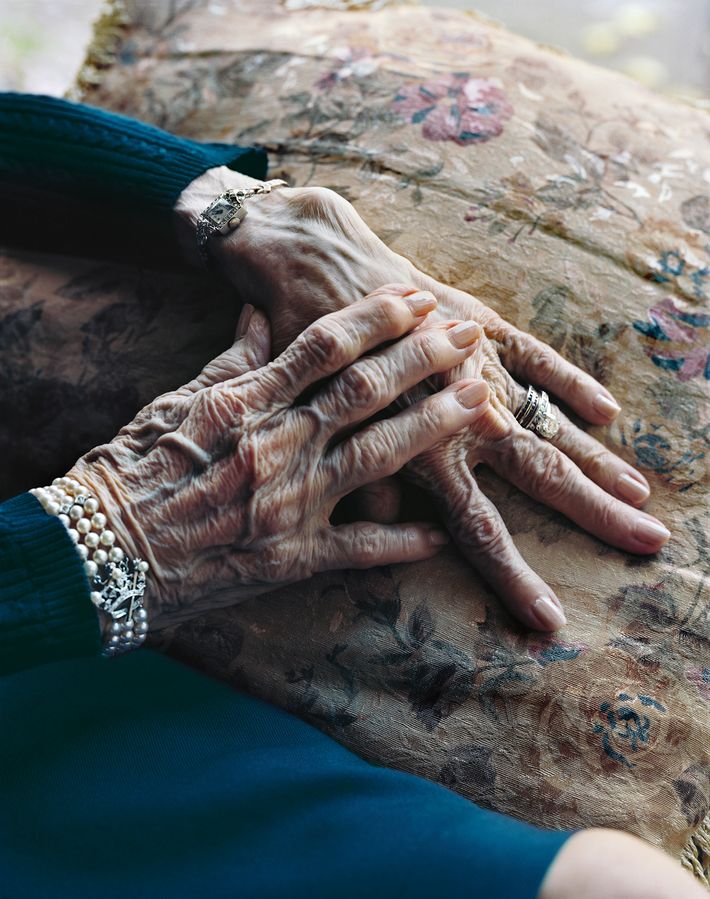 Mary Pignataro
"Would you believe that I used to wear it all every day when I was young? I would put on my bracelets and all my rings — anything I owned. My first wedding ring was pitiful. I was married in April 1932. It was an ordinary ring. It had one or two stones. This one was from my last marriage, which was in 19-something. I used to know [all those dates], but the book that it was all in has disappeared. Maybe after I die somebody will locate it."