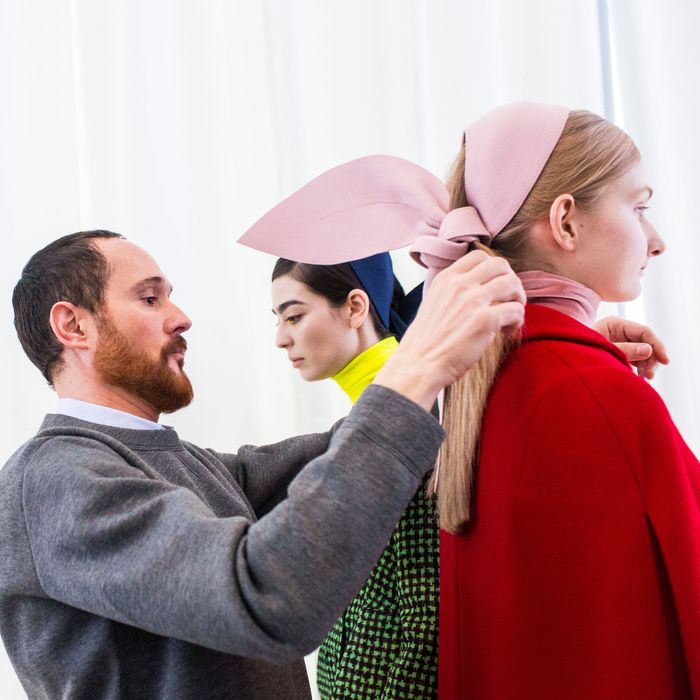 Designer Josep Font backstage at Delpozo
Photo: Landon Nordeman
If all goes according to plan, by the time the lights dim and a fashion show begins, everything flows seamlessly: The models emerge styled within an inch of their lives, walking in sync with the music. God willing, no one falls. But how does the whole thing come together in the final hours leading up to the show? "It's kind of the most amazing-slash-hilarious thing to me," says Shane Gabier, the co-designer of Creatures of the Wind. Preparing for each season's show is, he says, "like six or seven months of your life, and then it's over in nine minutes and by the time you kind of catch your breath, everybody's already at the next show."
This week, the Cut visited seven designers on the eve of their shows, to catch a glimpse at last-minute fittings, styling sessions, hair and makeup tests — and even one designer paying the bills. From Thom Browne's last-minute adjustments to Tommy Hilfiger's football-stadium run-through, click through the slideshow below to see the results and hear what they were all thinking.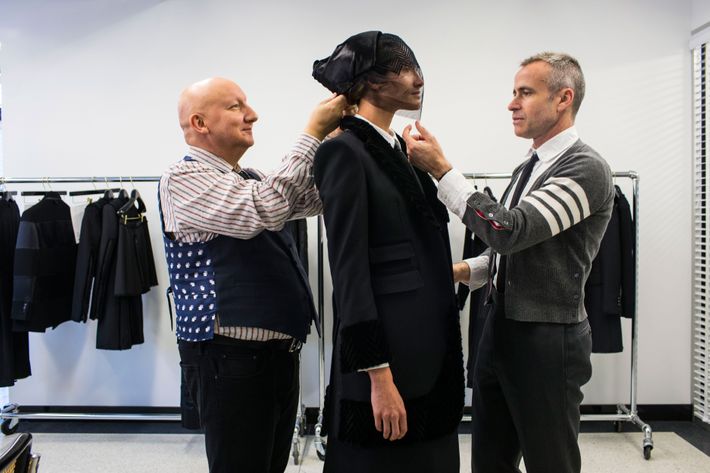 Thom Browne
You've been working with Stephen Jones on hats for several seasons now. We even come up with excuses — if the hats aren't essential to the collection, almost making an excuse to do something. It's just a really good friendship and working relationship. Are you making last-minute adjustments right up until the end or are you fairly hands-off? I'm touching it as it's walking out.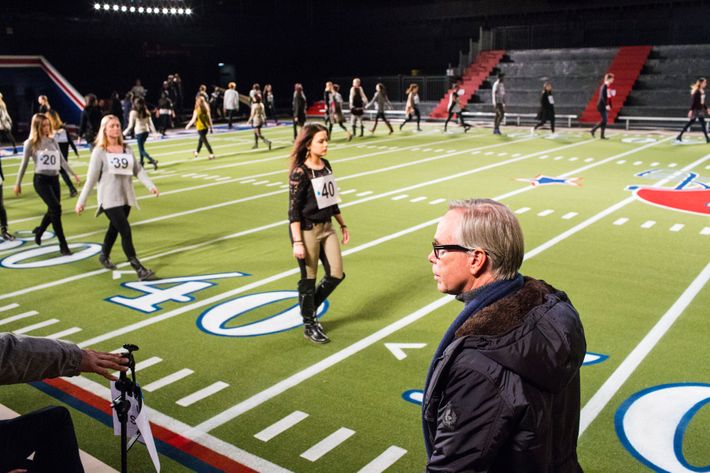 Tommy Hilfiger
You turned the Park Avenue Armory into a football field this season. A lot of foreign editors coming from all over the world had never even seen anything like that. The European editors were saying, "I've never been to a baseball field!" I said, "No, it's a football field." I was happy with the result. The only thing I didn't like was the fact that Women's Wear Daily told me I was carrying the wrong helmet! But in reality, [the Patriots] were the winners of the Super Bowl. Did they want it to be a Giants helmet? I guess so.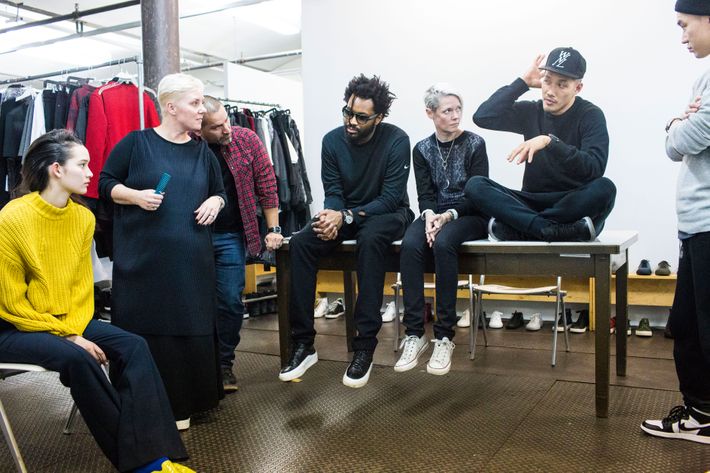 Public School
Co-designer Dao-Yi Chow: That conversation was probably about whether or not we were feeling that look. [Stylists Kate Lanphear and Eugene Tong] really make the first step in presenting looks. They're saying, "Maybe we'll try that with a skirt instead of a dress," and we're like, "All right, let's see it." Then we just go back and forth until we find the perfect solution. Are you tweaking things right before the models walk the runway? If we could run out on the runway while they were coming out, we'd do that.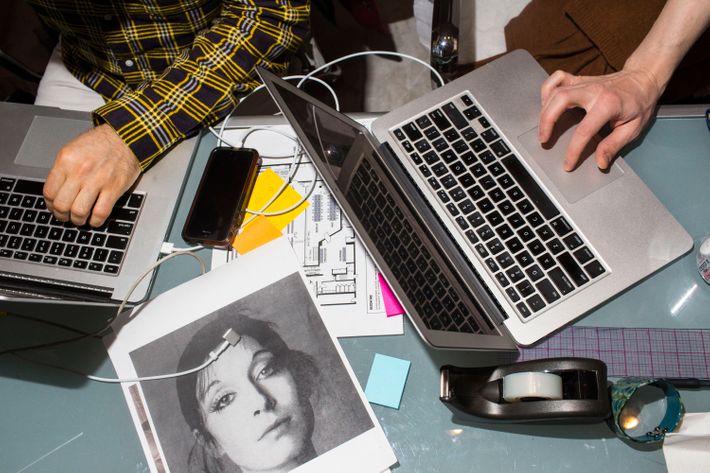 Creatures of the Wind
Co-designer Shane Gabier: I used to be terrified, because on the day of the show, you have to write, I don't know, maybe $40,000 worth of checks, for the guys doing the lights, and the guys doing security, and the venue. So that was always just a really surreal moment for me, just like signing $40,000 worth of checks and hoping you're going to get a payment from a store in the meantime. Do you have any preshow rituals? I didn't eat a pint of ice cream this time, but I normally do.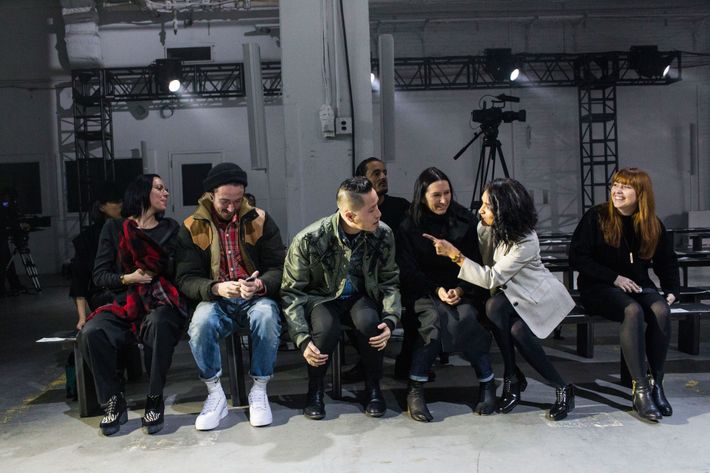 Phillip Lim
What were you most stressed out about as you got ready for the show? I am always most nervous about what I am going to say — it's really hard to collect yourself with cameras pointing at you and people expecting you to say something profound. It's all crystal clear in my head, but I am always nervous about how it comes out. How do you stay calm while preparing the collection? The people I surround myself with -– the team is calming and no drama.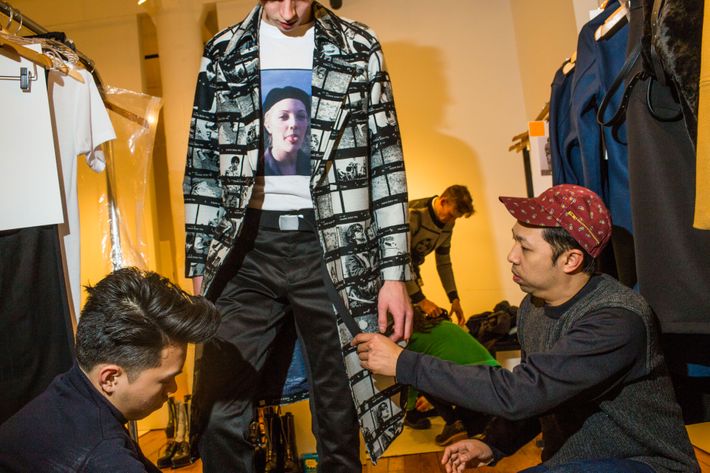 Opening Ceremony
Co-designer Humberto Leon: I think that we want to do a show that we would be really jealous of. We're the first guests to arrive to our own fashion shows, and we want to be as psyched as anybody else. You used this Sonic Youth print on a couple of pieces in the collection. [Spike Jonze] shot it in a roll of 36. We ended up producing it as a jacquard fabric, so there was a coat, and there was a skirt, and other elements that were done in that print.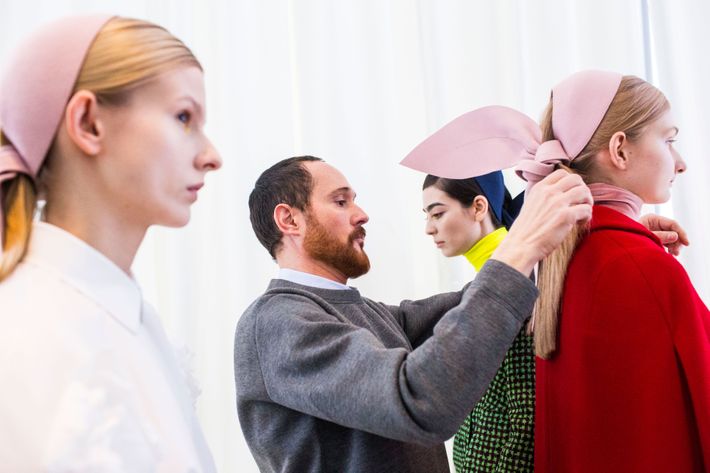 Delpozo
Designer Josep Font: I was preparing all of the things, all of the details, the embroidery. My problem is, I like to perfect everything.