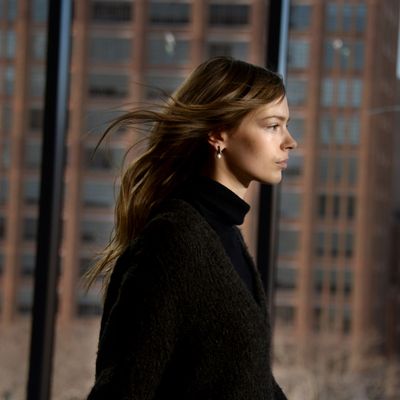 It's day two of Fashion Week or, as one publicist called it, "early enough that everyone is still smiling." We're all still delighted by the truffled deviled eggs backstage at Jason Wu and the beauty editors haven't run out of good cheer, despite early signs of more "fresh makeup" and last season's lip balm as lipstick. Here, our first set of backstage beauty lessons, starting with a new technique for using your curling iron to create relaxed waves.
1. Get horizontal to avoid a sausage curl. "It's the first time at Jason Wu we are doing hair down!" hairstylist Odile Gilbert for Kérastase Paris crowed backstage. It wasn't exactly a revelation, but the way Gilbert wielded the curling iron was. Most of us hold it vertically, but to get a barely there wave, Gilbert wrapped the middle of each strand of hair horizontally, and then twisted it at a slight angle to release, as seen in the GIF below. Now you know how to avert a head full of Toddlers and Tiaras–style curls.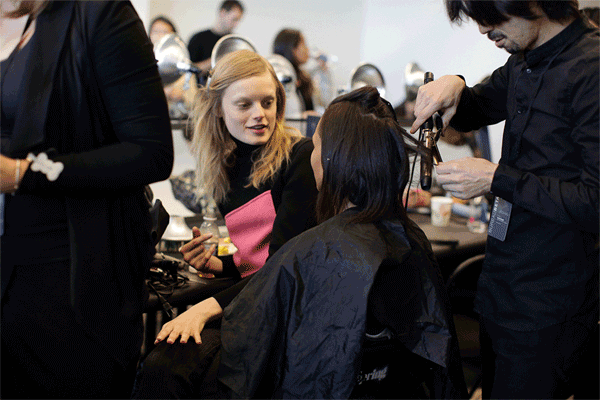 2. Use your eye-shadow brush on your face. To make the face matte at Creatures of the Wind, makeup artist James Boehner applied "loads and loads of powder" over NARS All-Day Luminous Foundation. But to prevent it from looking cakey, he lightly painted on the loose powder using an eye-shadow brush for more control.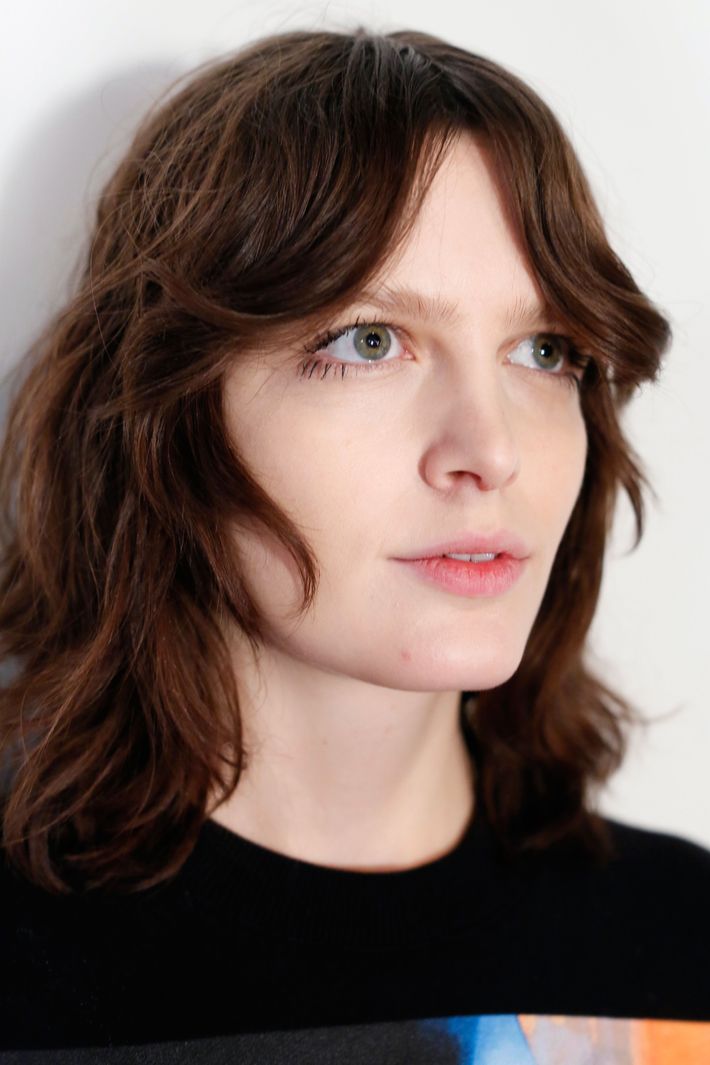 3. Avoid a headband headache. Lots of things can give you a headache during Fashion Week — an ever-elusive Uber that claims to be two minutes away, that patch of skin that may have frostbite because you unwisely went for a jaunty, ankle-baring look. Headbands shouldn't be one of them. James Pecis, the Beauty.com hairstylist lead for the Honor show, found a solution with long pieces of metallic ribbon, which he tied under the hair.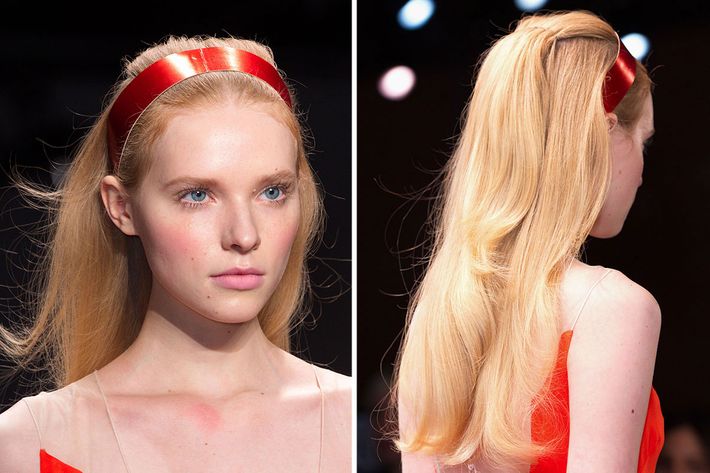 4. Stripes don't make your nails look fat. "Is it Riff Raff–inspired?" I asked, looking at the wavy-motion nails for Adam Selman. "No, rickrack-inspired!" explained makeup artist Madeline Poole for Sally Hansen, referencing the '70s curlicue ribbon trim most often seen at Hobby Lobby. To draw the patterns, Poole used Sally Hansen Miracle Gel in Wine Not and Black, replacing the brush in the bottle with a striping brush ("Amazon it," she explained) and drawing a wavy pattern on the bare nails.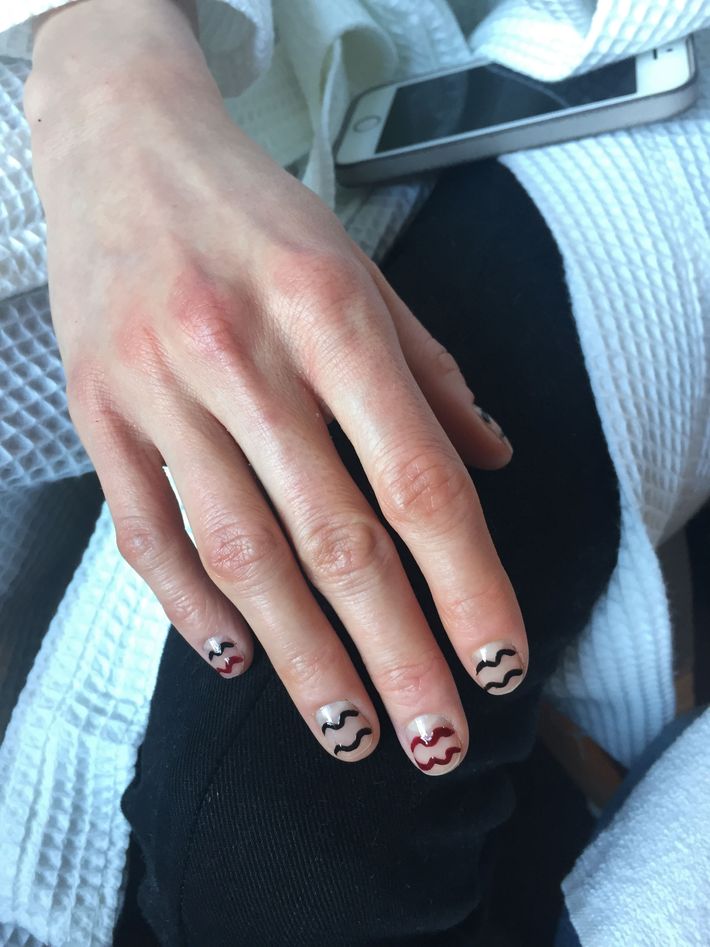 5. For a chip-free manicure, wait two minutes. Your second coat determines how long your manicure lasts, explained Deborah Lippmann for Lancôme at Jason Wu (the brand's Vernis in Love in Beige Romance was used in the show). "Once that really wet look goes away, you apply your second coat. You need to let the solvents evaporate. If you don't, the polish never dries to the bottom. Not even tomorrow. By tomorrow or the next day, the polish will come off in a sheet or it will come off in huge chunks. Two minutes."
6. Use hairspray on your toothbrush as eyebrow therapy. If you want an alternative to brow gel, try spraying hair spray on a mini toothbrush, as makeup artist Alice Lane for Maybelline demonstrated backstage at Suno. Brushing it through my brows, she explained, "And it feels good!" It did, although at that point, my blood sugar was so low that a nap in a garbage can full of pillowy carbs discarded by models would have felt good. Maybe cognitive eyebrow massages will become a thing?
7. Make your nail design slip-proof. Nail artist Honey Nailz for Maybelline at Suno explained how to replicate the bare-bones patterned nail. "If you're doing a nail design on a bare nail, use a ridge filler. It has more texture, giving you more control when doing it at home."