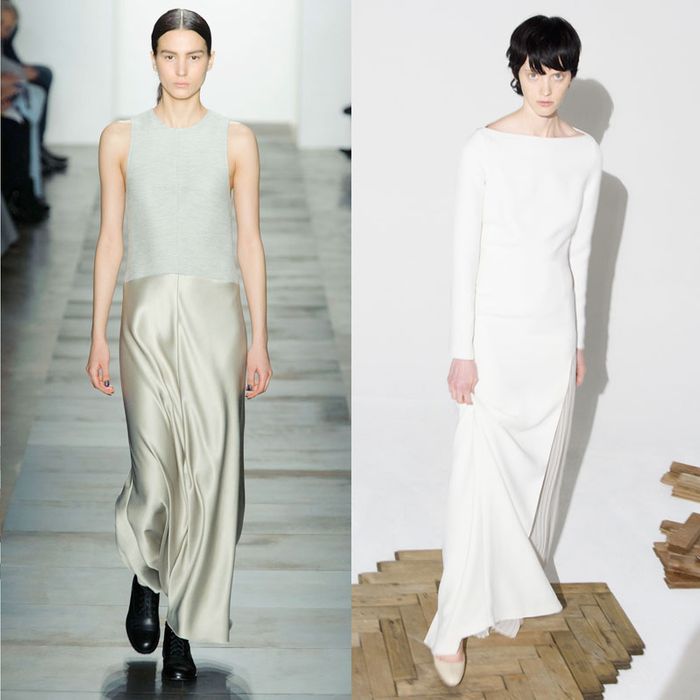 Photo: Imaxtree, Courtesy of Gabriela Hearst
Gabriela Hearst, the person, is emblazoned with the monogram of Gabriela Hearst, the brand. Well, sort of. The tattoo on her wrist of an overlapping "GH" found its way into her brand-new eponymous luxury label. "I made sure all the knits have my initials," she said, rolling up the sleeve of her white gown to show the stamp alongside its twin, embroidered on a sweater cuff. Design doesn't get much more personal than that. And in fact, Hearst, who helmed the contemporary line Candela for the past decade, said that starting a self-titled brand has been a lifelong dream, and one that she poured a lot of time and energy into. "It's challenging and exciting, but it's so satisfying," she said. "We made sure that every piece and every element was well thought-out."
When athleisure is sweeping the nation, it's a bit of a counterintuitive move to design a formal collection. But Hearst and Wes Gordon, both of whom showed yesterday, are stumping for a more youthful, modern take on luxury. For Hearst, that meant approaching things with a healthy dose of unpretentious tomboy-ism. She drew on her childhood in Uruguay — a brand book that she worked on with the graphic designer Peter Miles was filled with vintage photos from her youth there, spent on a ranch — and also on her British schooling, with plenty of tweeds and cable knits in evidence. ("I used to wear my dad's wool sweaters — the Scottish-style Pringle sweaters, and the waxed jackets," she recalled.)
The rough-and-tumble outdoorswoman came across in equestrian-style fasteners and rugged Italian-made boots with a chic faux-bois detail on the heel. "I love things that have a functionality aspect to them, and I think that outerwear must have that," she said, demonstrating how a rabbit-lined tweed duffel had both a removable liner and hood, rendering it truly trans-seasonal. A cable-knit sweater sported curved strips of gee-whiz mesh ventilation, an effect she insisted on, despite initially being told it was impossible to render. That was the first piece she conceived of in her mind, and the rest of the collection — including sweeping, simple gowns and a sharp take on le smoking — germinated from there. The collection, she admitted, could have doubled as her dream wardrobe, but a woman of Hearst's bent, that is to say elegant but pragmatic, will also want to buy into the dream.
Wes Gordon has previously cited Carolyn Bessette as an ongoing muse for his collection, and it's clear that the mid-'90s minimalist designers she favored had a formative effect on him. As usual, he excelled at spare eveningwear — though plenty of daywear found its way in as well. Like Hearst's, his collection was strong on after-dark beauties — a strapless dress in gray wool cashmere took an office-friendly fabric and turned it into a nonchalant option for a black-tie invite, while a mink pullover was basically the definition of #cozygirl luxe.
The question remains: As occasions for formalwear shrivel away, are there still modern-day Nan Kempners and Pat Buckleys who will wear these clothes? The fact that Gordon and Hearst both included looks for all seasons and all hours of the day was a smart move — they recognize that the new luxury can embrace even the most dressed-down moments — whether it's Gordon's artfully tailored denim shirtdress or Hearst's sophisticated take on the puffer vest. They might be just the thing to win over converts to the lost art of dressing up.