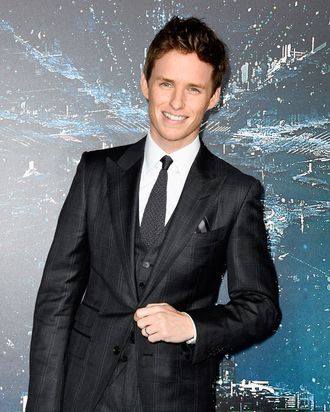 Photo: Frazer Harrison/Getty Images
Twinkling freckle/working actor Eddie Redmayne loves suits. He loves suits, because they are like costumes he would wear if he weren't employed to wear costumes all day (acting).
As he informs Men's Health, suits have powers that include but are not limited to: validating your worth to your father, protecting yourself behind a shield of cloth, and repeatedly testing your color blindness:
I've always worn suits, so I've always felt at ease in them. My dad is a dapper man. He wears suits for work, so maybe wearing them makes me feel subconsciously like I have a proper job … A well-cut suit feels like armor. If it's tailored to fit, you feel strong. I don't slouch as much. My shoulders look stronger … I'm color-blind, so I usually stick to blues and grays. They make for a pretty safe combination — you can wear them together and they'll never clash. My look is generally simple and classic, but I like to add substance with texture and color. An interesting tie or pocket square can really shake things up.
It's a good note: Even if you have something to prove, you've always got room to "shake things up."