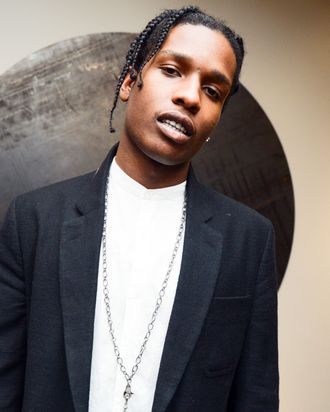 It's A$AP Rocky!
Photo: Carly Ericksonnyc.com/BFA
In an interview with Complex, A$AP Rocky gives advice about how to dress. He answers questions like: A$AP Rocky, how do you know how to choose clothes and develop a look? Well, he says, "Don't get it if it's not you, you know? And if it's your thing it'll be natural. It's like …. You ever saw Harry Potter?"
Yes, we've heard of it. Please, do go on. We are now paying the closest attention.
He continues:
Your wand has to choose you, as opposed to you choosing your wand. That's what fashion is like, man. You gotta let it take control of you. You don't know, sometimes it is stepping out of your own comfort zone, but it is what it is.
Perfect analogy. We look forward to checking back with you re: your thoughts on Patronuses and branding.