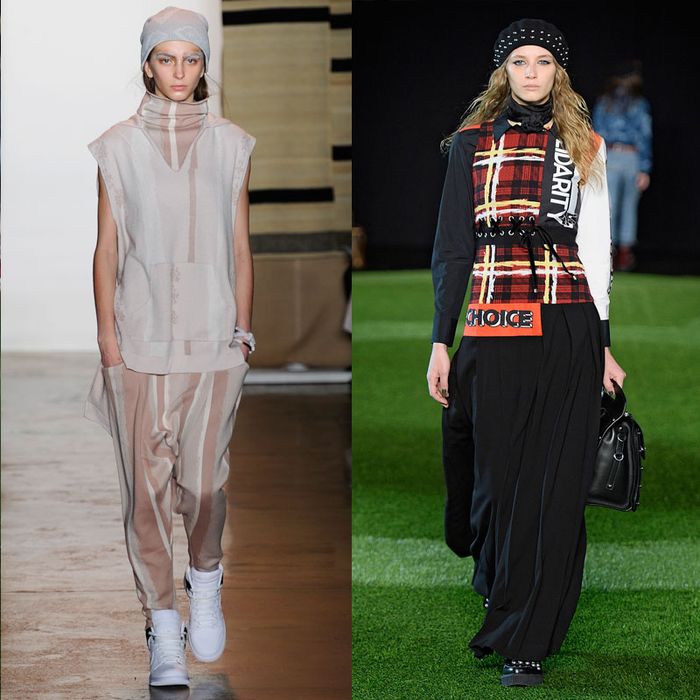 Marc by Marc Jacobs; Baja East; Marc by Marc Jacobs.
Photo: Getty Images
Jewel, Alanis, Tracy Chapman, 4 Non Blondes: Baja East's show had the soundtrack of an angsty Throwback Thursday karaoke night, as performed by the talented Moroccan singer Abir. "We were definitely feeling '90s vibes," clarified co-designer John Targon, perhaps unnecessarily, backstage. Scott Studenberg, the duo's other half, added, "one of our themes was this, like, Bedouin tent vibe, coming out of the desert after a full-moon party." That sense of hippie-raver dishevelment prevailed in hand-loomed knits, a first for the label, some casually knotted around the waist, beach-party-evacuee style. The bajas — for which Targon and Studenberg have become known — were in evidence, alongside new variants on their beloved message sweaters, which came with slogans like "Junk in the Trunk" (worn by a male model) and "Baja Babe." Explained Studenberg, "All of the celebrities that have been wearing us" — including a worshipful Bella Hadid, who snuggled with them backstage — "we've been hashtagging #BajaBabes on Instagram." One might have to be part of their beautiful, toned crew to pull off some of the more daring looks — like high-cut bodysuits worn under drop-crotch pants, or striped jumpsuits that exposed a half-moon of midriff.
Speaking of all things youthful, Marc by Marc Jacobs always has the loudest soundtrack of any New York show (Alexa Chung and Tennessee Thomas, in front of me, were headbanging along to the Clash and Bowie tracks). The brand's  text-heavy fashions are also tailor-made for those who are short in the tooth enough to wear their politics on their Lurex sleeve. "Choice" and "solidarity" were the slogans of choice this time around, though "suffragette" — another word that recurred all over Luella Bartley and Katie Hillier's collection — may be lesser known to their intended audience of pretty young things. Wording aside, they trafficked in all the trappings of cool kids everywhere: denim, studs, buffalo plaid, a floral variant on camo — all topped with studded berets. And the duo's attention to detail was such that, immediately after taking her bow, Bartley tiptoed through the faux grass on the runway to retrieve a coin purse one of the models had let fall. Nothing escapes these two.