Alexander Wang and the Tunnel of Branding
<span class="message_content">Wang and Altuzarra grapple with the tension between human feeling and the need to create a signature look. </span>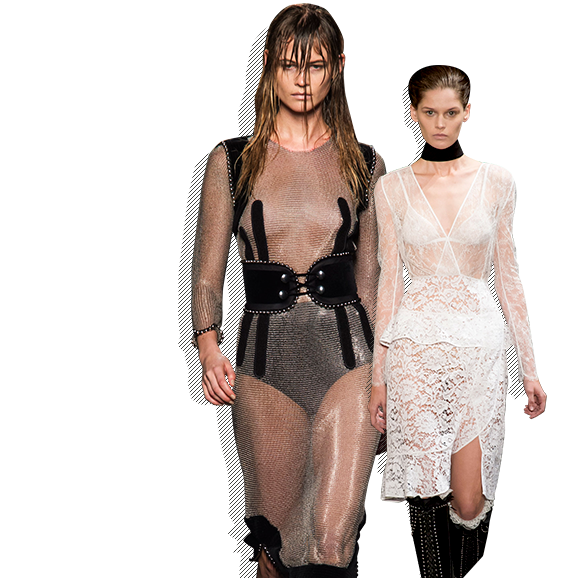 Alexander Wang and the Tunnel of Branding
Wang and Altuzarra grapple with the tension between human feeling and the need to create a signature look.
Alexander Wang's show was clear down on the Lower East Side, in a pier that he would transform into a train tunnel. I decided to cab it. It was beginning to snow. The driver, a burly man with a graying ponytail, looked at me in the rearview mirror as we set off from Herald Square.
As it so often does in New York cabs, a conversation about our respective origins ensued — my grandfather from Galicia when it was part of the Austro-Hungarian Empire, his father who emigrated from Cuba to Jackson, Mississippi.
Then I told him I was a writer, we jumped onto the FDR, and suddenly he said, "Tell me something, why are there no more great writers like Tennessee Williams?"
This is not strictly true; there are great writers. But I guess I could see his point. And later, when I was sitting down to write about not only Wang's show (a heavy-metal interpretation of female power) but also those of Joseph Altuzarra and two new designers, Misha Nonoo and Ryan Roche, both of whom are women, I did wonder what the touchstones were for this generation. Whose songs or films or writing posed questions for them about women? Stayed under their skin? Leslie Jamison, in her book of essays The Empathy Exams, wrote about growing up "under the spell of damaged sirens," like Kate Bush and Tori Amos.  
You see, my alternative for beginning this post was to talk about branding — to comment on the fact that Wang and Altuzarra have really figured this out. But, to use a phrase from Jamison, "I want our hearts to be open."
It's difficult, I know, for designers to ignore the machinery of the business. Wang expressed that beautifully with his dark, narrow tunnel, and a swift procession of black clothes — masculine jackets, leather shells, drain-pipe trousers, all shown with Frankenstein platforms — that owed a debt to Japanese fashion. The tunnel theme also conveyed, for me, the degree to which designers have to stay within well-defined boundaries if they want to be successful — what branding experts call guardrails. Wang's earlier collections often suggested innocence — the joy, let's say, of being young in New York — and that quality has been gradually stamped out as he expeditiously builds a brand. In this collection, it also produced a clichéd version of the power woman.
Altuzarra's collection will look better in stores (and on real bodies) than it did last night on the runway. Something happened in the show's styling, in its cold emphasis on fat fur collars and slit skirts, to rob the clothes of a generous spirit. I saw them in Altuzarra's studio a week ago — the specially woven brown tweeds that recalled a gazillion jaunty Villager looks, the high, pie-crimped collars of blouses, the flounced hem of handsomely tailored coats. And all this sportiness ended up looking predictably louche on the runway.
I want our hearts to be open.
Altuzarra's collection was good, in the main, but I wanted something that would crack open the perspective, that would convey an actual human feeling about wearing these clothes.
Misha Nonoo, who grew up in London, has struggled for the past four years to find a place for herself in fashion. She clearly has a feel for womanly clothes; her best looks for fall were soft wrap jackets and coats, a sleek black jumpsuit, and a dark cable-knit dress worn over a crisp white shirt. But she still has trouble filling out a distinct picture.
Ryan Roche's clothes actually make me curious about her. That's a pretty rare thing in fashion, especially when you consider that Roche is a knitwear designer who favors minimalism. As a mode of expression, it can be quite limiting.
But Roche, who grew up in Idaho and trained under the amazing Simon Ungless at the Academy of Art University in San Francisco, does a lot with a little. Her ivory and pale pink knits, in layers, are fresh and versatile. This season she added capes and a fab long knit ivory dress with a wide silk hem. Above all, Roche, who lives in Ulster County, makes me believe that she does have a song in her ear, or maybe just a good meal cooking on the stove when she works. At least that's what her hopeful clothes tell me.