Kanye West Hasn't Graduated Fashion School Yet
<span class="message_content">The <span class="message_content">fledgling</span> designer needs stronger feedback from the fashion world. </span>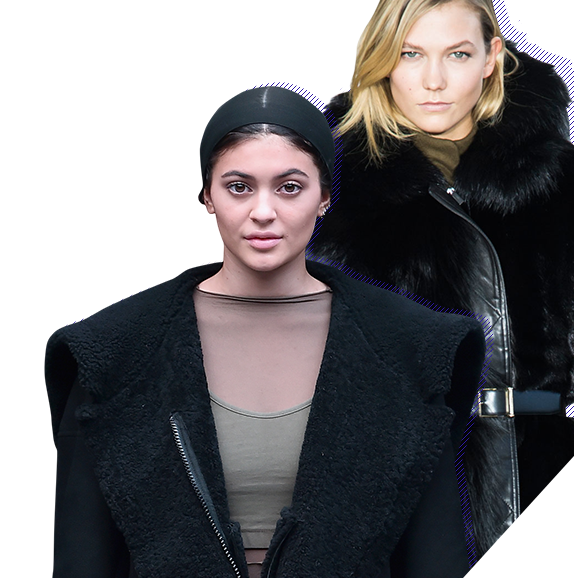 Kanye West Hasn't Graduated Fashion School Yet
The fledgling designer needs stronger feedback from the fashion world.
Maybe it was the unbearable fame of Beyoncé, Baby North, and Anna Wintour, together in the front row; maybe it was that brave army of models and the nudity of their bodysuits; maybe it was Kanye West himself earnestly singing, "I want to create something better for you" — whatever it was, the mental effect of the Adidas show was powerful. I relate the generally positive response it produced to Stockholm syndrome, a creeping problem in the fashion world, don't you think? There was very little criticism of West's vacant presentation. Adam Wray, in his daily newsletter for the site Redef, did note that the ripped pullovers and sweatpants were "retreads" of Haider Ackermann's recent fall collection. Overall, I saw aesthetic similarities to other designers — especially the urban funk of Rick Owens, and the destroyed looks of the street brand NSF — but no synthesis or transcendence of these references. And though I admired the diverse casting in West's show — it's nice to see small guys for a change — many designers have done a kind of open casting before, notably Raf Simons, Hedi Slimane, and Owens.
I'm not sure why so many writers are so unquestioning of West's design qualifications. A friend, over a drink last night in Chelsea, suggested that people are more and more obsessed with power, not least their own relative to the perceived center of the fashion world (which may be Baby North, I'm beginning to think). West has been a fixture at shows for five or six years, and he's gone from being mocked for his first attempt at a women's line to being hailed as a multidisciplinary cultural phenomenon. He is an amazing performer, but his merits as a designer are still in doubt. And it seems to me that the fashion world should be holding West's feet to the fire — expecting more integrity and discipline from him. After all, he still seems to need our approval: There's something touching about his desire to belong to the fashion establishment. In fact, his attitude seems very American — at once earnest and blameless. He may want "to create something better" for us, as if we hadn't a clue already, but it will take a lot more than words.
It's been recently observed that we're a nation of infantilized yahoos. This state of affairs can actually be a positive force in fashion — witness the silly but adorable bow-kissed knits, gingham slacks, and adolescent bad-girl attitude in Adam Selman's show, a remake of West Side Story for the contemporary floors of department stores. Selman, who comes with years of experience making stage costumes (he's done stuff for Rihanna), isn't trying to fool anyone. And he knows enough about fit to make moderate-priced fabrics sing.
But willful cluelessness is more often downright embarrassing. This past week, Opening Ceremony brought out a 20-piece collection of remakes from Vivienne Westwood's early years as a punk. Humberto Leon and Carol Lim, the store's founders, did the collaboration with the Westwood studio in London. But Young Kim, who was the girlfriend of the late Malcolm McLaren and who is the executor of his estate, points out that many of these items were designed during McLaren's partnership in the '70s with Westwood, so he should also receive credit.
"They're writing someone out of history," Kim said on the phone from London yesterday. Kim, who only learned about the OC-Westwood project in the media, has been in touch with the store's lawyer. She said she is considering legal action, but admits that it would be costly and possibly futile. Anyway, I sensed Kim was more annoyed by the failure to give McLaren credit for his role in a well-documented episode in fashion history — and also by the uncritical thinking that makes such omissions increasingly common. When I asked Leon if he thought that as a merchant he had a responsibility to credit McLaren — to, in effect, perform due diligence — he dithered a bit. He said he "was not clear, piece by piece," who had designed the garments. He then put the matter on Westwood, saying, "I would hope that if there was a collaborative effort that Vivienne's team would tell us that."
"Strength and Seduction" was the thematic header for Jason Wu's show on Friday, and it was resolutely strong, with sleek wool coats, pencil skirts, and cigarette pants in solid shades of red, camel, and tobacco brown, sometimes slung with fox or worn with a ladylike blouse. The jumpsuits were divine; they evoked the new minimalism of the red carpet.
But seeing Gabriela Hearst's new collection later in the day gave me perspective on Wu's polished femininity. It didn't look all that natural, or easy to wear. By contrast, Hearst's clothes seemed as relaxed as they were well-thought-out — toggle coats, great-looking pleated skirts, a gorgeous fisherman knit sweater spliced with tiny off-brown strips of chiffon. Hearst, who for the past ten years has designed a casual line called Candela and who is married to the publishing scion Austin Hearst, describes the style of her 90-piece new line as "luxury without the froufrou." It's certainly another bid for classic clothes. Hearst is planning to open her own store as early as next year.