Can Fashion's Big Boys Keep Up With the Moment?
A serious question for Marc Jacobs, Ralph Lauren, and Calvin Klein.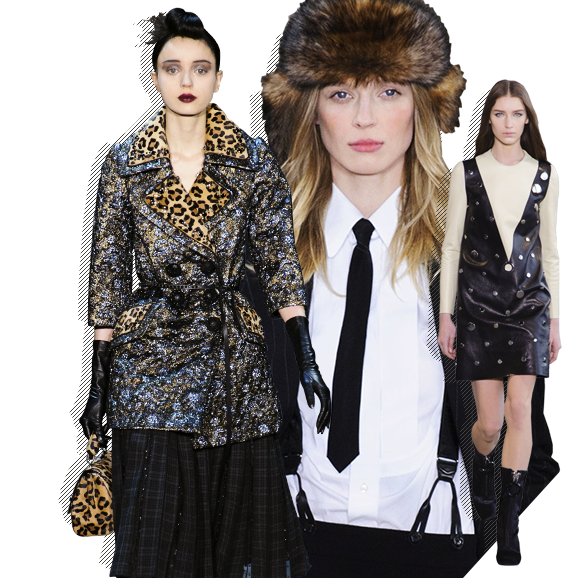 Can Fashion's Big Boys
Keep Up With the Moment?
A serious question for Marc Jacobs, Ralph Lauren and Calvin Klein.
A few hours after New York Fashion Week ended and editors jumped on planes for the Oscars in L.A. or the London shows, 26 finalists for the LVMH Prize were announced in Paris. Nearly all of their names will be unfamiliar to most people, which is merely further proof of the widening of the world. Fashion feels on the brink of major change, with new talent potentially coming from places — like China — that haven't been seriously considered until now. And after seeing the shows that closed NYFW, I reckon the change can't come fast enough. It will be good for everyone.
The final day's shows all looked to the past: Marc Jacobs drew upon the legend of Diana Vreeland; Ralph Lauren remade himself; and Francisco Costa picked a sweet spot in the '60s for Calvin Klein. Let's start with Lauren.
Like one of the fashion world's other giants, Giorgio Armani, Lauren essentially gives the same show season after season. The themes may vary — one season it's Western deluxe, the next, high glamour — but the formula remains the same. There will always be smartly cut blazers, a bit of lace and sequins, perhaps a fur poncho, gent's suiting (this season's offering, a slim three-piece pants suit in black leather, was a nice bit of naughtiness that Lauren naturally played straight, and thank God, given the Fifty Shades fever), and romantic but chaste gowns fit for American princesses.
Lauren's view is that his kind of fashion is actually anti-fashion; it isn't subject to the winds of change. In fact, I sometimes think that the movie buff Lauren has taken a page from the playbook of Louis B. Mayer, whose studio motto was "Do it big. Do it right. Give it class." But we don't live in that kind of world anymore. The changes that are occurring aren't fickle and slight; they're profound and unsettling. It must be tough for self-made men like Lauren and Armani to even consider introducing new ideas and attitudes — they certainly don't have a financial imperative to change. Yet it seems to me that Lauren is already running the risk of becoming a gilded but static brand, a shrine to class and taste rather than a living and adaptable organism. The question that haunts his dreamy shows, I realize, is what kind of brand will Ralph Lauren be when the man decides to hang up his spurs. If you look at other luxury companies — Chanel and Hermès come to mind, though, I admit, they're not strictly comparable — they have all made changes to their core fashion. Maybe Lauren will have to leave the matter to his heirs. But does he want to?
At Marc Jacobs, the nostalgia was seen as an antidote to the preponderance of streetwear. "I'm just tired of seeing street clothes," Jacobs said backstage, pausing to light a cigarette before the kissing rush. He laughed, the smoke mingled with sweat. "It was not a casual moment for me."
This was an understatement. When your inspiration is Vreeland, the last legitimate empress of fashion; when your set designer, the gifted Stefan Beckman, has re-created the scarlet jungle of her living room on drapes inside the Park Avenue Armory; and when the clothes evoke to-die-for fashion lust, you're definitely not feeling it for saggy pants and sneakers.
Vreeland, who died in 1989, didn't respond at all to real-life clothes. She once famously joked that when readers of Vogue wrote from the provinces to complain about the high boots and wild clothes shown in the magazine, and to demand fashions for real women, she spelled the word "R-E-E-L." Jacobs expressed that sentiment as fiercely as if the old bird were perched on his shoulder. One thing I appreciated about the show was that it reflected the breadth of Jacobs's knowledge of and feelings for fashion. In neat suits with contrasting banding on the jackets, I picked up a reference to those well-groomed editors who spent a lifetime telling rich women what to wear while earning themselves, as Dorothy Parker said, only enough to afford a handkerchief. The dedication! Many of Jacobs's new skirts were long to the floor and pleated, and worn with metallic embroidered wool jackets or coats. I wondered if Jacobs got the idea for the silhouette from Saint Laurent's 1976 Russian collection, which Vreeland included in her retrospective of the designer at the Met.
Still, for all the sparkle in the collection, the clothes seemed to reflect a mood whose time has passed. Do people today care about Vreeland, beyond reading one of her pithy remarks or catching her in a documentary? I doubt it. Besides, there's a risk — which Jacobs seemed to acknowledge in the obsessive detailing — that what is cause for rapture in one moment will seem a pile of old clothes in the next.
Of the collections that closed Fashion Week, Costa's was the most successful, in large part because his uniformly simple shapes — A-line swing coats with half-belts, mini shifts and long columns — worked well as a base for the textured materials, which included a lot of suede and calf hair done in micro grid patterns. The materials kept the clothes from being reductively '60s. And, with skintight, thigh-high boots, the models looked ready to travel toward the future.