Why Public School's Designers Are Rising Stars
<span class="message_content">The high-end streetwear brand has a complete vision. </span>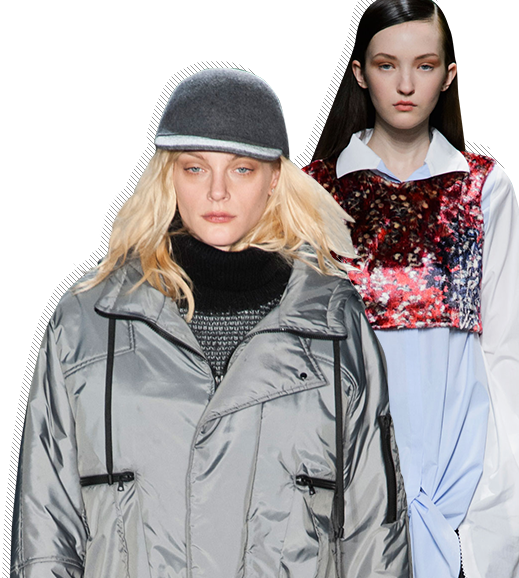 Why Public School's Designers Are Rising Stars
The high-end streetwear brand has a complete vision.
Shows speed by like the wind gusts on Tenth Avenue. They are just a diversion between getting in and out of one's own heavy clothes and racing to the next public disrobing. On Sunday night at Opening Ceremony, where Humberto Leon and Carol Lim displayed their downtown duds in a gallery covered with Spike Jonze's gloriously sunny pictures of Sofia Coppola, Drew Barrymore, and Björk in their youth, I clocked the stop at 12 minutes, not counting a moment to thaw. These kinds of staged "dialogues" between fashion and an artist/filmmaker are invariably one-sided and exhausting, as if Beckett were talking with Ryan Seacrest. But it was Jonze's vital images that were still on my mind this morning.
After Saturday's Alexander Wang show, I wrote about the danger designers face when they're too good at brand-building — the clothes can quickly become stereotypical. Thakoon Panichgul has the opposite problem. Looking at his clothes on Sunday — a gorgeously lanky coat in a rustic wool patchwork, cool, sleeveless tunics with fuzzy necklines, macramé-knit and floral dresses in tapestry tones — I thought: Few designers of his generation have produced more ideas. Think of his amazing outerwear and knits alone. But maybe it's time for Thakoon to be more strategic in his thinking — chose the looks that can be developed into signatures and repeated, so that his story comes across more clearly and consistently to scatterbrained consumers.
This is why Dao-Yi Chow and Maxwell Osborne of Public School are far ahead of the game. Erstwhile rapper-designers could learn a lot from Chow and Osborne. The first lesson is to make every piece of an outfit interesting, not just the eye-grabbing parka or bomber. I was drawn as much to their underpinnings, especially the long, slim polo dresses, harem pants, and big hand-knitted scarves, as I was to the outerwear. As a customer, I would want to buy into their total vision. Another lesson is to take stock of what designers in your niche have done before, in order not to replicate it — because anyone who is any good is looking at the same sources. So do your homework, which Public School plainly has, and find honest ways to advance the style.
Even if Derek Lam hadn't mentioned his New York icons in his show notes, you'd know from the urbane attitude of his sportswear that he had in mind women like Katharine Hepburn, Diane Keaton, and Stockard Channing. Not surprisingly, the strongest elements were coats — double-face Shetland or hair-calf trenches, pea jackets, and tailored wrap coats with felted edges. There were also smart-looking trousers and below-the-knee pleated skirts worn with V-neck sweaters, made slightly boxy for a more modern look. Lam also cited a "cut-to-the-quick elegance." You can see that he has looted classical styles from the past, but it's equally clear that he considered what made those icons look so confident in plain clothes.
Prabal Gurung's show notes mentioned mountain ranges, but it wasn't immediately clear how they figured in the collection, except for some plush furs and a Fair Isle motif in some dresses. But, frankly, no explanation is needed, because this was one of his sharpest collections in a while. Gurung has tended to overdo things, causing confusion about what he stands for as a designer. But here were spare dresses in crimson silk crepe or black lace with the barest hint of '20s glamour. So far this week there haven't been dresses quite like Gurung's restrained shifts and slips. And in our near-naked age, it's also great to see someone proposing looks that expertly show off the body without giving away everything.
I wondered if Diane von Furstenberg was even present for her show, but she took her customary monarch's turn around the runway at the end. From the limp fabrics to the shopworn theme (sexy secret agents), the collection of confetti tweeds and knits, and slinky dresses with splotches of embroidery, looked anemic and, well, down-market. DVF doesn't aim to be a luxury brand, but she is capable of a better effort than this.